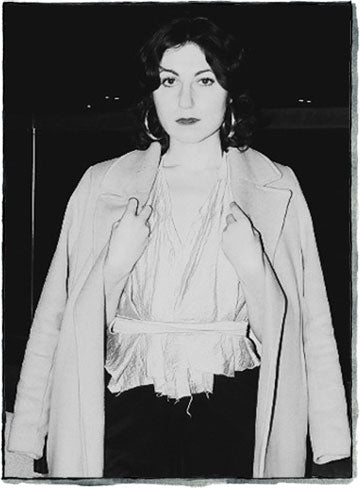 Author photo credit: Inès Manai
REQUEST AN INTERVIEW VIA CONTACT FORM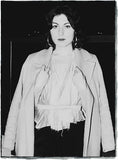 Yelena Moskovich
---
ABOUT the author
Yelena Moskovich was born in Ukraine (former USSR) and immigrated to Wisconsin with her family as Jewish refugees in 1991. She studied theatre at Emerson College, Boston, and in France at the Lecoq School of Physical Theatre and Université Paris 8. Her plays and performances have been produced in the US, Canada, France, and Sweden. She has also written for Vogue, Frieze Magazine, The Paris Review, TLS, New Statesman, Happy Reader, Mixte Magazine, the Skirt Chronicles, and Dyke_on Magazine. She is the winner of the 2017 Galley Beggar Press Short Story Prize. In 2018, she served as a curator and exhibiting artist at the Los Angeles Queer Biennial. She is the author of The Natashas and Virtuoso, which was longlisted for the Dylan Thomas Prize. She lives in Paris.
Find out more here:
Twitter: @yelenamoskovich
Instagram: @yelenamoskovich

---
Available from Two Dollar Radio
A Door Behind A Door
"The dynamic style and psychological depth make this an engaging mind bender."
—Publishers Weekly

Virtuoso
"A hint of Lynch, a touch of Ferrante, the cruel absurdity of Antonin Artaud, the fierce candour of Anaïs Nin, the stylish languor of a Lana del Rey song... Moskovich writes sentences that lilt and slink, her plots developing as a slow seduction and then clouding like a smoke-filled room."
—Shahidha Bari, The Guardian

---
WATCH:Yelena Moskovich Virtual Event for A Door Behind a Door with Kate Zambreno, hosted by Boswell Book Company

Author Event:
University of Kent Paris School of Arts & Culture's literary event during the Paris Postgraduate Festival 2021 featured a conversation with author Yelena Moskovich. Yelena discussed how writing is a form of escapism and the theme of escapism expressed in her new book, A Door Behind a Door (June 17, 2021)

Author Reading:
Sarah Rose Etter and Yelena Moskovich | May 15, 2020
Watch a reading and conversation between Two Dollar Radio authors Sarah Rose Etter (The Book of X) and Yelena Moskovich (Virtuoso)! 

---
Further Reading:
The Calvert Journal 'Home is our pocket with a hole:' émigré writer Yelena Moskovich on the problem of homecoming December 21, 2020

The Paris Review: Hunting for a Lesbian Canon by Yelena Moskovich May 17, 2018

Shakespeare And Company blog: Why I Read Plays by Yelena Moskovich February 22, 2016
---
Listen:
Shakespeare and Company, a reading from Virtuoso | 2/7/2019
We were joined by Yelena Moskovich for a reading from her second novel Virtuoso, a dreamlike story of love and loss in the post-communist diaspora.

---
Interviews:
BOMB Magazine: Yelena Moskovich & Grace Lavery | 8/31/2021
Authors Yelena Moskovich (A Door Behind a Door) and Grace Lavery (Please Miss) on their bodies, art, shared sense of magic, clowning, and their BUNKERSLUTS collaboration. Read on!
Interview with Yelena Moskovich at BLARB | 7/21/2021
Nathan Scott McNamara, for BLOG // LOS ANGELES REVIEW OF BOOKS, spoke with the third-time novelist about submersion, slapstick melancholia, and her new novel A Door Behind a Door. Read on!

Interview with Yelena Moskovich at Full Stop | 7/14/2021
Michael Schapira spoke with A Door Behind a Door author Yelena Moskovich about "her background in theater and how it so expertly helps her set a mood, how every Russian novel is a crime novel, and how experimental fiction can bring a sense of lightness to the reader." Read on!
The Calvert Journal interview with Yelena Moskovich | 6/15/2021
"How a supernatural Slavic mafia set up home in the American Midwest"
Anastasiia Fedorova speaks with A Door Behind a Door author Yelena Moskovich "about the lives of Soviet diaspora of the Midwest, freeing herself linguistically, and writing about queer love and migration in a rapidly shifting world." Read on!

Michigan Quarterly Review's Interview with Yelena Moskovich | 7/14/2020
"Eyebrows Like Her Name": An Interview with Yelena Moskovich by Cameron Finch. /MQR Online spoke with Moskovich about her writing of Virtuoso, rebellion, women in love, the fundamental surrealism of human existence, and more!

STET Magazine interview | 6/15/2020
Isabel Marqués talks to author Yelena Moskovich about her second novel Virtuoso. "To read Moskovich is to learn how to live and love in an anarchy of plot, form, language, and tradition, but also to understand that it often takes two women to start a fire."
DRECK Magazine interview with Yelena Moskovich | 5/29/2019 
The acclaimed author talks about her two novels, Virtuoso and The Natashas, the structure of storytelling, what influence theatre has had on her work, and so much more. Read on!
The Nerd Daily Q&A with Yelena Moskovich | Feb 12, 2020
Beth Mowbray discusses with the author how Virtuoso, recently longlisted for the 2020 Dylan Thomas Prize, refuses to be constrained by popular conceptions of what a novel should or should not be. Read on to learn more about the author's diverse artistic interests, how her own life experiences influenced her writing, and which classic '80s song makes her want to get up and dance.