Author photo credit: Shelby Brakken
REQUEST AN INTERVIEW VIA CONTACT FORM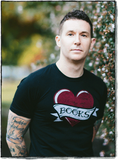 Joshua Mohr
---
ABOUT the author
Joshua Mohr is the author of Sirens, a memoir, as well as five novels, including Damascus, which The New York Times called "Beat-poet cool." He's also written Fight Song and Some Things that Meant the World to Me, one of O Magazine's Top 10 reads of 2009 and a San Francisco Chronicle best-seller, as well as Termite Parade, an Editors' Choice in The New York Times. His most recent novel All This Life won the Northern California Book Award. He is the founder of Decant Editorial.
Find out more here: joshuamohr.net / decanteditorial.com
Twitter: @joshua_mohr
---
Available from Two Dollar Radio
Sirens
"New Dad nearly becomes Newly Dead Dad in Joshua Mohr's astonishing, heart-in-the-mouth, darkly funny and wildly inspiring memoir, Sirens. What Mohr endured—three strokes in his 30s and heart surgery, and that's just the fun part—is more than most of us will suffer in a lifetime. Happily, the worse his prognosis, the stronger his writing. Until, by the end of his hospital party, what emerges is a cri de coeur of power, intensity, and—I'm just going to say it—love. This is the kind of book that makes you want to grab strangers at bus stops and scream at them to read. Think Kathy Acker, think Denis Johnson, think Amy Hempel. Sirens is a truly powerful work of art, by an artist we're all lucky to have alive and working."
—Jerry Stahl
Some Things that Meant the World
"Meet Rhonda, a man who spends his haunted, liquor-fueled days Dumpster diving for redemption. With his first line—"I'd like to brag about the night I saved a hooker's life"—debut writer Joshua Mohr sucks you into Some Things That Meant the World to Me. Charles Bukowski fans will dig the grit in this seedy novel, a poetic rendering of postmodern San Francisco culminating in, of all places, Home Depot."
—O, The Oprah Magazine



Termite Parade
"[A] wry and unnerving story of bad love gone rotten. [Mohr] has a generous understanding of his characters, whom he describes with an intelligence and sensitivity that pulls you in. This is no small achievement."
—New York Times Book Review, Editors' Choice
Damascus
"Beat-poet cool. Mohr nails the atmosphere of a San Francisco still breathing in the smoke that lingers from the days of Jim Jones and Dan White, a time when passionate ideologies and personal dysfunction intermingled and combusted."
—New York Times Book Review
---
Interviews
Read:
An Q&A with Joshua Mohr | 3/4/2016
We talk with Mohr about relapse, fatherhood, and delving into the past with his latest, Sirens.
Los Angeles Review of Books interview with Joshua Mohr | 1/9/2017
LA Review of Books dives deep with Mohr about the process of writing a memoir, and wanting to fail.
SF Gate on Joshua Mohr's debut novel | 6/5/2009
The San Francisco Chronicle interviews Josh about his compulsion to write, as well as his connection to the Mission District.
Author Events
JOSHUA MOHR | Sirens
* Book Release Party *
Hugo House
Tuesday, January 10 | 7pm
Seattle, WA
HugoHouse.org
JOSHUA MOHR | Sirens
Powell's, with Patrick deWitt
Wednesday, January 11 | 7pm
Portland, OR
Powells.com
JOSHUA MOHR | Sirens
City Lights
Tuesday, January 17 | 7pm
San Francisco, CA
CityLights.com
JOSHUA MOHR | Sirens
A Great Good Place for Books
Wednesday, January 18 | 7pm
Oakland, CA
GGPBooks.com
JOSHUA MOHR | Sirens
KAROLINA WACLAWIAK | How to Get Into the Twin Palms
Skylight Books
Sunday, January 22 | 4pm
Los Angeles, CA
SkylightBooks.com
JOSHUA MOHR | Sirens
Vermin on the Mount, Book Show LA
Friday, January 20 | 7:30pm
Los Angeles, CA
Verminonthemount.com
JOSHUA MOHR | Sirens
Vermin on the Mount, San Diego
Saturday, January 21 | 7pm
San Diego, CA
Verminonthemount.com
JOSHUA MOHR | Sirens
McNally Jackson, with Charles Bock
Sunday, February 12 | 4pm
New York, NY
McNallyJackson.com
JOSHUA MOHR | Sirens
Franklin Park Reading Series
Monday, February 13 | 7pm
Brooklyn, NY
FranklinParkReadingSeries.Tumblr.com
JOSHUA MOHR | Sirens
LIC Reading Series
Tuesday, February 14 | 7pm
Queens, NY
LIC Reading Series on Facebook