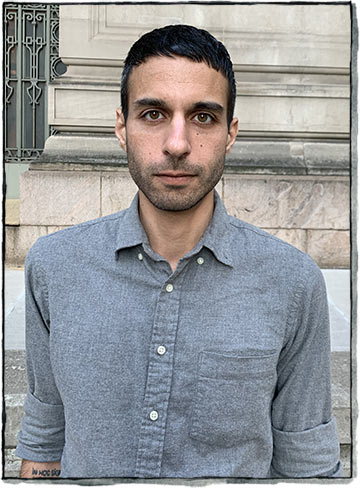 Author photo credit: Craig Durante
REQUEST AN INTERVIEW VIA CONTACT FORM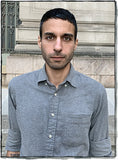 Tariq Shah
---
ABOUT the author
Tariq Shah is the author of Whiteout Conditions, a debut novel. Born and raised in Illinois, Shah writes fiction and poetry, and has work appearing or forthcoming in Jubilat, Heavy Feather Review, No, Dear Magazine, ANMLY (fka Drunken Boat), Gravel, BlazeVox, and other publications. From 2007-2009, he served as a Peace Corps volunteer in Mozambique, and he holds an MFA in Creative Writing from St. Joseph's College in Brooklyn, where he now teaches. His chapbook, heart assist device, was a finalist for the 2019 no, dear/small anchor press chapbook series.
Find out more here:
Twitter: @tariqshwa
Instagram: @tariqshwa
---
Available from Two Dollar Radio
Whiteout Conditions
"Ant is borderline obsessed with funerals, likening the events to weddings as gatherings he looks forward to. Yet, when a childhood friend passes, Ant's veneer starts to crumble. Weirdly funny, Whiteout Conditions tracks Ant and his friend Vince as they make their way through Chicogoland's suburbs, which, in Shah's telling, are as harrowing as any arctic climate."
—Wendy J. Fox, BuzzFeed

---
Author Reading:
Watch the video of The Virtual Franklin Park Reading Series Episode 2: Starring Tariq Shah, Tochi Onyebuchi, Teddy Wayne, and Hilary Leichter, with host Marae Hart, May 29, 2020:

---
Interviews
WATCH:
Virtual Author Event with Tariq Shah and Page 158 Books | 4/24/2020 
Watch a video of the virtual author event that took place on Crowdcast. Since Tariq Shah's debut novel, Whiteout Conditions, was released on March 17, 2020, in the midst of the Covid-19 pandemic, and all planned bookstore stops had to be canceled, we were thrilled to team up with Page 158 Books in Wake Forest, NC, for this virtual event! Tariq Shah read from Whiteout Conditions, followed by a Q&A with the audience and host Dave Lucey, co-owner of Page 158 Books.
READ:
Writer's Digest Breaking In: Interview with Whiteout Conditions Author Tariq Shah | 3/31/2020 
Cassandra Lipp interviews Tariq Shah about his debut literary fiction release! They discuss how he got his manuscript published, tips, and what Shah has coming up next.
Heavy Feather Review interview with Tariq Shah | 7/13/2020
"Emotional Resonances": Jesi Buell chats with Tariq Shah about his debut novel Whiteout Conditions: his influences, the origins and inspiration for his novel, and more.
Q&A with Author Tariq Shah | 3/6/2020 
We are thrilled to publish Shah's first novel, Whiteout Conditions. Read our interview with him ranging from how important setting was to the impetus for writing his first novel. Read on!