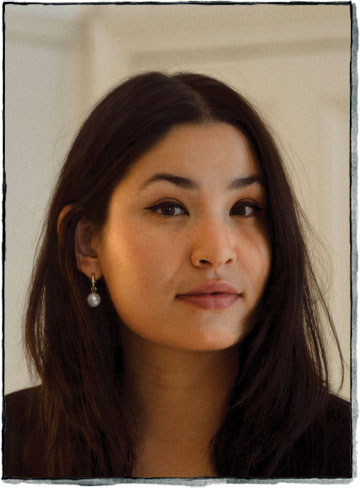 Author photo credit: Marcelle Bradbeer
REQUEST AN INTERVIEW VIA CONTACT FORM
Paige Clark
---
ABOUT the author
Paige Clark is a Chinese/American/Australian fiction writer, researcher and teacher from Los Angeles. Her debut short story collection She Is Haunted was shortlisted for the Readings Prize for New Australian Fiction. Her fiction has appeared in Meanjin, Meniscus and New World Writing. In 2019, she was runner-up for the Peter Carey Short Story Award and shortlisted for the David Harold Tribe Fiction Award. She has a Bachelor of Science in Mass Communication Theory from Boston University and a Master of Creative Writing, Editing and Publishing from the University of Melbourne, where she is currently at work on her PhD. Her research addresses the relationship between race, craft and the teaching of creative writing. She lives in Melbourne with her partner, Alex, and their dog, Freddie.
Find out more here: paige-clark.com
Twitter: @paigeclark
---
Available from Two Dollar Radio
She Is Haunted
"This seamlessly connected collection of standalone stories focuses its perceptive lens on the lived experiences of women exploring death through life, and life through death. Clark walks sharp lines between truth and rejection, innovation and tradition, fate and contingency, with casual intelligence and deep emotional resonance. Every story reads like a thought experiment, or a fragment of self; hyperreal, philosophical, and rich in non-generic symbolism." —Nanci Nott, ArtsHub
---
Interviews:
LISTEN:
Bookin' Podcast w/ Paige Clark, Episode 184 | May 16, 2022
This week, host Jason Jefferies, presented by Quail Ridge Books, is joined by Paige Clark, author of She Is Haunted. "Topics of discussion include PhDs, Two Dollar Radio, kids, God as a character, Rumpelstiltskin, value systems, favorite words (geriatric vs. abomination vs. bloom), internet-driven obsessions, redactions, and much more." (Psst—copies of She Is Haunted can be purchased from Quail Ridge Books with free shipping!)

---
READ:
Apogee Journal interview with Paige Clark | Sept 1, 2022
A conversation with Paige Clark on She Is Haunted, with author Michael Prior.
Michael Prior, author of Burning Province, spoke with Paige Clark about her debut story collection, writing about race, gender, and embodied experience, protagonists with mixed-race heritage, how living in such varied places as Southern California and Melbourne influenced her writing, and so much more!
Poets & Writers "First Fiction 2022" | July/August 2022
Read an interview between authors YZ Chin and Paige Clark.
"Paige Clark, whose debut story collection, She Is Haunted, was published in May by Two Dollar Radio, introduced by YZ Chin, author of two books, most recently Edge Case, published by Ecco in 2021." (Image Credit: Clark: Marcelle B. Radbeer; Chin: Drew Stevens)

Observer interview with Paige Clark | May 2, 2022
Tiffany Babb spoke with She Is Haunted author Paige Clark about the seven-year process of writing her debut collection, gaining confidence as a writer, the specific short story collections that she looked to for inspiration, her Asian American identity and the importance of writing about race, and so much more!
Your Impossible Voice interview with Paige Clark | May 2022
For the "Nine Books About Your Life" series, Nicholas Alexander Hayes spoke with Paige Clark, author of She Is Haunted about the select books that have had an impact on her life and her writing.
LIMINAL magazine interview with Paige Clark | Sept. 8, 2021
For their "5 Questions" series, LIMINAL spoke with author Paige Clark about "not being Asian enough" in her writing, the conception behind her debut story collection, She Is Haunted, what other authors and works have been inspiring to her, her complicated relationship with her own mother, the self in fictional writing, and more.
Pedestrian interview with Paige Clark | July 9, 2021
For Litty Committee, Pedestrian.TV's twice-monthly book column, Steffanie Tan spoke with fiction writer Paige Clark about her debut collection of short stories, She Is Haunted, being a writer of color, whether her writing was "Asian enough," how quitting social media changed her life, and more!

---
Additional reading:
Paige Clark in BOMB | July 20, 2022
"The Extraordinary Illiteracy of Place and the Immigrant: Writing Without Country"
"From immigration to colonization, Paige Clark considers what it means to 'go back to where you come from.'"
Paige Clark in The Rumpus | July 8, 2022
"What to Read When You'd Rather be in Australia"
"When I first moved to Naarm (Melbourne, Australia), I had never read any books by Australian writers and had never heard of any Australian writers besides Tim Winton. Little did I know that some of the most exciting English language writing was happening here, particularly by Aboriginal and Torres Strait Islander writers. This is the reading list that I wish I'd had then. These books show what life is like in this country more than any travel guide ever could."
Paige Clark in The Guardian | July 19, 2021
"My husband finished his album from hospital. His death taught me how to live"
"Is She Is Haunted about Adrian? It is inspired by him, but this book is about me. It is about all the ways I learned how to exist."

Save
Save
Save