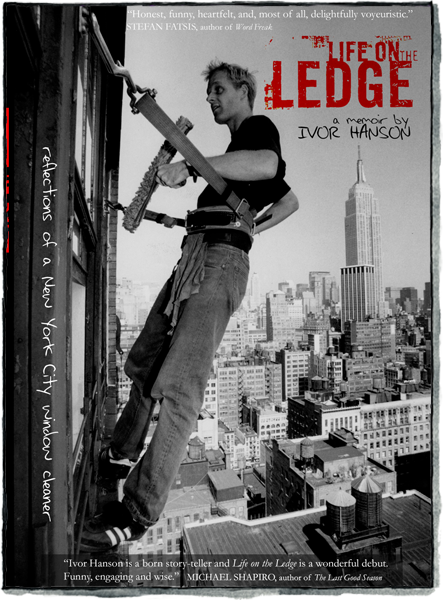 Out of Print!
1st Printing Features: Trade paper
CLICK TO REQUEST AN ARC
CLICK TO REQUEST RIGHTS INFO
Life on the Ledge (Out of Print)
a memoir by
Ivor Hanson
---
Sorry! This is being reordered and will be back in stock soon.
ABOUT
This book is now out of print.
---
"Fascinating."
—New York Magazine
---
Synopsis
After drifting out of his current band, Ivor must face that window cleaning is no longer his day job—it's his only job; he's not going to be a rock star after all. This, despite having played in such ground-breaking punk bands as S.O.A. with Henry Rollins, Faith, and Embrace with Ian Mackaye.
Reviews
"Hanson is effortlessly sharp, insightful and funny."
—Publishers Weekly
"Hanson's dreams of mainstream rock success might have never left the ground, but, from over 100 feet above the city's streets, he's acquired an understanding of something no less lofty and far more fascinating."
—Washington City Paper
"Hanson is a good storyteller and he has good stories to tell."
—Manhattan Users Guide
Author
Ivor Hanson is a freelance writer and window cleaner who has written for The New York Times, The Big Takeover, Time Out New York, and other publications. A graduate of Vassar College and the Columbia University Graduate School of Journalism, Ivor lives in New York City with his wife and daughter. When not working as a stay-at-home dad, he cleans windows around town.
Info
LIST PRICE: $14.00
PAGES: 220
PRINT ISBN: 978-0-9763895-3-8
RELEASE DATE: 9/1/2006
Save
Save
Save
Save