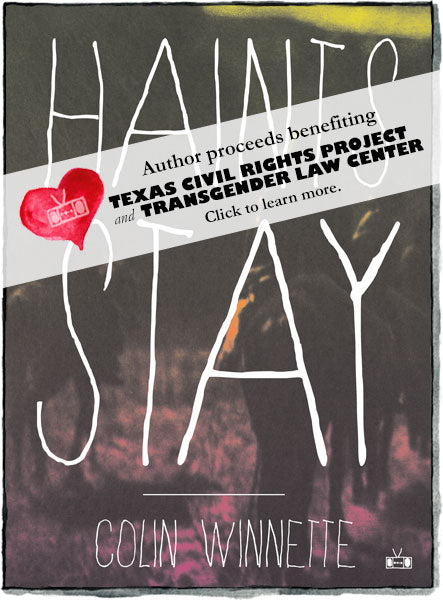 Out of Print!
1st Printing Features: Trade paper, Gate-fold, Deckle Edge
CLICK TO REQUEST AN ARC
CLICK TO REQUEST RIGHTS INFO
Haints Stay (Out of Print)
a novel by
Colin Winnette
---
Sorry! This is being reordered and will be back in stock soon.
ABOUT
This book is now out of print.
---
All author proceeds will be donated to the Transgender Law Center and the Texas Civil Rights Project. (During the month of July 2018, matched by Two Dollar Radio for direct sales.)
---
Synopsis

Brooke and Sugar are killers. Bird is the boy who mysteriously woke beside them while between towns. For miles, there is only desert and wilderness, and along the fringes, people.
The story follows the middling bounty hunters after they've been chased from town, and Bird, each in pursuit of their own sense of belonging and justice. It features gunfights, cannibalism, barroom piano, a transgender birth, a wagon train, a stampede, and the tenuous rise of the West's first one-armed gunslinger.
Haints Stay is a new Acid Western in the tradition of Rudolph Wurlitzer, Kelly Reichardt's Meek's Cutoff, and Jim Jarmusch's Dead Man: meaning it is brutal, surreal, and possesses an unsettling humor.
---
Haints Stay by Colin Winnette =
* In most cases, none of these writers endorse this book. Our math formulas are supposed to be amusing anecdotes, similar to shelf-talkers in bookstores that say "If you like X, you might enjoy Y," or "This Book is like Cormac McCarthy writing an episode of Saved by the Bell with a soundtrack by Philip Glass."

Reviews
Scroll to bottom for Goodreads reviews.
"In his astonishing portrait of American violence, Haints Stay, Colin Winnette makes use of the Western genre to stunning effect. But this isn't a chummy oater penned by the likes of Zane Grey or Louis L'Amour. Winnette's frontier feels more Homeric. His knack for tapping into scenes of primal fear and poetic violence serves as an indictment of our species' base nature and worst instincts. While the novel flouts most of the conventions of the traditional horse opera, the rewards of Haints Stay belong to the reader."
—Jim Ruland, Los Angeles Times
"A success... Haints Stay turns the Western on its ear."
—Washington Post
Included in Vice's "2015 Was the Year the Literary Versus Genre War Ended"— 11 great books from 2015 that showed how much those walls have collapsed.
"Striking and powerful... a Western as reimagined through the transgressive lens of Dennis Cooper. What Winnette does here is less about undermining the traditions of the Westerns and more about pushing them in unexpected directions."
—Electric Literature
"Head over to the literary side of the fence and you'll find even more interesting and acclaimed permutations of the Western in recent years... Colin Winnette's novel Haints Stay told a haunting and surreal tale of two outlaws fighting for survival in an increasingly hostile landscape."
—Tobias Carroll, InsideHook "A New Era for Westerns Proves the Genre Isn't Dead—It's Getting Better" 9/3/2019
"In Haints Stay, the best parts of a Western are all there—and then some: the book bends conventions, reimagines the landscape, and questions prominent themes. Often times it's also hilarious."
—The Offing, a channel of the Los Angeles Review of Books
"The surreality of the violence highlights the inherently bizarre nature of violence in the real world. This book gave me literal nightmares—but somehow in a good way."
—Slate
"Colin Winnette doesn't so much revise as remix the traditional Western, muting some elements while amplifying others to sometimes startling effect. (Interview with the author)"
—Electric Literature
"It is a small step from the mythic to the bizarre, and the Western has always been a ripe genre for artists with an eye for the uncanny. From films like Alejandro Jodorowsky's El Topo and Jim Jarmusch's Dead Man to novels like Robert Coover's Ghost Town and Cormac McCarthy's Blood Meridian, the American West has been frequently depicted as a strange land. Add to that weird Western tradition Colin Winnette's Haints Stay. [Haints Stay is] both haunting and haunted."
—The Oyster Review
"The cinematic quality to this work is undeniable and there's a coolness that reminds me of Cormac McCarthy—but I like this more than McCarthy. Winnette offers a philosophical meatiness to gnaw on as his characters cross, double back, and re-cross the unnamed terrain."
—The Portland Mercury
"Haints Stay puts to mind the very best contemporary novels of the old West, including those by powerhouses like Charles Portis, Patrick DeWitt, Robert Coover, Oakley Hall, E.L. Doctorow and Sheriff Cormac McCarthy himself, not to mention Thomas McGuane's classic screenplays for The Missouri Breaks and Tom Horn. But Colin Winnette has his own dark and delightful and surprising agenda. Be wary. He might be the new law in town."
—Sam Lipsyte
"The Old West of Colin Winnette's newest book is one denuded of the romance of American goodness, the country's self-myth of inherent decency and indomitable success. This is not a love song to some lost American masculinity. This is the endgame for an American masculinity granted its terrifying wishes. That the book works so well both as entertainment and reflection makes it one that deserves to stick around and reach an audience. Read it soon."
—Fourth & Sycamore
"Straddles the space between McCarthy's Blood Meridian and Carr's Edie & the Low-Hung Hands."
—David Bowles, The Monitor
"Winnette's already sharp prose is honed here to a razor edge. It rolls across the stark, lawless world he evokes like approaching thunder. [Haints Stay is] a blood-soaked, Wrath-of-God kind of Western [with] whip-crack plot turns, which [Winnette] paces, like a good stagecoach driver, just well enough to keep the novel hurtling forward at such a speed that you, the reader, can do nothing more than trust his instincts and pray there isn't a cliff around the bend."
—Midnight Breakfast
"The novel is a gauntlet that relentlessly pivots as the characters fail to relate to "civil" society, but manage to relate to the earth and one another. Like Denis Johnson's Train Dreams, this Western is as defined by its verisimilitude as its anachronisms: the rustic post-modernism, its contemporary subtext."
—Brazos Bookstore
"[Haints Stay] is the kind of refreshing, bizarre, remorseless story the Western genre needs. Winnette's truly effective trick is that he can build a world so wild (where no one is spared the unrelenting violence) out of complex characters that you genuinely grow to care for, making what they endure so much more wince-inducing and blood pressure-raising."
—AskMen.com
"Colin Winnette's Haints Stay is a brutally dark and haunting novel of two killers, a noir Western that sits proudly among modern classics like Patrick deWitt's The Sisters Brothers and Rudy Wurlitzer's The Drop Edge of Yonder."
—Largehearted Boy
"[Haints Stay] reminded me of Johnny Cash songs and cigar smoke and dying of dysentery while playing the Oregon Trail. It's dark, but it's not tepid; no one mopes, not even for a second."
—LitReactor
"Written in unhurried, cool prose [...] Haints Stay is a snaky Western with characters cut and formed by the elements. Winnette has fed his vision of this earthy genre through his own sensibilities, one influenced by Oulipo, to arrive at something playful and visceral and acidic. Indeed, Haints Stay with its circular narrative and relentless doubling lies somewhere between David Lynch and Alejandro Jodorowsky."
—Numero Cinq Magazine
"The unexpectedness of Colin Winnette's fiction is nothing less than thrilling... Haints Stay is a solid, layered work of genre-defying beauty."
—The Lit Pub
"The most anticipated independent novel of the summer. And, frankly, it may be the most anticipated American independent novel since Sarah Gerard's Binary Star. Certainly we've been thinking about Winnette's book since January, when I called [his earlier novella, Coyote] 'a work by an assured writer who is on the verge of something important' — Haints Stay proves he's no longer on the verge."
—Flavorwire
"Life is nasty, brutish, and short in this noir-tinged Western about a pair of coldblooded killers out on the trail... Winnette portrays his serial killers with an odd grace and punctuates his circular narrative with murders, revenge killings, a shooting spree, and a heroic arc for wannabe gunslinger Bird that is broadly, darkly humorous."
—Kirkus
"Funny, brutal and haunting."
—Brian Evenson
Author
Colin Winnette is the author of Revelation, Animal Collection, Fondly, Coyote, and now, Haints Stay. His work has appeared in The Believer, The American Reader, Gulf Coast, Buzzfeed, and many other publications. He conducts a semi-regular interview series for Electric Literature, and he is an associate editor of PANK. 
Sneak Peek
Use the "full screen" option at bottom right to enlarge the pages:
Info
LIST PRICE: $16.00
PAGES: 222
PRINT ISBN: 9781937512323
DIGITAL ISBN: 978-1-937512-33-0
RELEASE DATE: 6/2/2015
SIZE: 5.5" x 7.5"
Printed in Canada by Marquis, with the following environmental statement:
*Inside printed on Enviro 100% post-consumer EcoLogo certified paper, processed chlorine free and manufactured using biogas energy.
*FSC certified paper (inside and cover).