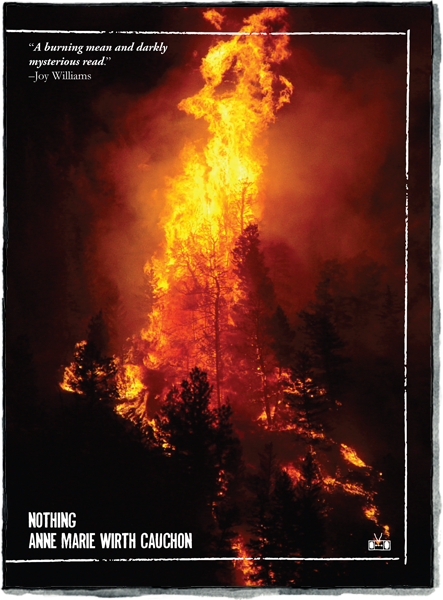 Out of Print!
1st Printing Features: Trade paper
CLICK TO REQUEST AN ARC
CLICK TO REQUEST RIGHTS INFO
Nothing (Out of Print)
a novel by
Anne Marie Wirth Cauchon
---
Sorry! This is being reordered and will be back in stock soon.
ABOUT
This book is now out of print.
---
"Apocalyptic and psychologically attentive. I began to read Nothing as a metaphor for the relationship between people and the unknown. I was moved."
—Tao Lin, New York Times Book Review
---
Synopsis
Epic wildfires are snaking through the Sapphires and the Bitterroots, closing in on the valley. The entire west is seemingly ablaze when James hitchhikes to Missoula, in search of clues to his father's mysterious death two decades earlier. 

Ruth traded a dead-end life in Minneapolis for a dead-end life in Missoula. But in Missoula, she's got Bridget. "[Bridget] was gorgeous... but that wasn't it, that didn't quite explain it. What explained it was the curse. The curse of the unreasonably pretty, the curse of cult leaders and dictators. It sucked everyone to her, it consumed her, made her untouchable." 

After a local girl dies at a party, signaling the end of fun for the twentysomethings of Missoula, James and Ruth become involved. But jealousy over Bridget quickly complicates things. 

Nothing announces an assertive new voice, while also capturing the angst and foreboding that could mark it as an even grander generational statement.
---
Nothing by Anne Marie Wirth Cauchon =
* In most cases, none of these writers endorse this book. Our math formulas are supposed to be amusing anecdotes, similar to shelf-talkers in bookstores that say "If you like X, you might enjoy Y," or "This Book is like Cormac McCarthy writing an episode of Saved by the Bell with a soundtrack by Philip Glass."

Reviews
"A marvelously scathing indictment of a generation that has no choice but to burn. From Nothing's outset, [Wirth Cauchon] crafts scenes with complexity and a scary prescience. [Nothing is] a riveting first piece of scripture from our newest prophet of misspent youth."
—Paste
"For all that James' self-imposed mission moves with the queasiness of fate, so do the relentless wildfires that loom throughout. There are natural disasters, Cauchon implies, and there are disasters born of human flaws. Nothing demonstrates what happens when they converge."
—Minneapolis Star-Tribune
"Apocalyptic and psychologically attentive. I began to read Nothing as a metaphor for the relationship between people and the unknown. I was moved."
—Tao Lin, New York Times Book Review
"Like a movie adaptation of Daria as directed by Gregg Araki. The energy almost makes each page glow. Though this novel starts as Bret Easton Ellis, it ends as Nick Cave—thunderous, apocalyptic. The move into the grand and mythic separates Nothing from the usual stuff concerning the bored and the pretty."
—Electric Literature's The Outlet
"One of 2013's most impressive debuts... exceptional. There is a lurid pulpiness of a Fawcett Gold Medal paperback at its core; a thriller-like structure which drives the narrative and fills it with an encroaching dread like a James M. Cain novel."
—LitReactor
"Nothing feels like the descendent of the masterful short stories of Denis Johnson's Jesus' Son. [A] noteworthy debut."
—Bustle
"Wirth Cauchon skillfully reveals how behind it all... lies the struggle to make sense of a world in which incessant warfare and torture can exist side by side with 'zombie(s) in Louis Vuitton.' Filled with foreboding from the start, Nothing is like a nightmare in which you know you should run, but can't. [Wirth Cauchon's] luminous writing makes [the characters] linger in the mind, just as the smell of smoke lingers long after a fire is extinguished."
—ForeWord Magazine
"If a warehouse of Thomas Kinkade paintings caught on fire, there would be Nothing."
—The L Magazine

"An edgy debut. Cauchon's characters have serrated edges... they'll get under the reader's skin."
—Publishers Weekly
"A brief glimpse into the chaotic angst and yearning of modern American youth culture. Comprised of all of our favorite subjects—road trips, nihilism, tumultuous friendships—this work is tops on our winter reading list."
—Barnes & Noble blog 
"A burning mean and darkly mysterious read."
—Joy Williams
"I could tell you that Anne Marie Wirth Cauchon has written an utterly contemporary novel of our fragmented culture, a novel that I think might be the great American novel of the selfie, brilliantly alternating the narratives of two young travelers partying and searching and losing themselves in the wild West—a Kerouac hitchhiker juxtaposed with the nihilistic, wanting, wandering Ruth and her toxic friendship with her prettier best friend. But this is what I want to tell you—this is what you need to know—Anne Marie Wirth Cauchon writes like a beast, brutal and ecstatic. You need to read this."
—Kate Zambreno
Author
Anne Marie Wirth Cauchon received her MFA from the University of Montana. She studies English, Cultural Studies and Comparative Literature at the University of Minnesota in Minneapolis. In 2010 she received a MacDowell fellowship for the manuscript of Nothing. It is her first novel.
Sneak Peek
Enjoy a sneak peek look inside Nothing here, on issuu.com:
info
LIST PRICE: $16.00
PAGES: 187
PRINT ISBN: 9781937512118
DIGITAL ISBN: 978-1-937512-06-4
RELEASE DATE: 11/1/2013