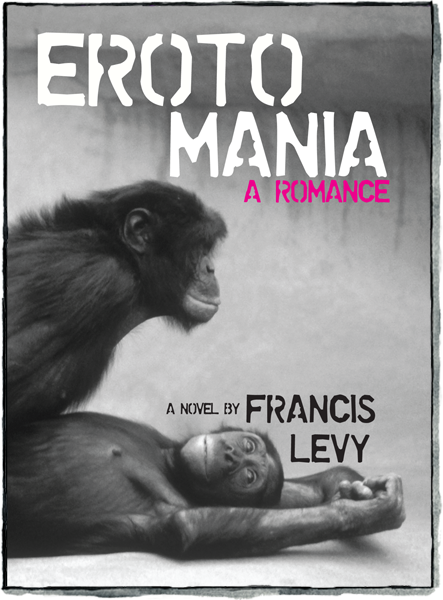 Out of Print!
1st Printing Features: Trade paper
CLICK TO REQUEST AN ARC
CLICK TO REQUEST RIGHTS INFO
Erotomania: A Romance (Out of Print)
a novel by
Francis Levy
---
Sorry! This is being reordered and will be back in stock soon.
ABOUT
This book is now out of print.
---
*Standout Book of 2008 —Inland Empire Weekly
*Top 10 Book of 2008 —Queerty
"Francis Levy is our generation's D.H Lawrence, Henry Miller and Charles Bukowski rolled into one."
—Inland Empire Weekly
---
Synopsis
A comedic, absurdist portrait of a modern-day romance, Erotomania traces the development of James and Monica, from a couple that is forced to move to a nuclear fall-out bunker so their explosive sex life doesn't physically harm their neighbors, to James' one-night bout with alcoholism, to Monica's sexually-fueled obsession with abstractionist expressionism, to marriage counseling, to a new-found reliance on reality television and microwaveable meals.
---
Erotomania: A Romance by Francis Levy =
* In most cases, none of these writers endorse this book. Our math formulas are supposed to be amusing anecdotes, similar to shelf-talkers in bookstores that say "If you like X, you might enjoy Y," or "This Book is like Cormac McCarthy writing an episode of Saved by the Bell with a soundtrack by Philip Glass."

Reviews
"[A] hilariously satirical debut novel. Miller, Lawrence, and Genet stop by like proud ancestors... But it's a more recent generation of mischievous deviant writers (Nicholson Baker, Mary Gaitskill) that truly looms large."
—Village Voice
"[Levy's] excellent too, like Miller and Bukowski, on the mechanics and energy and animal filth of rumpy-pumpy, bringing to his sex scenes all the humor they need. There's a hilarious sequence in which the lovers use art criticism as a sex aid. Readers will never think of Robert Hughes or the abstract Expressionists in quite the same way. Sex is familiar, but it's perennial, and Levy makes it fresh."
—Los Angeles Times
"Levy seems to have an eye for detail for all that is absurd, commonly human, and uniquely American. Erotomania is recommended for those who are looking for an alternative read that borders on surrealism and is over-the-top."
—Bookslut
"It's a great book, written with flawless verve by a tremendous fictioneer and thinker, and it deserves glory. A classic."
—Andrei Codrescu, Exquisite Corpse
"A high-minded yet slapstick take on erotic desire."
—Time Out Chicago
"A novel that effectively satirizes traditional tales of romance."
—The L Magazine
"[A] nontraditional love story, with traces of Bukowski and Henry Miller."
—Publishers Weekly
"The book's raw but thoughtful carnality comes off as at once serious, clever and crude in sending up the absurdities of contemporary hookings-up. It's not a traditional love story, but debut novelist Levy puts thought and genuine feeling behind all the doings."
—Publishers Weekly
"[Erotomania] can just as easily be a bookend to the beautifully nuanced prose of Milan Kundera as it can be a long-version story for a nudie mag minus the accompanying photographs. It's all in the context—as it is with most relationships."
—Quarterly Conversation
"Erotomania wields a comedic punch that makes it, above all, a fun novel to read."
—Nerve
Author
Francis Levy's short stories, criticism, humor, and poetry have appeared in The New York Times, The Washington Post, The New Republic, The Village Voice, The East Hampton Star, The Quarterly, Penthouse, among others, and he is also the author of Seven Days in Rio. He is co-director of the Philoctetes Center for the Multidisciplinary Study of Imagination, is a third degree black belt, and blogs at TheScreamingPope.com.
Sneak Peek
Enjoy a sneak peek read of Erotomania: A Romance here, on Issuu, and get a serious look inside the book:
info
LIST PRICE: $14.00
PAGES: 160
PRINT ISBN: 978-0-9763895-7-6
DIGITAL ISBN: 978-1-937512-00-2
RELEASE DATE: 8/1/2008
FOREIGN LANGUAGE: Tusquets Editores (Spanish)