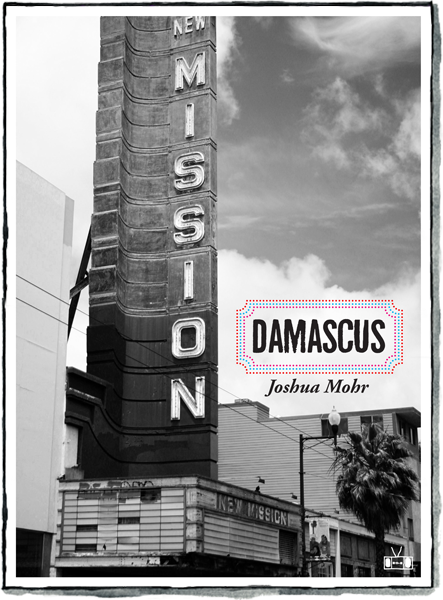 Out of Print!
1st Printing Features: Trade paper, Gate-fold, Deckle Edge
CLICK TO REQUEST AN ARC
CLICK TO REQUEST RIGHTS INFO
Damascus (Out of Print)
a novel by
Joshua Mohr
---
Sorry! This is being reordered and will be back in stock soon.
ABOUT
This book is now out of print.
---
"Beat-poet cool. Mohr nails the atmosphere of a San Francisco still breathing in the smoke that lingers from the days of Jim Jones and Dan White, a time when passionate ideologies and personal dysfunction intermingled and combusted."
—New York Times Book Review
---
Synopsis
It's 2003 and the country is divided evenly for and against the Iraq War. Damascus, a dive bar in San Francisco's Mission District, becomes the unlikely setting for a showdown between the opposing sides. 

Tensions come to a boil when Owen, the bar's proprietor who has recently taken to wearing a Santa suit full-time, agrees to host the joint's first (and only) art show by Sylvia Suture, an ambitious young artist who longs to take her act to the dramatic precipice of the high-wire by nailing live fish to the walls as a political statement. 

An incredibly creative and fully-rendered cast of characters orbit the bar. There's No Eyebrows, a cancer patient who has come to the Mission to die anonymously; Shambles, the patron saint of the hand job; Revv, a lead-singer who acts too much like a lead-singer; and Owen, donning his Santa costume to mask the most unfortunate birthmark imaginable.
---
Damascus by Joshua Mohr =
* In most cases, none of these writers endorse this book. Our math formulas are supposed to be amusing anecdotes, similar to shelf-talkers in bookstores that say "If you like X, you might enjoy Y," or "This Book is like Cormac McCarthy writing an episode of Saved by the Bell with a soundtrack by Philip Glass."

Reviews
"Beat-poet cool. Mohr nails the atmosphere of a San Francisco still breathing in the smoke that lingers from the days of Jim Jones and Dan White, a time when passionate ideologies and personal dysfunction intermingled and combusted."
—New York Times Book Review
"Damascus succeeds in conveying a big-hearted vision."
—Wall Street Journal
"With a remarkably subtle hand, Mohr leads the reader through a minefield of explosive topics: the wars in Afghanistan and Iraq, living with cancer and dealing with addiction. Damascus transcends all that and is nothing less than a primer on how to love those incapable of loving themselves."
—San Diego CityBeat
"[An] assured new novel. As gritty and sordid as its details are, Damascus has a soft, sentimental heart."
—The Columbus Dispatch
View the awesome HORN! REVIEWS review in short graphic novel/comic form.
—The Rumpus
"Mohr's writing in Damascus works winningly... Some of the humorous touches may remind readers of the prose of Bukowski, but where he would have shined the spotlight on their drunken stupor, Mohr reveals a more thoughtful, existential consideration of who these people are. If his work continues in this vein, we may one day instead see Bukowski being compared with Mohr."
—Shelf Awareness
"[Mohr] is the new millennium street poet of San Francisco's Mission District."
—3:AM Magazine
"Mohr continues his impressive trajectory of artistic integrity with an ambitious story of self-pity and redemption, the Iraq war, cancer, addiction and the purpose of art. At once gripping, lucid and fierce, Damascus is the mature effort of an artist devoted to personal growth and as such contains the glints of real gold."
—San Francisco Chronicle
"There is no greater achievement than being able to locate the sacred in the profane, to raise the light out of the dark, to find the sage in the alcoholic. As Mohr makes sense of our illogical drunken ramblings, he also finds the human element in characters most often overlooked. Mohr's got an inherent ability to spin a yarn; it's as if he's standing over your shoulder lighting each page with a match as you read. Damascus is a scrapbook of all the things from our lives we worried would get lost in the wind."
—The Rumpus
"We'll tell you what [Joshua Mohr] did accomplish [with Damascus]: the feat of bringing a pathetic dying man, an alcoholic semi-prostitute, and a naive performance artist to full literary life while at once intelligently exploring various viewpoints on the war in Iraq. Oh, do we dig this book."
—Shelf Unbound
"Rife with themes of humanity, passion, and determined resilience... this accomplished effort demonstrates Mohr's rich, resonant prose, authentically rendered settings, and deft characterization."
—Publishers Weekly, Starred Review
"Reading like a cross between Harry Crews and Armistead Maupin, [Damascus] has a wacky authenticity and demonstrates the preciousness of life. For immediate consumption by fans of gritty reality; an outstanding achievement."
—Library Journal, Starred Review
"Moving, bitterly charming, sometimes depressing, but always engaging."
—HTML Giant
"What elevates Damascus from the mire of its fatalism is its immense compassion."
—Zyzzyva
"Quite a feat. Mohr treats his characters with such tenderness that he managed to squeeze the blood of empathy from this turnip I call a heart."
—LitReactor
"A better understanding of our sweetly seedy city we could not ask for."
—SF Weekly
"The extraordinary low road characters that make up the saloon world of Damascus rush straight at the reader right from the opening bell. In this startling and original work, Joshua Mohr explores the dark side of the human condition with compassion, humor and dangerous precision."
—Rudolph Wurlitzer
"Mohr is the bard of the underbelly, and the Mission District is his playground. Behind his wayward and dissolute characters, burns the clear-eyed moral vision of a very unique artist."
—Jonathan Evison
Author
Joshua Mohr is the author of the memoir Sirens, and the novels Some Things That Meant the World to Me and Termite Parade, as well as Fight Song and All This Life. He lives in San Francisco and teaches fiction writing.
Sneak Peek
Enjoy a sneak peek read of Damascus here, on Issuu, and get a serious look inside the book:
Info