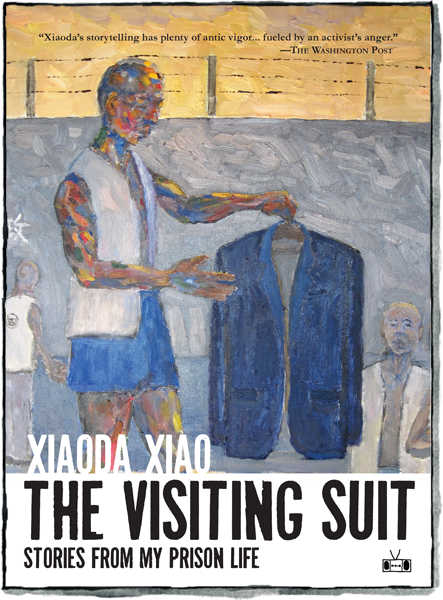 Out of Print!
1st Printing Features: Trade paper, Gate-fold, Deckle Edge, Illustrations
CLICK TO REQUEST AN ARC
CLICK TO REQUEST RIGHTS INFO
The Visiting Suit (Out of Print)
a memoir by
Xiaoda Xiao
---
Sorry! This is being reordered and will be back in stock soon.
ABOUT
This book is now out of print.
---
"These stories personify the compassion, humor, and dignity inherent not just in survival but in triumphing over despair."
—O, The Oprah Magazine
---
Synopsis
The Visiting Suit chronicles Xiao's arrest through his release from the labor prison five years later, for the crime of tearing a poster of Chairman Mao while inebriated. Several months later, Xiao was arrested in order to fulfill an absurd quota and, without trial, declared a counterrevolutionary. He was sent to a labor prison on an island in Taihu Lake, where he worked in a stone quarry.
---
The Visiting Suit by Xiaoda Xiao =
* In most cases, none of these writers endorse this book. Our math formulas are supposed to be amusing anecdotes, similar to shelf-talkers in bookstores that say "If you like X, you might enjoy Y," or "This Book is like Cormac McCarthy writing an episode of Saved by the Bell with a soundtrack by Philip Glass."

Reviews
"Xiao's literary accompishment [is that] after several well-crafted chapters of prison prose, he holds up a piece of cloth that would have meant little at the beginning of the narrative and shows it as a symbol of unity, beauty, and hope."
—The Fanzine
"These stories personify the compassion, humor, and dignity inherent not just in survival but in triumphing over despair."
—O, The Oprah Magazine
"[Xiao] recount[s] his struggle in sometimes unexpectedly lovely detail. Against great odds, in the grimmest of settings, he manages to find good in the darkness."
—New York Times Book Review
"These stark, unadorned stories have a simple immediacy, composed with natural, everyday language for only one purpose: to tell you exactly what it was like."
—Shelf Awareness
"Compelling... The standout tale 'Li Minchu—The Cost Of A Dream' exemplifies the kind of inadvertent surrealism totalitarian regimes produce. [Xiao] lets the details do the talking; his book is better for it."
—The Onion A.V. Club
"Xiaoda does not linger on the injustice or bitterness of his plight. Instead he gives us stories of people surviving and interacting under difficult situations, with camaraderie that fills the void between cruelty and violence. It is the world of the camp's newspaper wall, rice powder thefts, and bedding dragged out to the sunny yard that stay with you after reading this book."
—The Collagist
"Xiao tells his tale with a guileless tongue, revealing a prison system in China that no other author writing in English has yet so deftly exposed, and it is a necessary exposure. With a keen eye for intimate observation and an uncanny ability to create dream-like melancholy from forthright prose, Xiao has given his readers an important and rare glimpse into a world too few of us understand."
—The Global Journal
"A thoughtful piece of history and fine addition to any historical memoir collection about one of the twentieth century's great atrocities."
—Midwest Book Review
"Searing."
—W Magazine
Author
Xiaoda Xiao has published stories based on his prison experience during the last years of Mao's regime in China in various magazines, including The Atlantic Monthly. He is the author of the novel The Cave Man.
Videos
View an interview with the author, Xiaoda Xiao. Listen to him play the violin (he's a concert violinist!), peep some of his oil paintings (he's a master painter!), and hear about the true stories behind his books, The Visiting Suit and The Cave Man.

Sneak Peek
Enjoy a sneak peek read of The Visiting Suit here, on Issuu, and get a serious look inside the book:
INFO
LIST PRICE: $16.50
PAGES: 274
PRINT ISBN: 978-0-9820151-7-9
RELEASE DATE: 12/1/2010