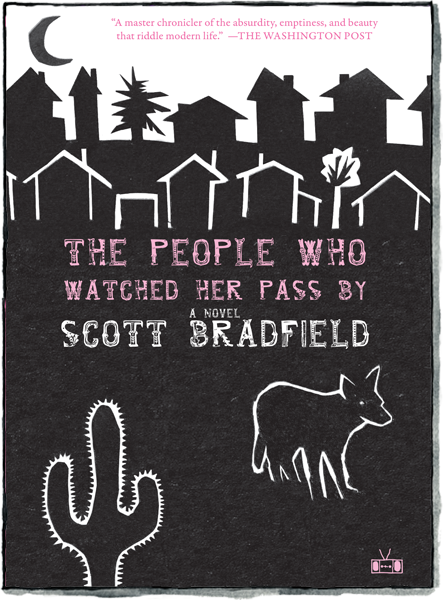 Out of Print!
1st Printing Features: Trade paper
CLICK TO REQUEST AN ARC
CLICK TO REQUEST RIGHTS INFO
The People Who Watched Her Pass By (Out of Print)
a novel by
Scott Bradfield
---
Sorry! This is being reordered and will be back in stock soon.
ABOUT
This book is now out of print.
---
"Challenging [and] original... A billowy adventure of a book. In a book that supplies few answers, Bradfield's lavish eloquence is the presiding constant."
—New York Times Book Review
---
Synopsis
Salome Jensen is three years old when she is taken from her home by the man who fixes the hot water heater. As Sal drifts through Laundromats and other people's homes, she develops a perspective of the world and an understanding of its people more meaningful than the most erudite observer could muster.
---
The People Who Watched Her Pass By by Scott Bradfield =
* In most cases, none of these writers endorse this book. Our math formulas are supposed to be amusing anecdotes, similar to shelf-talkers in bookstores that say "If you like X, you might enjoy Y," or "This Book is like Cormac McCarthy writing an episode of Saved by the Bell with a soundtrack by Philip Glass."

Reviews
"Brave and unforgettable. Scott Bradfield creates a country for the reader to wander through, holding Sal's hand, assuming goodness."
—Los Angeles Times
"A dark comedy that cuts through the bureaucracy and political correctness of modern American life."
—Times Literary Supplement of London
"Scott Bradfield is an otherworldly writer. There is an inarguable wholeness to [The People Who Watched Her Pass By], as in certain dreams."
—Rain Taxi
"This gem of a novel is by turn instructive, incisive, beautifully vivid, and funny."
—TK Reviews
"I read Scott Bradfield's new novel with a pencil in hand, enthusiastically underlining his clever remarks and turns of phrase. This short novel is a wake-up call shouting Bradfield's humorously erudite take on modern American life."
—WOSU
"Bradfield keeps a wary distance from his homeland [the U.S.], employing his outcast narrators to do his dirty work: sneaking into suburban neighborhoods and peering into bedroom windows just to reaffirm that a home is nothing but nails and wood. The People Who Watched Her Pass By is uninterested in superficial compassion. To follow Sal on her wanderings is to drive straight into the Zen void at the heart of the classic road novel."
—Bookforum
"This short novel is filled with wisdom. Bradfield's humorously erudite take on modern American life so overwhelmed me with memorable goodies, I grabbed a pencil and began underlining. I enjoyed this quirky story immensely."
—The Longest Chapter
"Jonathan Lethem has called Scott Bradfield one of his favorite living writers, and after reading The People Who Watched Her Pass By, I can understand why. Bradfield's fifth novel is narrated by a three year-old girl... [who is] easily one of the most memorable narrators I have read in years."
—Largehearted Boy
"[Scott Bradfield is] an adept prose stylist, and his portrayal of children as symbols instead of individuals is incisive."
—Publishers Weekly
Author
Scott Bradfield's books include The History of Luminous Motion, What's Wrong with America, Animal Planet, Greetings From Earth, and most recently, Good Girl Wants it Badand Hot Animal Love: Tales of Modern Romance.
for fans of
Bonnie Jo Campbell
Eva Luna
Fortress of Solitude
Gabriel Garcia Marquez
Jack Kerouac
Jonathan Lethem
Lolita
Love in the Time of Cholera
Michael Chabon
On the Road
Once Upon A River
One Hundred Years of Solitude
Vladimir Nabokov
Sneak Peek
Enjoy a sneak peek read of The People Who Watched Her Pass By, on Issuu:
Info
LIST PRICE: $14.50
PAGES: 162
PRINT ISBN: 978-0-9820151-5-5
DIGITAL ISBN: 978-0-9826848-4-9
RELEASE DATE: 4/1/2010
SIZE: 5.5" x 7.5"
FOREIGN LANGUAGE: Residenz Verlag (German), title: Die Leute, die sie vorübergehen sahen