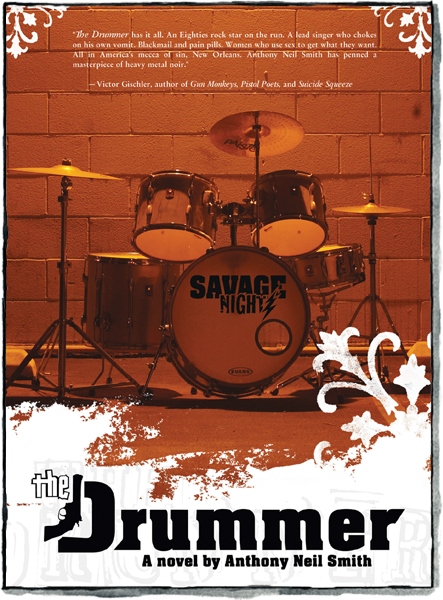 Out of Print!
1st Printing Features: Trade paper
CLICK TO REQUEST AN ARC
CLICK TO REQUEST RIGHTS INFO
The Drummer (Out of Print)
a novel by
Anthony Neil Smith
---
Sorry! This is being reordered and will be back in stock soon.
ABOUT
This book is now out of print.
---
"Smith writes with force and clarity... The Drummer is set in New Orleans just before Hurricane Katrina and is studded with heartbreaking scenes of a cultural life that has virtually disappeared."
—Chicago Tribune
---
Synopsis
'80s hair metal band Savage Night is living the rockstar fantasy. All that changes when the band learns they owe more money than they have. The Drummer chooses to shave his head, take the next flight back to the States, torch the mansion that his stripper ex-girlfriend designed, and fake his own death. 

Fifteen years after their tragic collapse, the Singer of Savage Night has tracked down the Drummer in hopes of convincing him to come out of hiding for a reunion tour and second shot at glory. The chase is on, as the press, the Feds, and former bandmates hunt the Drummer down the streets of New Orleans. A novel soaked in sex, drugs, and tequila, The Drummer is a stiff cocktail of crotch-grabbing hair-metal and New Orleans noir.
Reviews
"A fun read about drugs, rock and roll, brawls and banging (drums, groupies and otherwise)."
—Publishers Weekly
"Emotionally raw and stylistically adventurous."
—Mystery Scene
"The book to read this summer."
—Crime Spree
Author
Anthony Neil Smith is the author of Psychosomatic, Yellow Medicine, and Hogdoggin, and for five years was the co-editor of Plots With Guns.
info
LIST PRICE: $14.00
PAGES: 208
PRINT ISBN: 978-0-9763895-2-1
RELEASE DATE: 6/1/2006
Save
Save