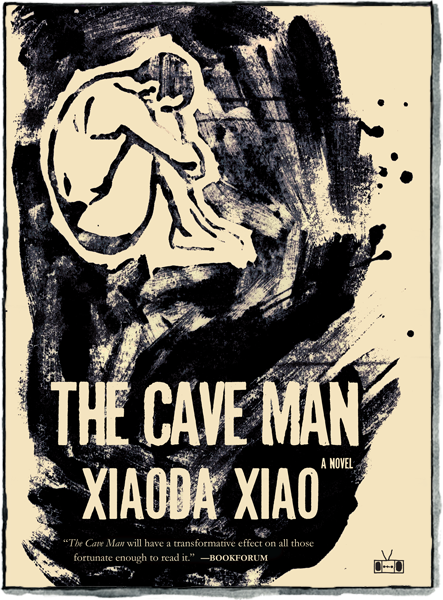 Out of Print!
1st Printing Features: Trade paper
CLICK TO REQUEST AN ARC
CLICK TO REQUEST RIGHTS INFO
The Cave Man (Out of Print)
a novel by
Xiaoda Xiao
---
Sorry! This is being reordered and will be back in stock soon.
ABOUT
This book is now out of print.
---
"As a parable of modern China, [The Cave Man] is chilling."
—Boston Globe
---
Synopsis
Ja Feng is contained within a three-foot by four-and-one-half-foot solitary confinement cell in a prison camp. He has survived this punishment for a miraculous nine months, a period of time that has forced him to question his most basic thoughts and perceptions. 

The Cave Man follows Ja Feng once he is released from his solitary confinement, as he is forced to integrate with fellow prisoners who view his skeletal figure and erratic screaming fits as freakish, and his heartbreaking attempts to assimilate into Chinese culture, to reestablish familial bonds and to seek out an ordinary human experience.
---
The Cave Man by Xiaoda Xiao =
* In most cases, none of these writers endorse this book. Our math formulas are supposed to be amusing anecdotes, similar to shelf-talkers in bookstores that say "If you like X, you might enjoy Y," or "This Book is like Cormac McCarthy writing an episode of Saved by the Bell with a soundtrack by Philip Glass."

Reviews
"[A] powerful book, bringing to the forefront the awful grace of man's will to survive, no matter what. A moving story and an important book that sheds light not only on historical events but present ones."
—WOSU 
"When it comes to prison literature, China remains a great enigma. Whereas the Soviet Union gave us Alexander Solzhenitsyn, China has, of yet, produced no such comparable international voice in the modern age. Xiaoda Xiao's The Cave Man is... a small start... a compelling look at Mao's forced labor prisons."
—Los Angeles Times 
"As a parable of modern China, [The Cave Man] is chilling."
—Boston Globe
"Like Kafka's fiction, Xiaoda's novel illustrates an individual's powerlessness in the face of a pitiless bureaucracy. But he blends that familiar predicament with a more specifically Chinese tragedy, in which the same individual fails to re-integrate into a culture that is nothing if not inexorably collective. Xiaoda's storytelling has plenty of antic vigor for all its grimness, fueled by an activist's anger."
—Washington Post
"In The Cave Man, Xiao displays a splendid voice, one all his own. Like Solzhenitsyn, he has transformed his camp experience into sublimely vivid fiction. And like Kafka, Xiao memorably conjures a mad, surreal world, along with its potential both for cruelty and for kindness. A masterful storyteller, Xiao offers us a gorgeously crafted, haunting tale rich in narrative invention as well as character. The Cave Man is as luminous as it is severe, and it will have a transformative effect on those fortunate enough to read it."
—Bookforum
"It is the victors who write history. But sometimes the survivors of oppression are able to speak up, to slip in a story or two of their own. The Cave Man by Xiaoda Xiao is one of those stories. The Cave Man is not an easy book to forget... a heartbreaking story of the struggle of an individual trying to assimilate back into a society that should welcome his willingness to conform, but instead forces him again and again back into isolation."
—The Brooklyn Rail
"Hair-raising. Xiao's literary ancestors include Kafka and Solzhenitsyn."
—Counterpunch
"The prose is gritty and dreamlike, and commentators have mentioned Kafka, which is fair enough."
—The Hudson Review 
"Xiao's novel has more in common with Kafka's novels than the larger body of gulag literature that The Cave Man is a part of. Ja Feng's crimes seem to be less about a challenge to the system than about the machinations of fate on the "common" man. It's about starting over, becoming a whole man again after being branded a political prisoner."
—Quarterly Conversation
"Xiao has a skill for lining up his characters on trajectories that play on our need for narrative cohesion, only to pull the rug out from under his reader by moving along, as life does, to a new chapter. In the end, success, love and geography are all just illusions, or feel that way, compared to the reality of remembered pain."
—The Dominion
"[A] crushing debut. The book meanders through years and across continents in a life that is heroic in its resiliency. It's an excellent and moving novel."
—Publishers Weekly
"A fine and intriguing read... The Cave Man is a very psychological and entertaining novel."
—Midwest Book Review 
"In The Cave Man, Xiaoda Xiao has made a stark and unforgettable contribution to the literature of imprisonment and survival. The Cave Man is sometimes dreamlike, sometimes as stinging and frank as a slap in the face, but no matter where this remarkable novel takes you it never loosens its grip on you, nor does it for a moment surrender its power to astonish, illuminate, and, against all odds, tenderly touch the reader's heart."
—Scott Spencer
Author
Xiaoda Xiao has published stories based on his prison experience during the last years of Mao's regime in China in various magazines, including The Atlantic Monthly. He is the author of the memoir-in-stories The Visiting Suit.
Videos
An interview with author Xiaoda Xiao:

Sneak Peek
Enjoy a sneak peek read of The Cave Man here, on Issuu:
Info