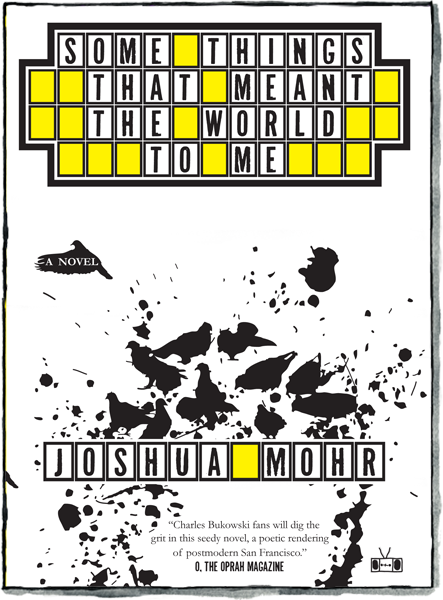 Out of Print!
1st Printing Features: Trade paper
CLICK TO REQUEST AN ARC
CLICK TO REQUEST RIGHTS INFO
Some Things That Meant the World to Me (Out of Print)
a novel by
Joshua Mohr
---
Sorry! This is being reordered and will be back in stock soon.
ABOUT
This book is now out of print.
---
* One of the Best Books of 2009 —Oprah Magazine, The Nervous Breakdown
* San Francisco Chronicle Bestseller
"Mohr's prose roams with chimerical liquidity."
—Boston's Weekly Dig
---
Synopsis
When Rhonda was a child—abandoned and ignored by his mother; abused and misguided by his mother's boyfriend—he imagined the rooms of his home drifting apart from one another like separating continents. Years later, after an embarassing episode as an adult, Rhonda's inner-child appears, leading him to a trapdoor in a most unlikely place that will force him to finally confront his troubled past.
---
Some Things That Meant the World to Me by Joshua Mohr =
* In most cases, none of these writers endorse this book. Our math formulas are supposed to be amusing anecdotes, similar to shelf-talkers in bookstores that say "If you like X, you might enjoy Y," or "This Book is like Cormac McCarthy writing an episode of Saved by the Bell with a soundtrack by Philip Glass."

Reviews
"Meet Rhonda, a man who spends his haunted, liquor-fueled days Dumpster diving for redemption. With his first line—"I'd like to brag about the night I saved a hooker's life"—debut writer Joshua Mohr sucks you into Some Things That Meant the World to Me. Charles Bukowski fans will dig the grit in this seedy novel, a poetic rendering of postmodern San Francisco culminating in, of all places, Home Depot."
—O, The Oprah Magazine
"Mohr's prose roams with chimerical liquidity."
—Boston's Weekly Dig
"This trippy, hypnotic and volatile little novel packs immense punch into a slim volume. Mohr's debut shows more than promise for a rich, risk-taking future, and, with irreverent wit and a jolting attention to detail, gives a whole new spin to novels about the aftermath of "trauma." Amid a landscape of psychological surrealism, the protagonist, Rhonda, is unforgettably vulnerable and emotionally real."
—The Nervous Breakdown
"A novel of visceral realism and an exploration of a damaging youth. Grit seems to be the theme, but despite its darkness the narrative prose soars. [A] blunt, fearless novel."
—Web100
"What Joshua Mohr is doing has more in common with Kafka, Lewis Carroll, and Haruki Murakami, all great chroniclers of the fantastic. He's interested in something weirder than mere sex, drugs, and degradation."
—The Rumpus
"Joshua Mohr's debut novel is that rare literary gem: the kind of story that envelops you so wholly, you forget that you're reading. The kind of book you want to lend to everyone you know—except that you can't bear to part with it. I haven't felt this enamored of a book since I first encountered Denis Johnson's Jesus' Son more than a decade ago."
—Powell's Review-a-Day
"Joshua Mohr's debut novel, Some Things That Meant the World to Me, is where Michael Gondry would go if he went down a few too many miles of bad desert road. Replace the director's Science of Sleep-style clouds-of-cotton whimsy with harsh whiskey and hot sand and you get a sense for the dark world Mohr constructs. Dark, yet not pitch black: he pits his vision of ugly realities against one of basic human kindness. It is this tension that gives his engaging novel its emotional power."
—The Collagist
"Share[s] an affinity for the human condition, in all its selfish, demanding, utterly human reality... Some Things That Meant the World to Me embrace[s] and affirm[s] the value of the lives we're in."
—Sacramento Bee
"Stunning... Mohr's protagonist Rhonda is unforgettably crafted, and this gritty tale of self-redemption is told with exacting prose and poetic insight."
—Largehearted Boy
"Mohr's first novel is biting and heartbreaking, a piercing look at the indelible scars a violent past has left on a young man named Rhonda. The disturbing narrative engine—Rhonda's renaming and reimagining of the world around him to fit into his damaged logic—keeps the story creepily moving as it touches on homebrew prison wine and Rhonda's friendship with his childhood self, little-Rhonda. Mohr uses punchy, tightly wound prose to pull readers into a nightmarish landscape, but he never loses the heart of his story; it's as touching as it is shocking."
—Publishers Weekly, Starred Review
"In his first novel, Joshua Mohr nearly accomplishes a masterpiece."
—Campus Circle
Author
Joshua Mohr is the author of the memoir Sirens, and the novels Damascus and Termite Parade, as well as Fight Song and All This Life. He lives in San Francisco and teaches fiction writing.
Sneak Peek
Enjoy a sneak peek read of Some Things That Meant the World to Me here, on Issuu:
Info