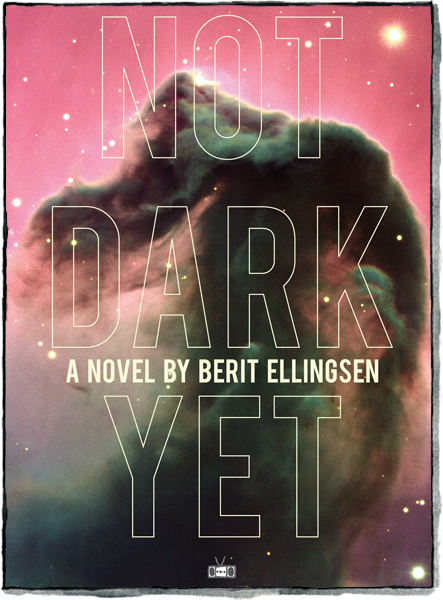 1st Printing Features: Trade paper
CLICK TO REQUEST AN ARC
CLICK TO REQUEST RIGHTS INFO
Not Dark Yet
a novel by
Berit Ellingsen
---
ABOUT
*Favorite books of 2015 —Electric Literature
"Fascinating, surreal, gorgeously written, and like nothing you've ever read before, Not Dark Yet is the book we all need to read right now. It is art about science, climate change, and activism, and it vitally explores how we as people deal with a world that is transforming in terrifying ways."
—BuzzFeed
---
Synopsis
Brandon leaves his boyfriend in the city for a quiet life in the mountains after an affair with a professor ends with Brandon being forced to kill a research animal. It is a violent, unfortunate episode that conjures memories from his military background.

In the mountains, his new neighbors are using the increased temperatures to stage an ambitious agricultural project in an effort to combat globally heightened food prices and shortages. Brandon gets swept along with their optimism, while simultaneously applying to a new astronaut training program. However, he learns that these changes—internal, external—are irreversible.

A sublime love story coupled with the universal struggle for personal understanding, Not Dark Yet is an informed novel of consequences with an ever-tightening emotional grip on the reader.
---
Not Dark Yet by Berit Ellingsen =
* In most cases, none of these writers endorse this book. Our math formulas are supposed to be amusing anecdotes, similar to shelf-talkers in bookstores that say "If you like X, you might enjoy Y," or "This Book is like Cormac McCarthy writing an episode of Saved by the Bell with a soundtrack by Philip Glass."

Reviews
Scroll to bottom for Goodreads reviews.
"At the heart of this cli-fi novel by Norwegian writer Berit Ellingsen is a love story. After having an affair, the protagonist, Brandon, leaves his boyfriend for what he hopes will be a restorative life in the mountains. There he meets a group of farmers who are harnessing the planet's increasing temperatures to produce more food, an experiment that they hope will combat worldwide food shortages. Fascinated by their methods, Brandon lends a hand. But soon he learns that despite their optimism, neither he nor the earth will ever be the same."
—Amy Brady, World Literature Today
"Four Climate Fiction Novels"

"Ellingsen charts a new course that is at times Kafkaesque and always mesmerizing. An ambiguous and luminous and mysterious text that changes shape and meaning on rereading, as with all the the best fiction."
—Electric Literature
"Not Dark Yet is a quiet, introspective, and ultimately, bleak book: one that explores the possibilities and limits of the human need for engagement—and even more, for aloneness."
—The Los Angeles Review
"Not Dark Yet by Berit Ellingsen wants to take you places. The story moves from the city to the country, flirts with the stars and all the space in between, and takes short jaunts back to the city. Setting plays an important role, a wonderful success of Ellingsen's prose considering there is never a country or city name written. You don't need them. These are your places, they're everyone's."
—Late Night Library
"Fascinating, surreal, gorgeously written, and like nothing you've ever read before, Not Dark Yet is the book we all need to read right now. It is art about science, climate change, and activism, and it vitally explores how we as people deal with a world that is transforming in terrifying ways."
—BuzzFeed
"...suspenseful and haunting... Ellingsen projects a feeling of encroaching darkness on every page, 'the shadow of a Kraken passing beneath the surface,' and this tension guides the narrative like a purposeful current. Expansive and unsettling descriptions make it easy to fall under the story's spell. This is a remarkable novel from a very talented author."
—Publishers Weekly, starred review
"[Ellingsen] is just starting what promises to be a major career, but already giving readers a unique and fascinating perspective."
—Jeff VanderMeer, author of the bestselling Southern Reach Trilogy
"A magnificently disconcerting work. It's like little else I've read."
—Vol.1 Brooklyn (Interview with the author)
"A weird and wondrous novel it is... In a refreshing twist, this is not a post-apocalyptic novel but a pre-apocalyptic one."
—LitBreak
"Not Dark Yet is disturbingly suspenseful, an unsettling and remarkable book."
—Largehearted Boy (from Book Notes: music playlist Not Dark Yet)
"Berit Ellingsen's new novel is a surreal, unpredictable work bringing together environmental devastation, a nuanced portrayal of a relationship, and questions of space exploration. Does it get under your skin? Oh yes."
—Vol.1 Brooklyn
"An intriguing, philosophically driven work."
—Asian American Literature Fans
"Norwegian writer Ellingsen tells the story of Brandon, a young ex-military member who moves to the mountains after breaking up with his boyfriend, and falls in with a group of people undertaking a challenging agricultural project. This is Ellingsen's second novel, and her first for acclaimed indie press Two Dollar Radio."
—Men's Journal
"...war is the least of the horsemen in Not Dark Yet's soft, subtle apocalypse; what wreaks havoc in this novel is climate change."
—Music & Literature
"This book is about enlightenment: global enlightenment during a time when humanity is just starting to feel the devastating effects of global warming, when global warming is starting to ruin personal dreams and impede individual quests for enlightenment. The title of the book may be a warning, or it may be a message of hope. It's not dark yet."
—The Lit Pub
"...this book stands out for its portrayal of a present perceived, received, respected, and witnessed not as "menacing" but merely present—a monk's view of place in the midst of a transitory storyline involving weapons and desire."
—decomP
"Not Dark Yet is quirky, original, and packed with secrets—the kind you can't wait to unravel and sit with for a long while after... Highly recommended for readers who enjoy an authentic book of ideas and a serious voyage of self-discovery."
—Valerie Storey, Writing at Dava Books
Author
Berit Ellingsen is a Korean-Norwegian writer whose stories have appeared in Norton's Flash Fiction International Anthology, SmokeLong Quarterly, and Unstuck. She is the author of the story collection Beneath the Liquid Skin, and the novel Une Ville Vide, and has been nominated for the Pushcart Prize and the British Science Fiction Award.
Sneak Peek
Enjoy a sneak peek of select pages from Not Dark Yet! (Use the "full screen" option at bottom right to enlarge the pages):
Info
LIST PRICE: $15.99
PAGES: 216
PRINT ISBN: 9781937512354
DIGITAL ISBN: 978-1-937512-40-8
RELEASE DATE: 11/11/2015
SIZE: 5.5" x 7.5"
Printed in Canada by Marquis, with the following environmental statement:
*Inside printed on Enviro 100% post-consumer EcoLogo certified paper, processed chlorine free and manufactured using biogas energy.
*FSC certified paper (inside and cover).