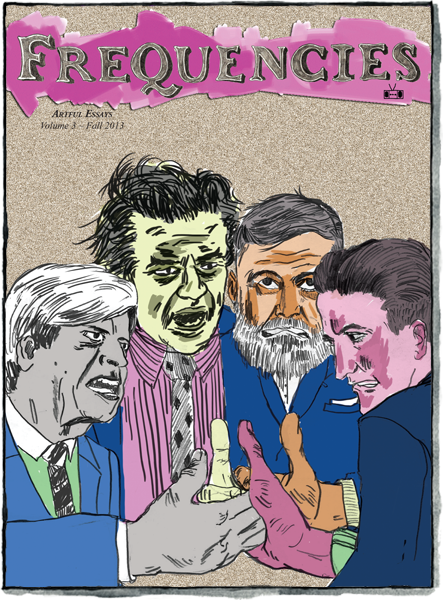 1st Printing Features: Trade paper, Illustrations
CLICK TO REQUEST AN ARC
CLICK TO REQUEST RIGHTS INFO
Frequencies Volume 3
a collection of essays by
Antonia Crane, D. Foy, Lawrence Shainberg,
& more!
---
LIST PRICE: $10.00
PAGES: 119
PRINT ISBN: 978-1-937512-15-6
RELEASE DATE: 11/1/2013

ABOUT
"Great looking, and a fantastic read from cover to cover, the world needs more endeavors like this."
—Flavorwire
---
The third volume of Frequencies features original essays by Lawrence Shainberg, D. Foy, Antonia Crane, Andrew Miller, and Two Dollar Radio's editorial director, Eric Obenauf.
Lawrence Shainberg—author of Crust—was friends with several literary heavyweights of the 20th century who, unfortunately, are no longer with us. Among them are Norman Mailer and George Plimpton. Shainberg—who wrote a prize-winning monograph on Samuel Beckett for Plimpton's The Paris Review—accompanies his pals to Vienna, Austria, where they stage a reading of Plimpton's play, "Zelda, Scott and Ernest," a staged adaptation of the letters between Zelda and F. Scott Fitzgerald, and Ernest Hemingway.
D. Foy—author of Made to Break—goes deep into the inner-city dance-trance phenomenon of Krump, in his essay on 'Krump and the Ko-opting of Krumpness.' Foy studies Krump's origins and deep mystical spirit, and how over time Krump has been socially branded, stripped, and de-valued.
What is it like to find yourself trapped without options? In a moving essay, Antonia Crane charts her own decline—with deeply personal and assured prose—working as a sex worker, leading to an unfortunate run-in that forces her to finally re-examine her choices.
Columbus-based writer and journalist, Andrew Miller finds himself trapped as well, delivering his missive from a soft cell, where it is always, tragically, cold.
In 2006, before the trumpets warned of the Great Recession, an unarmed man calmly entered a bank, handing the teller a note informing her that he was robbing the place. He was given $80 and a dye pack, which he immediately handed to the bank's security guard, telling him, "Here, today's your day to be a hero." Timothy J. Bowers was a laid-off delivery driver, who, unable to find work, wished to spend the next three years of his life in prison until his full social security benefits kicked in. Eric Obenauf becomes pen-pals with Bowers to try and find out what led him to that tragic crossroads, and how Bowers coped in the aftermath of his decision.
Sneak Peek