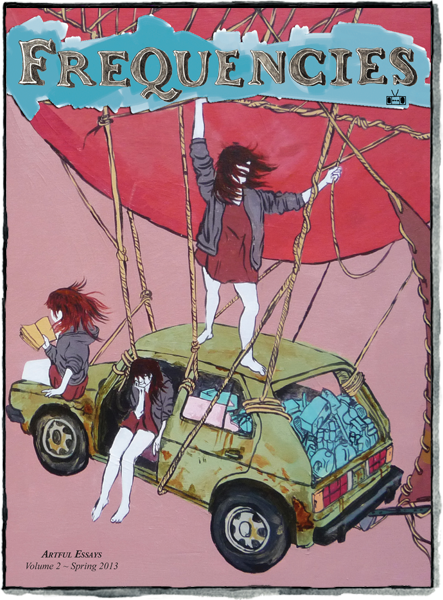 1st Printing Features: Trade paper, Illustrations
CLICK TO REQUEST AN ARC
CLICK TO REQUEST RIGHTS INFO
Frequencies Volume 2
a collection of essays by
Sara Finnerty, Roxane Gay, Kate Zambreno, & more!
---
LIST PRICE: $10.00
PAGES: 128
PRINT ISBN: 978-1-937512-08-8
RELEASE DATE: 5/1/2013

ABOUT
"They've been putting out some of the smartest essays."
—Flavorwire
---
If Volume 1 was the ruminative entrance of Frequencies, then Volume 2 was the noisy follow-up where it all hits the fan. Some of our favorite and most assertive contemporary writers came through with pieces for this issue, including Kate Zambreno and Roxane Gay, while it also ushered in striking new voices such as Sara Finnerty, Alex Jung, and Aaron Shulman.
Alex Jung's essay explores the world of the Thai sex trade, how sex for money is often misinterpreted as cultural, and how the fantasy of hetero-flexibility powers the industry used by tourists and natives alike.
Roxane Gay writes about issues of belonging in Black America. It highlights the difficulties and importance of connection and inclusion. Gay uses a personal anecdote to say it best, "I am still writing my way toward a place where I fit but am also finding my people in unexpected places—California, Chicago, upper Michigan, other places, some not on any kind of map."
Sara Finnerty propels readers into a land of ghosts... in Queens. She tells the story of her family home and Maddalena, the resident ghost who made her question being and the afterlife.
Rio Dulce is a middle-town in Guatemala, a weigh-station where people pass through on their way somewhere else, and only the lost or confused remain. It is here that Aaron Shulman finds himself, working in an orphanage while getting to know the motley characters that inhabit the town.
The penultimate piece is an ambitious and powerful walking essay by Kate Zambreno, a dissection of the life of writer/director Barbara Loden and her lost film, Wanda, an ex-roommate, and the depression that lies behind muteness.
Plus, an amusing discussion between Mark Z. Danielewski, Grace Krilanovich, and others about ghosts.
Sneak Peek