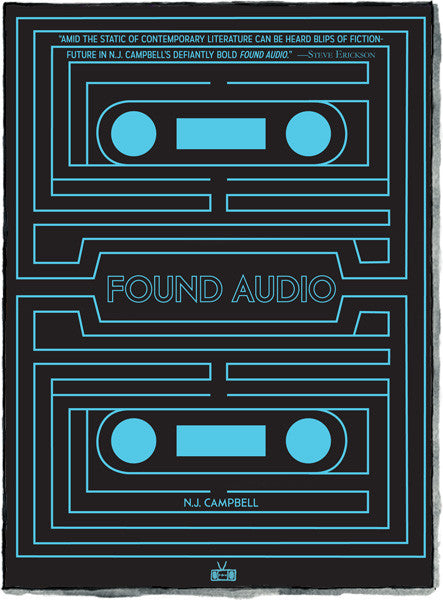 1st Printing Features: Trade paper, Gatefold
CLICK TO REQUEST AN ARC
CLICK TO REQUEST RIGHTS INFO
Found Audio
a novel by
N.J. Campbell
---
ABOUT
* A Best Book of 2017 —Writer's Bone
"[A] mysterious work of metafiction... dizzying, arresting and defiantly bold."
—Laura Pearson, Chicago Tribune

---
Synopsis
Amrapali Anna Singh is an historian and analyst capable of discerning the most cryptic and trivial details from audio recordings. One day, a mysterious man appears at her office in Dutch Harbor, Alaska, having traveled a great distance to bring her three Type IV audio cassettes that bear the stamp of a library in Buenos Aires that may or may not exist.
On the cassettes is the deposition of an adventure journalist and his obsessive pursuit of an amorphous, legendary, and puzzling "City of Dreams." Spanning decades, his quest leads him from a snake-hunter in the Louisiana bayou to the walled city of Kowloon on the eve of its destruction, from the Singing Dunes of Mongolia to a chess tournament in Istanbul. The deposition also begs the question: Who is making the recording, and why?
Despite being explicitly instructed not to, curiosity gets the better of Singh and she mails a transcription of the cassettes with her analysis to an acquaintance before vanishing. The man who bore the cassettes, too, has disappeared. The journalist was unnamed.
Here—for the first time—is the complete archival manuscript of the mysterious recordings accompanied by Singh's analysis.
---
Found Audio by N.J. Campbell =
* In most cases (except in this case; Homer fucking loves this book and thinks you should read it), none of these writers endorse this book. Our math formulas are supposed to be amusing anecdotes, similar to shelf-talkers in bookstores that say "If you like X, you might enjoy Y," or "This Book is like Cormac McCarthy writing an episode of Saved by the Bell with a soundtrack by Philip Glass."

Reviews
Scroll to bottom for Goodreads reviews.
Danni Green of Greenlight Bookstore in Brooklyn, NY, loves to read and lift up books by small presses. She's a big fan of the printed novella Found Audio... "I think it's really great for people who like things like House of Leaves," says Green. "It's kind of a novel-within-a-novel… that's telling you about this bizarre thing. Did it happen? Did it not happen?" Green recommends this book for people who want a creepy, but not terrifying, read. 
Emily Bright, Minnesota Public Radio (Nov. 11, 2022)
"Ask a Bookseller: Found Audio is a creepy fall read"
"A deceptively slim book, toying with fictionality, trots the globe."
Publishers Weekly's, "Writers to Watch"
"Found Audio is a Nabokovian novel in the best possible sense of the word... an emotionally resonant literary mystery for folks who aren't afraid to follow the rabbit down the hole."
—Jason Jefferies, Staff Pick, Quail Ridge Books (Raleigh, NC)
"In his debut, Campbell has written a page-turner, an onion peel of a story surrounding nothing less than the central questions of human existence. The reader is led down a rabbit hole and back out again, confused, afraid, but nevertheless also ever so slightly amused. This is a weird little book full of momentum, intrigue, and weighty ideas to mull over."
—Publishers Weekly
"N.J. Campbell's Found Audio is the new Pandora's Box of weird contemporary fiction... Like VanderMeer's stunning trilogy [Southern Reach], Campbell captures the darkness of the unknown."
—Nick Sweeney, Heavy Feather Review
"The novel is genius... simple, spare, and amazingly effective."
—Shana Creaney, Foreword Reviews
"Found Audio by N.J. Campbell is a Russian nesting doll of a novel with layers of mystery, mythology, madness, and suspense... The novel is a brilliant work of metafiction, and the story within the story is as irresistible as gossip from a friend of a friend."
—Many Shunnarah, Pank Magazine
"A wicked metafictional mystery [and] dizzying epistolary novel about dreams, perception, and the human psyche."
—Kirkus Reviews
"Found Audio is steeped in a wonderfully creepy atmosphere that sucks the reader in and doesn't let go for the duration of the weird, dark, dreamlike ride... If you like novels that keep you glued to the pages and constantly rethinking where the story, the main character, and even reality are going next, then make sure you don't skip this one."
—Gabino Iglesias, LitReactor
"Brilliant. In an age of instant information access, Found Audio is a clever reminder that some places, experiences, and mysteries must be earned through sweat, blood, and fear."
—Adam Morgan, Electric Literature
"Amid the static of contemporary literature can be heard blips of fiction-future in N.J. Campbell's defiantly bold Found Audio."
—Steve Erickson, author of Zeroville

"[A] mysterious work of metafiction... dizzying, arresting and defiantly bold."
—Laura Pearson, Chicago Tribune, The Ultimate Summer Reading List
"[Found Audio] stretches language, remakes structure, plots boldly, all while having its own peculiar kind of fun... catapulting us into fascinating new territory for fiction to inhabit."
—M. K. Rainey, 3:AM Magazine
"This strange little book, full of momentum, intrigue, and weighty ideas to mull over, is a bona fide literary page-turner."
—Publishers Weekly, "Best Summer Books, 2017"
"This book is about the unexplainable. Those moments in life that leave you wondering whether or not you are experiencing reality or the mind of GOD. Is coincidence the universe speaking to you? What is a dream? This debut novel has stayed with me months after reading it."
—Miguel, staff pick, Strand Book Store (NYC)
"Short but powerful, the novel is filled with everything a reader yearns for. There's action and adventure, mystery and intrigue, and even deep questions about human existence."
—Books and Palettes
"Though it deals with nothing less than the meaning of existence, the nature of reality, and ultimately, a search for the legendary "City of Dreams," which has haunted the lives of writers and philosophers for centuries, Found Audio is also great fun... A novel that is fresh, often charming, and full of insights into the need for a City of Dreams and what these dreams represent for us all."
—Mary Whipple Reviews

"A wild, wonderful creature: part Borges, part VanderMeer, part forgotten '70s psychedelic action movie. Convincing, complex, and emotionally resonant—this is a book not to be missed."
—Christian Kiefer, author of The Infinite Tides
Writers to Watch Fall 2017: Anticipated Debuts
—Daniel Lefferts, Publishers Weekly
"To suggest that this author's near maddening and mystic debut will "take you places" is an understatement. You may emerge from the gauntlet of its layered mysteries with a definite air of perplexity, though no more so than the narrator, an adventure journalist passionately chasing an ever elusive utopia of sorts. As his obsession with this location of wonders intensifies, so does his perception of its validity, leading him to scrutinize the very existence of everyone and everything around him. This novel meticulously shrouds its own destination in a provocative fog from the outset and, with casual finesse, pulls the reader into sharing the wonders and inevitable horrors of confronting the plasticity of reality."
—Patrick Battle, The Book Table
Author

N.J. Campbell was born in the Midwest. He has won the Little Tokyo Short Story Contest, received accolades from the California State Legislature, and has been anthologized in the collection American Fiction from New Rivers Press. Found Audio is his first novel.
(Twitter: @NJCampbelltweet)
Sneak Peek
Enjoy a sneak peek of select pages from Found Audio! (Use the "full screen" option at bottom right to enlarge the pages):
info