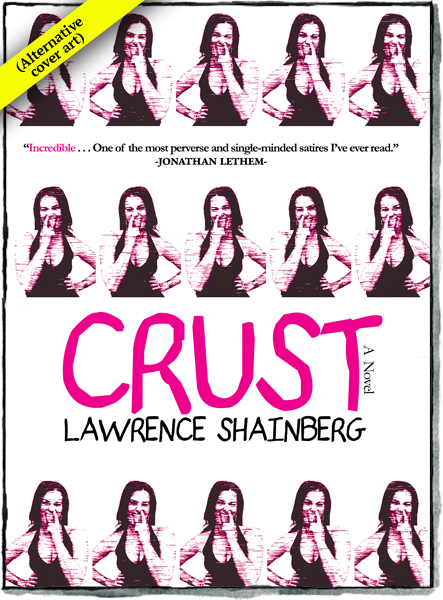 Out of Print!
1st Printing Features: Trade paper
CLICK TO REQUEST AN ARC
CLICK TO REQUEST RIGHTS INFO
Crust (Out of Print)
a novel by
Lawrence Shainberg
---
Sorry! This is being reordered and will be back in stock soon.
ABOUT
This book is now out of print.
---
"The Great American Nose-Picking Novel. A witty, erudite and gleefully gross-out satire of our information-clogged and techno-bananas age. An energetic and thrillingly modern romp."
—Dazed & Confused
---
Synopsis
Walker Linchuk is an aged writer and author of the Complete Series (The Complete Book of Aids, 9/11, Terrorism) whose name has often been discussed as a strong possibility for the Nobel Prize, suffering from a seven month plague of writer's block that New York Magazine says, "for candor and anguish, surpasses any we have on record." One morning Linchuk wakes to find a crust in his nose—the "definitive crust of his life"—that awakens him to a new world of desire and enlightenment.
Reviews
"[A] Vonnegut-worthy satire."
—Boston Globe
"Filled with pop-cultural references and technology gone wild."
—Publishers Weekly
"There's something to offend everybody and entertain many in this engagingly subversive novel from the resolutely quirky author... Among the most amusing fiction picks for fall."
—Kirkus Reviews
"A postmodern examination of the self that teases the very idea of postmodernism... that rare bit of lampoonery that is both humorous and smart."
—Los Angeles Times
"[Crust] ridicules our culture's obsession wtih the search for Truth, as well as our reliance on Google as the gatekeeper to our every question. In between cringing and laughing, you're bound to feel a touch more enlightened about contemporary culture."
—Time Out Chicago
"Half DeLillo's Jack Gladney, professor of Hitler studies at College-on-the-Hill, and half Christopher Hitchens, Linchak is a model pundit for a post-9/11 age: death-obsessed, long-winded, addicted to Googling himself, and, on the sly, an inveterate nose-picker. Crust is about mindless compulsion, or the digital stretch for oblivion, or a comment on the jaded habits of a citizenry that's had its private domain annexed by omnipotent admen."
—Village Voice
Author
Lawrence Shainberg is the author of two novels—One on One and Memories of Amnesia—and the non-fiction books Brain Surgeon: An Intimate View of His World and Ambivalent Zen. His fiction and journalism have appeared in Esquire, Harper's, and The New York Times Magazine. He is the recipient of a Pushcart Prize for a monograph on Samuel Beckett, published in The Paris Review.
Info
LIST PRICE: $15.00
PAGES: 222
PRINT ISBN: 978-0-9763895-8-3
RELEASE DATE: 10/1/2008
Save
Save