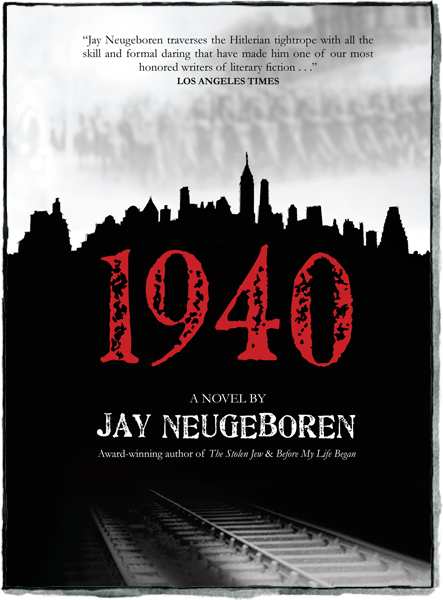 Out of Print!
1st Printing Features: Trade paper
CLICK TO REQUEST AN ARC
CLICK TO REQUEST RIGHTS INFO
1940 (Out of Print)
a novel by
Jay Neugeboren
---
Sorry! This is being reordered and will be back in stock soon.
ABOUT
This book is now out of print.
---
"Jay Neugeboren traverses the Hitlerian tightrope with all the skill and formal daring that have made him one of our most honored writers of literary fiction and masterful nonfiction. This new book is, at once, a beautifully realized work of imagined history, a rich and varied character study and a subtly layered novel of ideas, all wrapped in a propulsively readable story."
—Los Angeles Times
---
Synopsis
Set on the eve of America's entry into World War Two and built around a fascinating historical figure, Dr. Eduard Bloch, an Austrian doctor who was the only Jew for whom Hitler ever personally arranged departure from Europe.

1940 focuses on Dr. Bloch's relationship with Elizabeth Rofman, a medical illustrator who has come to New York to visit her father, only to find that he has, mysteriously, disappeared. The story grows more complex when Elizabeth's son Daniel, a disturbed young adolescent, escapes from the institution in Maryland where his parents have committed him.
---
1940 by Jay Neugeboren =
* In most cases, none of these writers endorse this book. Our math formulas are supposed to be amusing anecdotes, similar to shelf-talkers in bookstores that say "If you like X, you might enjoy Y," or "This Book is like Cormac McCarthy writing an episode of Saved by the Bell with a soundtrack by Philip Glass."

Reviews
"Intelligent and absorbing... subtle and affecting."
—Washington Post
"The wisdom of Neugeboren's novel comes from its recognition that final solutions evade without answering questions. Bloch rejects facile attempts to explain Hitler and subdue Daniel. The advice he quotes from Rainer Maria Rilke, "to have patience with everything unresolved and to try to love the questions themselves," is as valuable in 2008 as it is in 1940."
—The Huffington Post
"Jay Neugeboren's 1940 is a taut, nuanced, beautifully written novel that captures an anxious and uncertain time in ways that a straight rendering of facts and dates could never achieve. Neugeboren casts a spell on the first page of his novel that never goes away. This memorable work of historical fiction is to be contemplated as well as savored."
—Commonweal
"This tautly constructed, utterly readable book raises questions the reader must answer. Highly recommended."
—Library Journal, Starred Review
"Jay Neugeboren has performed an astounding feat of literary alchemy, effortlessly blending science, history, religion, art, biography and psychiatry into a haunting tale that is at once a love story and a suspense novel."
—Hadassah Magazine
"Neugeboren's first novel in 20 years presents a fictional account of an obscure historical figure in this intelligent, densely layered novel. Neugeboren's characters are nuanced and complex, especially the strong-willed Elisabeth... the great characters and the author's thoughtful examination of good and evil pack a cerebral punch."
—Publishers Weekly
"A compelling read on many levels, offering personal reflection, historical speculation, and mystery." —Kirkus Reviews
"There is plenty of imagination exercised in 1940. This strange story, encompassing several mysteries and theological reflection, has a curious power and pull."
—Haaretz
"1940 is simultaneously a psychological thriller and a love story, and am impressive blending of research and the imagination. Neugeboren's novel is a page turner, and better yet, a chance to meet, up close and personal, a largely unknown figure: Hitler's childhood physician, Dr. Eduard Bloch."
—JBooks.com
"Neugeboren's 1940 is clever in all the right ways and in none of the wrong ways—intricate, impeccably researched, but never pretentious, didactic, or self-indulgent. It is also never dull; though brimming with ideas, many of them disquieting, it is a highly engrossing read. We read, and re-read, 1940, though, not for these gifts, welcome as they are, but for its engagement with some of the deepest issues of our time and, in its grappling with the enigmas of the human soul, of all time. Neugeboren has started with the impropable and produced something indelible."
—Midstream
Author
Jay Neugeboren is the author of fifteen books (including You Are My Heart and The Other Side of the World), including two prize-winning novels (The Stolen Jew, Before My Life Began), two award-winning books of non-fiction (Imagining Robert, Transforming Madness), and three collections of award-winning stories. He has won six consecutive Syndicated Fiction Prizes. He lives in New York City. (jayneugeboren.com)
Sneak Peek
Enjoy a sneak peek read of 1940 here, on Issuu, and get a serious look inside the book:
Info
LIST PRICE: $15.00
PAGES: 274
PRINT ISBN: 978-0-9763895-6-9
RELEASE DATE: 4/1/2008
SIZE: 5.25" x 7.5"