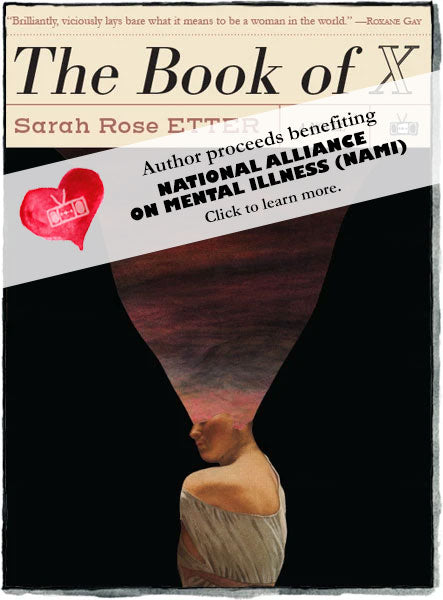 1st Printing Features: Trade paper, Gatefold
CLICK TO REQUEST AN ARC
CLICK TO REQUEST RIGHTS INFO
The Book of X
a novel by
Sarah Rose Etter
---
ABOUT
Twenty-five percent of author proceeds from the sale of The Book of X are donated to NAMI (National Alliance on Mental Illness), the nation's largest grassroots mental health organization dedicated to building better lives for the millions of Americans affected by mental illness. Learn more here: www.nami.org
*Winner of the 2019 Shirley Jackson Awards for Novel
*The Believer Book Awards, 2019: Editors' Longlists in Fiction
*The Northern California 'Golden Poppy' Book Awards 2019, Fiction longlist
*2020 VCU Cabell First Novelist Award Longlist
*A Best Book of 2019 —Vulture, Entropy, Buzzfeed, Thrillist
"Etter brilliantly, viciously lays bare what it means to be a woman in the world, what it means to hurt, to need, to want, so much it consumes everything."
—Roxane Gay, author of Bad Feminist
"Etter writes her weird world with elastic prose, as stripped-down at certain points as it is lyrical in others... a powerful novel."
—Bradley Babendir, Minneapolis Star-Tribune
---
Synopsis
A surreal exploration of one woman's life and death against a landscape of meat, office desks, and bad men.
The Book of X tells the tale of Cassie, a girl born with her stomach twisted in the shape of a knot. From childhood with her parents on the family meat farm, to a desk job in the city, to finally experiencing love, she grapples with her body, men, and society, all the while imagining a softer world than the one she is in. Twining the drama of the everyday—school-age crushes, paying bills, the sickness of parents—with the surreal—rivers of thighs, men for sale and fields of throats—Cassie's realities alternate to create a blurred, fantastic world of haunting beauty.
---
Read an excerpt of the novel here:
Last Exit: An Excerpt from The Book of X: "Vision (Cemetery Game)"
Read an excerpt of the novel here:
Electric Literature: An Excerpt from The Book of X: "Living Alone When Your Stomach is Literally in a Knot"
Read an excerpt of the novel here:
Guernica : "An Excerpt from The Book of X"
Read an excerpt of the novel here:
The Adroit Journal, Issue 28: "Four Vision from The Book of X"
Reviews
Scroll to bottom for Goodreads reviews.
Winner of the 2019 Shirley Jackson Awards for Novel
The 2019 Shirley Jackson Awards were premiered on Sunday, July 12, 2020, as a pre-recorded ceremony. Watch Sarah Rose Etter win the award here on YouTube! (Jump to minute 16:11.)
"There are very few good reasons to use the word oneiric in a sentence and here is one of them: It's one of the few English adjectives appropriate to Sarah Rose Etter's novel about a woman born with a stomach disfigurement who navigates the world (as we all do) with the trepidation and fury and occasional exultation that results from having a disappointing body."
—Molly Young, Vulture, The Best Books of 2019
"Best of 2019: Best Fiction Books"
—Entropy
"The Best Books of 2019"
—Arianna Rebolini, Buzzfeed 
"At its heart, Etter's is a coming-of-age novel about difference, the female body, and the male gaze, but the author's surreal imagination and laser-precise prose make for an indelible read."
—James Tate Hill, Lit Hub, "5 Small Press Audiobooks To Give As Gifts This Year"
(AUDIOBOOK AVAILABLE FROM TANTOR MEDIA)
"Sarah Rose Etter's The Book of X belongs to a literary conversation about the grotesque and surreal. Shaped like a prose sculpture, her debut novel juxtaposes the surrealism of youth with the realities of capitalism; it is the story of being raised in a rural area, and disappearing into a city. Sarah Rose Etter discusses life as loose ends, not something tied up with a pretty bow, and creating a novel not in search of resolve, redemption, or everything becoming better. The Book of X has a fresh vision that makes it a strange book in strange times."
—Michael Silverblatt, Bookworm on KCRW
"Sarah Rose Etter's The Book of X is dizzying and grotesque—and I say that with the utmost love. It's an astute exploration of humanity and the body—specifically the female body—through the lens of young Cassie... Etter has built an eerie, surreal world... and she seduces you into it with dreamy lyricism. You won't want to leave."
—Arianna Rebolini, BuzzFeed News, '29 Summer Books To Get Excited About'
"A psychologically resonant tale of coming of age and the search for identity."
—Vol.1 Brooklyn 'July 2019 Book Preview'
The Book of X included in The A.V. Club's "Colson Whitehead, an exploration of female desire, and more books to read in July"
"In the utterly unique and remarkable The Book of X, Sarah Rose Etter takes the surreal and expertly shapes it into a portrait that is as beautiful and compelling as it is horrifying and unbearable... Etter brilliantly, viciously lays bare what it means to be a woman in the world, what it means to hurt, to need, to want, so much it consumes everything."
—Roxane Gay, author of Bad Feminist
"I loved every page of this gorgeous, grotesque, heartbreaking novel."
—Carmen Maria Machado, author of Her Body and Other Parties
"The Book of X is a tremendous subversion of the disability as metaphor trope... A fabulist exploration into the reality of living with a chronic illness/invisible disability. No one sees Cassie's knot if she chooses not to show it, but it impacts every iota of her experience. In a grisly world of meat quarries, fantastical imagery, and ambiguously named settings, Cassie's condition is not disgusting or dramatized. It is the realest part of this surreal book."
—Lillie Lainoff, Lit Hub
Taking the "Ick" Out of "Sick Lit." A Reading List: Lillie Lainoff on Representing Chronic Illness in Literature (April 29, 2022)
"Poignantly represents the ageless trials of womanhood... Etter's language is grippingly poetic."
—Amanda Silberling, The Kenyon Review
"With lyrical prose and shockingly visceral imagery, Etter has crafted a multi-modal universe; one in which the fictional is artfully woven with the factual; one where familiar details become nuanced in the midst of surrealist scenery; and one in which danger lurks in the silent white spaces of every page."
—Cameron Finch, Craft Literary
Interview with Sarah Rose Etter
"This punchy, eerie novel tells the life story of Cassie, a woman born, like the generations of women in her family before her, with her stomach twisted in the shape of a knot. The book trafficks in a sort of magic realist body horror, and the results are remarkable. This is a world in which meat can be mined from the ground and in quarries, and Cassie's own depressive imaginings—of rivers of thighs and fields of throats—are as unsettling as her environment. It's no light read, filled as it is with tales of trauma and abuse, of bodily self-hatred and self-doubt, but Cassie's memorable voice and Etter's terrific turns of phrase deftly deliver this novel's brutal beauty."
—Thrillist, "Best Books of 2019"
"It is a strange, uncanny world, that features the strange and broken body of a strange and broken young woman named Cassie, the narrator we simultaneously pull for, are fascinated by, and want to protect somehow. This is one of the most visceral books I've ever read and one that stays with you long after you've read the last page."
—Robert Lopez, The Believer
Read the interview with Sarah Rose Etter
"Etter writes her weird world with elastic prose, as stripped-down at certain points as it is lyrical in others... a powerful novel."
—Bradley Babendir, Minneapolis Star-Tribune
"This surrealist debut is an exploration of loneliness, toxic masculinity, and the unrealistic expectations placed on women's bodies."
—Electric Literature, "We've curated a list of indie titles from 2019 to add to your TBR"
"Sarah Rose Etter's The Book of X is a difficult book to categorize. It is entirely itself, although it shares affinities with absurdism, the new weird, and the lineage of feminist coming-of-age novels. Etter's novel brings to mind idiosyncratic masterpieces like Joy Williams's The Changeling."
—Kate Durbin, Los Angeles Review of Books
"Both conceptually and stylistically like nothing I've read before... The Book of X glimmers like a cracked mirror reflecting our own grotesque features. It is a novel that stays with you long after you've put it down."
—Kali Fajardo-Anstine (author of Sabrina & Corina: Stories), Electric Literature
"The Book of X examines the surreal state of womanhood."
—Brandon Yu, San Francisco Chronicle
"Sarah Rose Etter's The Book of X is my favorite book in almost a year of Sundays... All of this is rendered in spare straightforward writing that ties together poetry and prose, each coiling over the other... Maybe every human story, no matter how strange, is about loneliness at heart. "
—Rufus Hickok, Ordinary Times
Review: The Book of X
"The novel slips furtively between the realms of realistic fiction and fantasy... The novel explores themes of isolation and loneliness, female suffering and hunger in a way that feels viscerally painful, but real."
—Jo Chang, Michigan Daily
"Etter's exquisite writing creates haunting images that stick... The Book of X laments the standards we have allowed to dictate our lives."
—Eunice Chin, Singapore Unbound
"A profound meditation on womanhood and heredity, bullying and plastic surgery—loneliness."
—Cody Lee, Chicago Review of Books
"As Cassie moves through the thorny cruelties of girlhood, the violence of early sexual experience, the prognosis of doctors, the alienation of a desk job, and the sorrows of loss, embodiment and how it mediates our experience remains central."
—Jessica Alexander, Full Stop
"This novel is so delicate in its absurdity, in its mixing of time periods, that it captivates... It is difficult for a book to touch upon the story of women's bodies in a way that feels original and refreshing. But The Book of X succeeds in making the reader just uncomfortable enough that they feel called to think about, and to feel, their own inner knot."
—Rachel Cribby, Barrelhouse
"[Etter] understands the human condition and perfectly put into words the struggle of being a woman in this world. This has been my favorite book of the year by far and has wholly blown me away."
—Christy Rogers, Avid Bookshop (Athens, GA)
"Etter has created that rare beast: an effective, startling poetic novel. Its story is coherent and progressive; Cassie herself is intensely sympathetic. The book is unconventional but engaging, and eminently readable."
—Annette Lapointe, New York Journal of Books
"I definitely enjoyed this book... it's really good and one I'll be thinking about for a while."
—Reading Women Podcast, Ep. 68.5 | "Most Anticipated Reads of 2019 Pt.2"
"In this novel, Etter makes the surreal seem not that far off. With slight, dramatic twists of reality, The Book of X gets weird in the best way possible. From the first to the last page, there is no space for pause. Prepare to be left thinking about this book long after you've finished it."
—Jaylynn Korrell, Independent Book Review
"Etter's prose-like novel is a taunt, visceral meditation on the female body from childhood to adulthood in the life of Cassie... Etter's writing is so powerful and bracing."
—Lauren Nopenz Fairley, Curious Iguana Bookstore (Frederick, MA)
"What won me over was Etter's superb prose style, which inevitably must be described in images of meat: muscular, lean, chewy with blood and beauty, rich with a peculiar iron humor."
—Theodore McCombs, Fiction Unbound
REVIEW: The Book of X
"It's amazing... A surreal telling of the female experience... Incredible and original."
—Liberty Hardy, All the Books! Podcast(Ep 217), BookRiot
"Penned in succinct, poetic prose, Etter's surreal debut is exactly as grotesque and horrifying as young adulthood."
—Courtney Eathorne, Booklist
"[Etter] has crafted a strange and surreal novel that serves as a reminder that while we might carry our afflictions with us wherever we go, it's up to us whether we let our burdens define us. The Book of X looks like an experimental novel, but feels like a classic."
—Jim Ruland, San Diego CityBeat
"A new kind of narrative. It's riveting, it's hilarious, it's sad, it's beautiful. It's one of my favorite books of the year."
—Nicholas Rys, Vol.1 Brooklyn
INTERVIEW: "A WORLD A FEW DIMENSIONS OVER: A CONVERSATION WITH SARAH ROSE ETTER"
"If you like the stories of Kelly Link and Carmen Maria Machado but think, hey these could be weirder, then The Book of X is for you. Can you deal with a woman whose torso is twisted into an X? What about a family that farms meat, like they have a meat quarry where the meat grows and they harvest it by cutting it out of the rock? It's absolutely revolting. Have I lost you yet? If not, this book is for you. Etter has written this strange and beautiful thing — both a polemic on the demands placed on women's bodies and a truly moving story."
—Stef Kiper Schmidt (of Water Street Bookstore, Exeter, NH), Boston Globe
"Pick of the Week"
"Sarah Rose Etter's language is like meat in your mouth—bloody, salty, sweet. Visions like fever dreams. Imagine being in the body of a woman with a knot in her stomach, as she grapples with the physical and emotional pain that it causes her. The Book of X is a primal scream. It reverberates in your skull long after you read it."
—Leza Cantoral, LitReactor
"What makes Etter's work original and interesting is her frank examination of sexual desire and her feminist interrogation of the idea of the female body as mere decoration or passive vessel."
—Elizabeth Mosier, Cleaver Mag
"With compellingly strange imagery and sharp, spare writing, Sarah Rose Etter has composed a small masterpiece... one of the best novels of 2019."
—Caleb Masters, Bookmarks Bookstore (Winston-Salem, NC)
"With poetic prose and haunting honesty, The Book of X cuts clean to the tangled heart of femininity, unwinding one woman's story to reflect a familiar self."
—Danielle Ballantyne, Foreword Reviews
"A haunting and twisted story that will form a knot in your mind. The surreal imagery is tightly tethered to our waking nightmares of misogyny and capitalism and yet Etter finds a space for tenderness within the walls of the meat farm."
—Luis Correa, Avid Bookshop (Athens, GA)
"A relentlessly original look at what it means to exist in a female body."
—Kirkus Reviews
A "Literati Insisto" Subscription pick for the month for July 2019.
—Literati Bookstore (Ann Arbor, MI)
"Etter's ultrastylized and surreal debut casts a reflection that, like a carnival mirror, points aptly... at humanity's defects. Etter's coming-of-age story builds intrigue as it morphs into a portrait of a young woman adrift."
—Publisher's Weekly
"A visceral novel that cuts to what it means to live as a woman under the male gaze in a patriarchal society. The surreal story of Cassie... is both painful and relatable as she attempts to navigate a world that shuns the body she's in, and still fulfill the desires and fix the wounds that burn within her. Etter's prose is both lyrical and brutal—filled with surprising and beautiful imagery—driving the story to its heartbreaking and haunting ending." 
—Kelsey Westenberg, Seminary Co-op/57th Street Books (Chicago, IL)
"Etter's novel puts the magnifying glass not over a future world, but the one we already wake up to every day."
—Nate Logan, Fanzine
Review of The Book of X
"This novel is an incredible example of surrealism in current literary fiction... It is one of the most visceral, mind-bending reading experiences I have had in a very long time."
—Beth Mowbray, The Nerd Daily
INTERVIEW: "Sarah Rose Etter, Author of The Book of X"

"The Book of X finds the perfect balance between prose and poetry—the beautiful and grotesque... is a beautiful story of struggle, femaleness, and the pains and disappointments of life."
—Rachel Gonzalez, Paperback Paris
"Etter brings the sensibilities of poetry to her fiction and is unparalleled as a maker of magical realism today. You will not forget her imagery, metaphor, and haunting characterizations."
—Elizabeth Scanlon, Philebrity
"Sarah Rose Etter has... created space for the figurative and the real to run together in juicy and pink-tinged liquid—between the visions and the narrations of Cassie X and between the physical experience of Cassie's tangled body and the world around her. The fact that Etter's done all of this in one book makes her not only one of the most ambitious writers I've read in recent memory but also the most original... This book is gruesome, neurotic, diseased, dismembered, held in the fetal position, and absolutely, absolutely brilliant."
—Afton Montgomery, Tattered Cover Book Store (Denver, CO)
"The feeling of the novel kept making me think of Kassandra and the Wolf by Margarita Karapanou, mixed with The Yellow Wallpaper [by Charlotte Perkins Gilman]."
—Jenny Colvin, Reading Envy
The Book of X was included in "Books we're most excited about—July 2019."
—AV Club
The Book of X was included in books coming out July 2019.
—Boston Globe
The Book of X was included in "Most Anticipated: The Great Second-Half 2019 Book Preview."
—The Millions
The Book of X was included in "What We're Reading: Recommendations for the month of July 2019"
—Heavy Feather Review
The Book of X was included in "4 books I read recently and loved."
—Dennis Cooper's blog
"Insightful and incisive, this book cuts deep into the failing heart of the feminine mystique. Etter is a surgeon."
—Amelia Gray, author of Isadora and Gutshot
"A haunting meditation on loneliness, loss, and meat, The Book of X is a manual for how to survive in a world that almost offhandedly wants to destroy you. In it the echoes of reality come out deeply weird — but somehow reveal more about the real by being so. A wonderfully strange and personal novel, in which nightmares and daydreams cross-contaminate."
—Brian Evenson, author of The Open Curtain, A Collapse of Horses, and The Warren
"The Book of X traverses the mundane and the surreal—from grocery lists to blooming meat, menstrual blood to a jealousy removal shop—laying bare the absurdities of womanhood. A truly original writer, Etter continues to push the boundaries of her imagination... and ours."
—Melissa Broder, author of The Pisces
"Taut, macabre, with wounds electric, The Book of X will take your head off while staring dead-on into your eyes. Move over, Angela Carter, there's a new boss in the Meat Quarry, and she is fearless, relentless, ready to feast."
—Blake Butler, author of There Is No Year and 300,000,000
"Sarah Rose Etter is a visionary. Perfectly paced, structurally audacious, and endlessly inventive—The Book of X is our new Revelation. Actually it's better than that. Etter's prose digs with emotion and a thousand unforgettable images. They just twist themselves deeper and deeper into your guts. It'll probably take years to cut them out."
—Scott McClanahan, author of The Sarah Book and Crapalachia
Author
Sarah Rose Etter is the author of RIPE, and The Book of X, winner of the 2019 Shirley Jackson Award. Her short fiction collection, Tongue Party, was selected by Deb Olin Unferth to be published as the winner of the 2011 Caketrain Award. Her work has appeared or is forthcoming in TIME, Guernica, BOMB, Gulf Coast, The Cut, VICE, and more. She has been awarded residences at the Jack Kerouac House, the Disquiet International program in Portugal, and the Gullkistan Writing Residency in Iceland. She earned her B.A. in English from Pennsylvania State University and her M.F.A. in Fiction from Rosemont College. She lives in Los Angeles, CA.
Sneak Peek
Enjoy a sneak peek of select pages from The Book of X! (Use the "full screen" option at bottom right to enlarge the pages):
info
FORMAT: Paperback (Gatefold)
LIST PRICE: $17.99
PAGES: 284
PRINT ISBN: 9781937512811
DIGITAL ISBN: 978-1-937512-82-8
RELEASE DATE: 7/16/2019
SIZE: 5.5" x 7.5"
Printed in Canada by Marquis, with the following environmental statement:
*Printed on Rolland Enviro. This paper contains 100% post-consumer fiber, is manufactured using renewable energy - Biogas and processed chlorine free.
*FSC certified paper (inside and cover). 


Guide
Click here to view and/or download as PDF.
Book Club and Reader Guide: Questions and Topics for Discussion
1. Much of The Book of X is focused on Cassie, the main character, being born in the shape of a knot, a hereditary condition passed down from the female side of her family. What parallels can you draw between this surreal physical condition and your body? Do you find the idea of the knot to be effective as a literary device? Why or why not?
2. Cassie's relationship with her mother is marked with difficulty, as her mother constantly attempts to "improve" her—whether through weight loss, dresses, or new makeup. How would you have improved or distanced yourself from this relationship if you were Cassie? Are the actions of the mother enough to warrant the ending of that relationship? Do Cassie and her mother love each other?
3. The Meat Quarry represents a forbidden place to Cassie for much of the book. When she's finally allowed into the Meat Quarry, it turns out she's excellent at harvesting. What did you think the Meat Quarry represented? How did the Meat Quarry function as both a place and a character in the novel?
4. Cassie's relationship with her father is much warmer than that with her mother. They laugh and joke, despite his drinking. Does Cassie have a real relationship with her father, or are they more like friends? What role does his death play—and why does it impact her so greatly?
5. Throughout the book, Cassie is haunted by visions of another life—one which she describes as better than her current life. However, those visions often veer into the horrifying. How did her visions drive the story for you? What impact did they have on your understanding of her as a character? Which visions were the most impactful?
6. After Cassie moves to the city, she is forced to adjust her understanding of the world. How does this change in location impact her mentality? What does the city represent to Cassie? Have you ever moved to a new place and felt the same displacement Cassie faces?
7. Cassie's relationship with men throughout the book is marked with assault, rejection, and finally love. How do these different experiences shape her as a person? Does her relationship with Henry represent real love, imaginary love, or flawed love? How does love function throughout the book as a part of Cassie's life? Do you relate to her experiences? Are there right or wrong ways to love someone?
8. After her surgery, Cassie believes her life will improve. How does Cassie's relationship to her body change or stay the same after surgery? Is there any marked difference in her life? How is her surgery a rejection of her lineage? How are our bodies a reflection of ourselves—and how are they not?
9. Surrealism plays a major part in the portrayal of Cassie's life. How did you respond to this technique? What imagery or scenes resonated with you? How did surrealism help or hurt the plot of the novel?
10. The death of Cassie's father leads to the final outcome of the book. Why was his death such a pivotal moment for her? How could she have faced her own pain differently?