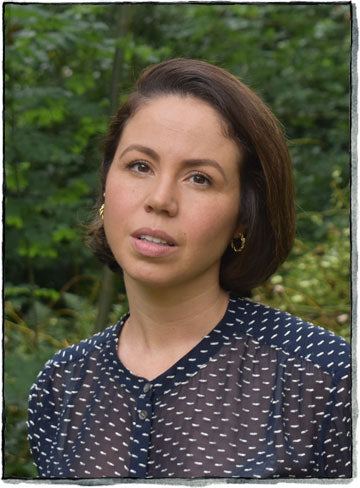 Author photo credit: Courtesy of the author
REQUEST AN INTERVIEW VIA CONTACT FORM
Dima Alzayat
---
ABOUT the author
Dima Alzayat was born in Damascus, Syria, grew up in San Jose, California, and now lives in Manchester, U.K. She was the winner of a 2018 Northern Writers' Award, the 2017 Bristol Short Story Prize and 2015 Bernice Slote Award, runner-up in the 2018 Deborah Rogers Award and the 2018 Zoetrope: All-Story Competition, and was Highly Commended in the 2013 Bridport Prize. Her stories have appeared in Esquire, Prairie Schooner, Bristol Short Story Award Anthology, Bridport Prize Anthology, and Enizagam.
Find out more here: dimaalzayat.com
Twitter: @dimaalzayat
---
Available from Two Dollar Radio
Alligator and Other Stories
"Alzayat's slim, powerful debut collection showcases the author's deep empathy and imagination in stories about grief, assimilation, and trauma... This intelligent collection is a force to be reckoned with."
—Publishers Weekly, starred review
---
Interviews
Read:
Maudlin House interview with Dima Alzayat | 7/31/2020
Gauraa Shekhar talks to the author of Alligator and Other Stories about finding the book a US home, the chaotic nature of publishing, and how cultural landscapes affect her work.

GQ Middle East interview with Dima Alzayat | 5/27/2020
"Throughout its eight stories, Alzayat's debut explores gender, family, intergenerational trauma, assimilation and race. Crucially, the stories evoke displacement in a variety of ways: as a Syrian, as an Arab, as an immigrant and as a woman." Read more from the interview with Layla Haidrani for GQ Middle East, in the interview: "The Patient Pursuit of Nuance: Syrian-American author Dima Alzayat is the latest in a string of Arab and Middle Eastern female writers to present a more modern portrait of identity."
The London Magazine | 6/16/2020
Dima Alzayat on Alligator: stories of displacement, cultural myth and inter-generational trauma interview with Lucy Popescu.
An interview with Dima Alzayat | 5/25/2020
Two Dollar Radio publisher Eric Obenauf talks to author Dima Alzayat about her debut collection of stories, including how she came to write the title story "Alligator," diaspora literature, her experience growing up in San Jose after her family left Syria, her method of structuring and editing a story, and more!
Listen:
Short Story Book Club | 6/14/2020
"Dima Alzayat talks with us in this episode about the title story of her debut collection of short stories called Alligator and Other Stories... Her timely narrative gives the world pause. How far has America come with its race relations? How far has our faith in the police been shaken? Without judgement, Alzayat makes space to consider these and other questions."
Save
Save
Save