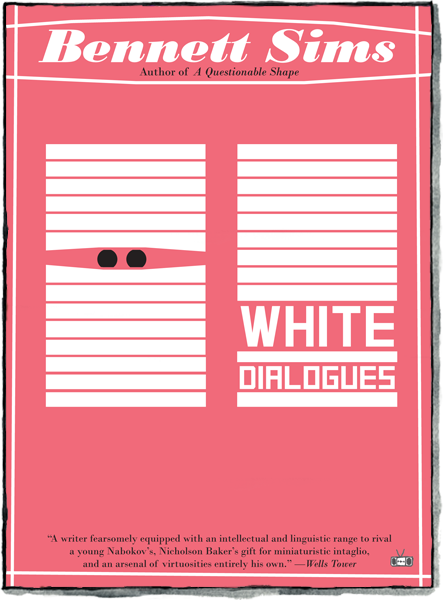 1st Printing Features: Trade paper, Gate-fold, Deckle Edge
CLICK TO REQUEST AN ARC
CLICK TO REQUEST RIGHTS INFO
White Dialogues
a collection of stories by
Bennett Sims
---
ABOUT
*Winner of the Bard Fiction Prize, 2014
*Winner of the Rome Prize for Literature, 2018-19
*Named one of the Best Books of the Year —Bookforum
"Anyone who admires such pyrotechnics of language will find 21st-century echoes of Edgar Allan Poe in Sims's portraits of paranoia and delusion, with their zodiacal narrowing and the maddening tungsten spin of their narratives."
—Hannah Pittard, New York Times Book Review
---
Synopsis
With all the brilliance, bravado, and wit of his award-winning debut, A Questionable Shape, Bennett Sims returns with an equally ambitious and wide-ranging collection of stories.
A house-sitter alone in a cabin in the woods comes to suspect that the cabin may need to be "unghosted." A raconteur watches as his personal story is rewritten on an episode of This American Life. And in the collection's title story, a Hitchcock scholar sitting in on a Vertigo lecture is gradually driven mad by his own theory of cinema.
In these eleven stories, Sims moves from slow-burn psychological horror to playful comedy, bringing us into the minds of people who are haunted by their environments, obsessions, and doubts. Told in electric, insightful prose, White Dialogues is a profound exploration of the way we uncover meaning in a complex, and sometimes terrifying, world. It showcases Sims's rare talent and confirms his reputation as one of the most exciting young writers at work today.
---
READ AN EXCERPT:
"White Dialogues" in Electric Literature, recommended by Halimah Marcus.
"Two Guys Watching Cujo on Mute" in Story, a tri-annual print publication devoted to the complex and diverse world of short fiction. 
---
White Dialogues by Bennett Sims =

* In most cases, none of these writers endorse this book. Our math formulas are supposed to be amusing anecdotes, similar to shelf-talkers in bookstores that say "If you like X, you might enjoy Y," or "This Book is like Cormac McCarthy writing an episode of Saved by the Bell with a soundtrack by Philip Glass."

Reviews
Scroll to bottom for Goodreads reviews.
"A brilliant... story collection by possibly the smartest and most inventive writer of his... generation.
—Tony Tulathimutte, Bookforum
"Best Books of the Year"
"One of the most genuinely terrifying, brilliant short story collections of the past decade. These stories are so smart and so unsettling; every sentence will unnerve you. He's kind of like if Alfred Hitchcock and Brian Evenson raised a baby with David Foster Wallace and Nicholson Baker. Sims should be a household name in horror. (He also has a criminally underrated novel, A Questionable Shape.)"
—Carmen Maria Machado, author of In the Dream House, Lit Hub
"26 Books From the Last Decade that More People Should Read"
"Anyone who admires such pyrotechnics of language will find 21st-century echoes of Edgar Allan Poe in Sims's portraits of paranoia and delusion, with their zodiacal narrowing and the maddening tungsten spin of their narratives."
—Hannah Pittard, New York Times Book Review
"Other People's Minds: Four New Story Collections" (Nov 17, 2017)
"'White Dialogues,' a story that reads like film criticism or film criticism that reads like a story, is more than influenced by great ideas. It lives inside them — plays them out, gifts them the arc of discovery and application... the minute you fall in love with this story, as I did, everything becomes fair game in fiction, available for the taking like it never was before."
—Halimah Marcus, Electric Literature
Read an excerpt of the story "White Dialogues," recommended by Halimah Marcus.
"Sims's debut story collection elegantly explores the ordinary and fantastic terrors lurking in the deepest recesses of the psyche... This is a cerebral collection for fans of smart, philosophical fiction that is not afraid to follow thought experiments to their most chilling conclusions."
—Publishers Weekly
(Read the full book review of White Dialogues)
"These 11 cerebral, uncanny stories marry horror, pop culture, metafiction, and cinema, and the result is a collection unlike any other in recent memory. If you like David Foster Wallace, Godzilla, or both, you need this book."
—The Week
"Carmen Maria Machado's 6 favorite story collections"
"The brilliant, austere stories of White Dialogues are, in their marrow, horror stories: the terrible anxiety of thought loops, the certainty of fate, the specter of death, the inescapability of one's own mind, the monstrosity of human impulses. With the uncanny perception of Nicholson Baker, the formal playfulness of David Foster Wallace, and the domestic terror of Shirley Jackson, Bennett Sims wrangles fictional forms, pop culture, and philosophy to his own dark ends. Incantatory, cerebral, and profoundly unnerving, White Dialogues is pure, perverse pleasure. Sims is one of our best early-career fiction writers, and this is a collection worth celebrating."
—Carmen Maria Machado, author of In the Dream House and Her Body and Other Parties
"Bennett Sims's work fills me with an ambivalent mixture of covetousness and proclamation that only the rare encounter with truly profound art can generate.... Sims's stories make effortless the possibility of building infinite worlds out of scant narrative content. The workings of the mind are both the subject of these stories and what generates them, a merging of form, content, and process that replenishes literature with the inexhaustible intricacies of the human brain run amok."
—Joe Sacksteder, The Collagist
(Read the full book review of White Dialogues)

"There are some clever literary stunts scattered throughout this collection, but there's no doubting the inventiveness of the author's prose, pacing, and ability to build tension and occasionally dispel it with laughter... A deft collection of spooky fables that pivots from classic stylings to postmodern irony."
—Kirkus
(Read the full book review of White Dialogues)

"Bennett Sims blurs the line between madness and genius in his cerebral story collection White Dialogues... Showcasing an ingenious and darkly subversive mind, White Dialogues is a head-trip worth taking."
—Scott Neuffer, Shelf Awareness
(Read the full book review of White Dialogues)

"In this wise, witty and often deeply moving collection of stories Bennett Sims proves himself to be a master of many forms. He can find sinister obsession in a lawn mower or a scrabble board, he can find life and death in a lizard. He takes his reader to the moon—'Not even death is an outside for the dead'—and back. He is the heir to the Nabokov of Pale Fire even as his voice is entirely his own. The title story, 'White Dialogues,' serves as an emblem for the book as a whole. Here is a writer who is always directing our attention to what we have failed to see, giving voice, beautifully, unnervingly to the unsaid."
—Margot Livesey, author of Mercury and The Boy in the Field

"White Dialogues is fantastic, and the story 'Destroy All Monsters' is a masterpiece. Bennett Sims's work shows us—through the intricate decay of his characters, the intricate assembly of his monsters—why horror has become the most philosophical genre. He shows us the occult link between imagination and death."
—Michael W. Clune,  author of the memoirs Gamelife and White Out: The Secret Life of Heroin, and Writing Against Time 
"In White Dialogues, Bennett Sims unleashes more of the dazzling intellectual firepower I loved in his debut, A Questionable Shape. Sims' vision of what is horrifying is both engaged with the long and varied history of that genre and unique within it. His work is deeply philosophical and human, turning the known and familiar so that we can see it from new angles and find ourselves refracted in the strangeness of others' minds. Is Sims writing about monsters, or thoughts, or the monsters of our thoughts? This question—and this dark, uncanny collection of stories—feels vital, especially right now. A brutally smart book."
—V. V. Ganeshananthan, author of Brotherless Night and Love Marriage
"The Zen poet Ikkyu used to run through town holding a human skull aloft like a lantern. These stories are that lantern, a collection of memento mori chilling, timeless, and deeply satisfying to read. There is no escape from the awareness of death here; in these stories, the hidden picture is always the monster in plain sight, the call is coming from inside the house, and the house is that circle whose center is everywhere and whose circumference is nowhere. The voices Sims summons are so persuasive that you, the reader, become implicated in their frantic logic, trapped with the narrators in their interpretative cages. This relentlessness is mitigated by the Melvillean heft of Sims' prose: the depth of his attention to the world and to the making of sentences, the monumentalness. He is an anatomist of horror, but an anatomist of great beauty and wit."
—Amy Parker, author of Beasts and Children
Watch "White Dialogues" by Bennett Sims - An Electric Literature Single Sentence Animation:
In this animation for Recommended Reading, Laura Heit animates a sentence from "White Dialogues" by Bennett Sims. Sound by Calpin Hoffman-Williamson.
The sentence: "Every movie is a pyramid, stuffed tight with mummies."

Author
Bennett Sims was born and raised in Baton Rouge, Louisiana. He is the author of the story collection Other Minds and Other Stories (2023), the novel A Questionable Shape (2013), which received the Bard Fiction Prize and was a finalist for The Believer Book Award, and the story collection White Dialogues (2017), winner of the Rome Prize for Literature 2018–19 and named a best book of 2017 by Bookforum. He is a recipient of a Michener-Copernicus Society Fellowship. His fiction has appeared in A Public Space, Conjunctions, Electric Literature, Tin House, and Zoetrope: All-Story, as well as in the Pushcart Prize Anthology. He has taught at Bard College, Grinnell College, and the Iowa Writers' Workshop.
Sneak Peek
Enjoy a sneak peek of select pages from White Dialogues! (Use the "full screen" option at bottom right to enlarge the pages):
info
LIST PRICE: $15.99
PAGES: 202
PRINT ISBN: 9781937512637
DIGITAL ISBN: 9781937512644
RELEASE DATE: 9/12/2017
SIZE: 5.5" x 7.5"
Printed in Canada by Marquis, with the following environmental statement:
*Inside printed on Enviro 100% post-consumer EcoLogo certified paper, processed chlorine free and manufactured using biogas energy. 
*FSC certified paper (inside and cover).
Save
Save