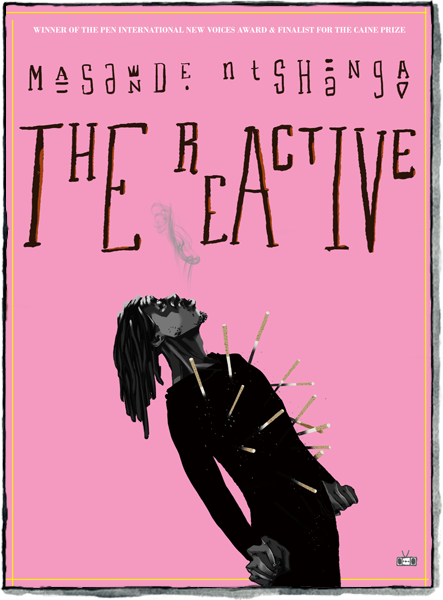 1st Printing Features: Trade paper, Gatefold
CLICK TO REQUEST AN ARC
CLICK TO REQUEST RIGHTS INFO
The Reactive
a novel by
Masande Ntshanga
---
ABOUT
Psst! Check out the Double Exposure sale here, to score both Masande Ntshanga books at once!
* Winner of The Betty Trask Award (2018)
* Sunday Times Barry Ronge Fiction Prize Finalist
* Etisalat Prize for Literature Longlist
* One of the Best Books of the Year 2016 —Men's Journal, Flavorwire, City Press, The Sunday Times, The Star, This is Africa, Africa's a Country, Sunday World
"[The Reactive is] a searing, gorgeously written account of life, love, illness, and death in South Africa. With exquisite prose, formal innovation, and a masterful command of storytelling, Ntshanga illustrates how some young people navigated the dusk that followed the dawn of freedom in South Africa and humanizes the casualties of the Mbeki government's fatal policies on HIV & AIDS."
—Naomi Jackson, Poets & Writers

---
Synopsis
Heralded in the author's native South Africa as "the hottest novel of the year," The Reactive is a clear-eyed and compassionate depiction of a young HIV+ man grappling with the sudden death of his younger brother, for which he feels unduly responsible.
Lindanathi and his friends—Cecelia and Ruan—make their living working low-paying jobs and selling anti-retroviral drugs (during the period in South Africa before ARVs became broadly distributed). In between, they huff glue, drift in and out of parties, and traverse the streets of Cape Town, where they observe the grave material disparities of their country. A mysterious masked man appears seeking to buy their surplus of ARVs, an offer that would present the three with the opportunity to escape their environs, while at the same time forcing Lindanathi to confront his path, and finally, his past.
With brilliant, shimmering prose, Ntshanga has delivered a redemptive, ambitious, and unforgettable first novel.
---
The Reactive by Masande Ntshanga =
* In most cases, none of these writers endorse this book. Our math formulas are supposed to be amusing anecdotes, similar to shelf-talkers in bookstores that say "If you like X, you might enjoy Y," or "This Book is like Cormac McCarthy writing an episode of Saved by the Bell with a soundtrack by Philip Glass."

Reviews
Scroll to bottom for Goodreads reviews.
A "Must-Read Book for June 2016." —Flavorwire
A "Best Book of June 2016." —Michael Schaub, Men's Journal
"The Reactive is not only a beautiful novel, as fierce and formally innovative as it is lyrical and moving, but also a call to inhabit as well as to critique the symbolic structures of our world that can both empower and betray us."
—Nathan Goldman, Full Stop
"[The Reactive is] a searing, gorgeously written account of life, love, illness, and death in South Africa. With exquisite prose, formal innovation, and a masterful command of storytelling, Ntshanga illustrates how some young people navigated the dusk that followed the dawn of freedom in South Africa and humanizes the casualties of the Mbeki government's fatal policies on HIV & AIDS."
—Naomi Jackson, Poets & Writers
"Woozy, touching... a novel that delivers an unexpected love letter to Cape Town, painting it as a place of frustrated glory. The Reactive often teems with a beauty that seems to carry on in front of its glue-huffing wasters despite themselves."
—Marian Ryan, Slate
"Masande Ntshanga is a wildly talented writer. Get in on his brilliance now so you can claim you always knew he'd be great."
—Victor LaValle, author of The Changeling
"One of South Africa's most promising new voices... Ntshanga weaves a rollercoaster ride of a story that will leave you questioning the meaning of family, despair, and hope."
—Ayiba Magazine
"[The Reactive] takes place during a period of social and political tumult that mirrors that mental turmoil of the lead character, and it makes for an extremely sharp, challenging read. This is not a book about a fast-paced, compelling plot. It's a character study, an emotional journey, and right from the opening line, it's a brutal indictment"
—XOJane.com
"Sharp and affecting... [Ntshanga] directs the story with an amazing precision of language that few writers can achieve in a lifetime of work. With a style all his own, Ntshanga animates despair and agitation in a collage of moments, memories and landscapes that speak volumes of a exigent moment in South African history. Ntshanga grapples with the past and the too-real present with grace, but not clemency, with hope, but not too much."
—Alibi
"With The Reactive, [Ntshanga] has created an immersive and powerful portrait of drug use, community, and health issues by exploring what it was like to be young, black, South African, and HIV positive in the early aughts."
—VICE
"[The Reactive] is an affecting, slow-burning novel that gives a fantastic sense of a particular place and time, and of the haunted inner life of its protagonist."
—Tobias Carroll, Minneapolis Star-Tribune
"This novel about an HIV+ man who mourns the death of his brother in Cape Town is shaping up to be one of the best debuts of 2016."
—Jonathon Sturgeon, Flavorwire
"Hailed as a fresh and fearless portrait of contemporary South African life, The Reactive marks Ntshanga as a global talent to watch."
—Librairie Drawn & Quarterly, Largehearted Boy
"A book that sucks us like vapor through the streets of Cape Town. [Ntshanga] has a sympathetic ear for the particular rhythms of young friendship, the banter, the petty arguments, the sticky and fleeting fun."
—David Schuman, The Rumpus
"[The Reactive] is a seriously powerful book set in a place I know little about, featuring people dealing with things I know little about; but somehow, the amazing themes of redemption, struggle, and the attempt to find meaning in life made it possible to connect in a compelling way with these characters."
—Kelsey Westenberg, Roscoe Books
"Ntshanga deftly illustrates the growing pains of a new country through three friends who seem intent on obliterating their minds, but who nevertheless cling to their dreams."
—Dmitry Samarov, Vol. 1 Brooklyn
"Gritty and revealing, Ntshanga's debut novel offers a brazen portrait of present-day South Africa. This is an eye-opening, ambitious novel."
—Publishers Weekly
"Ntshanga offers a devastating story yet tells it with noteworthy glow and flow that keeps pages turning until the glimmer-of-hope ending."
—Library Journal
"A powerful, compassionate story that refuses to rest or shuffle off into the murk of the mind. It exists so that we never forget."
—Benjamin Woodard, Numero Cinq Magazine
(Read the full review of The Reactive)
"Electrifying... [Ntshanga] succeeds at exploring major themes—illness, family, and, most effectively, class—while keeping readers in suspense. Ntshanga's promising debut is both moving and satisfyingly complex."
—Kirkus Reviews
"[The Reactive is] one of this year's most startling novels."
—Mail & Guardian
"From time to time a novel comes along that is so strange, yet so utterly fresh and compelling, that it feels tuned into a reality with which you are not yet familiar."
—Aerodrome
"One of [Ntshanga's] best qualities as a writer is to defamiliarize aspects of South African existence, which through our habits of speaking and writing, have boiled down to bland indifference... The Reactive will probably remain, along with Imraan Coovadia's High Low In-between and Jonny Steinberg's Three Letter Plague, as a seminal work confronting [a] period in our country's history."
—The Sunday Independent
"Masande Ntshanga's debut novel The Reactive follows an HIV-positive young man who is dealing with the long-lasting trauma of his brother's death by selling his antiretroviral drugs, chewing a lot of khat and drifting around suburban Cape Town with his friends. Describing the novel baldly, though, ignores its immense thematic depth. [The Reactive is] one of this year's most startling novels."
—Mail & Guardian
"Elegiac... an astoundingly brilliant novel, radiating with understanding and compassion. It fulfills William Faulkner's injunction that 'the poet's voice need not merely be the record of man; it can be one of the props, the pillars to help him endure and prevail.'"
—City Press
"With a fine lyricism of style Ntshanga weaves a story both filled with ennui and weird purpose. And if that sounds unlikely, it is a feat he pulls off with brilliance... The shining point of this novel is the author's ability to create the confusion and changes young South Africans have to deal with. In a modern state there are calls and cries from the past that still make claims on them. They face uncertainty with their loud music, their counter-cultural lifestyles, but beneath the veneer they are all likeable characters who are searching for authenticity. Never preachy or pretentious, this book is a breath of fresh air in an often fetid landscape. Read it, savor the beauty of the writing, and you will find yourself drawn into a dreamscape you may recognize."
—The New Age
Author
Masande Ntshanga is the author of the acclaimed novels The Reactive, shortlisted for the 2015 Barry Ronge Fiction Prize and longlisted for the 2015 Etisalat Prize for Literature, and Triangulum, shortlisted for the 2020 Nomo Awards for Best Novel. He is the winner of the Betty Trask Award (2018), winner of the inaugural PEN International New Voices Award in 2013, and a finalist for the Caine Prize in 2015. He was born in East London in 1986 and graduated with a degree in Film and Media and an Honours degree in English Studies from UCT, where he became a creative writing fellow, completing his Masters in Creative Writing under the Mellon Mays Foundation. He received a Fulbright Award, an NRF Freestanding Masters scholarship, a Civitella Ranieri Fellowship and a Bundanon Trust Award. His work has appeared in The White Review, Chimurenga, VICE and n + 1. He has also written for Rolling Stone magazine.
Sneak Peek
Enjoy a sneak peek of select pages from The Reactive! (Use the "full screen" option at bottom right to enlarge the pages):
info
LIST PRICE: $15.99
PAGES: 174
PRINT ISBN: 9781937512439
DIGITAL ISBN: 978-1-937512-44-6
RELEASE DATE: 6/7/2016
SIZE: 5.5" x 7.5"
Printed in Canada by Marquis, with the following environmental statement:
*Inside printed on Enviro 100% post-consumer EcoLogo certified paper, processed chlorine free and manufactured using biogas energy.
*FSC certified paper (inside and cover).
Save
Save
Save
Save