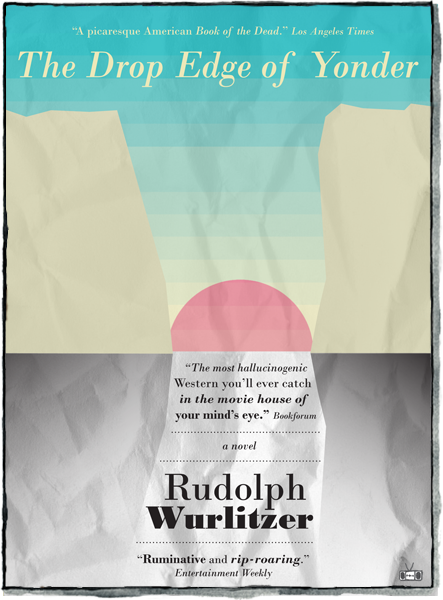 1st Printing Features: Trade paper
CLICK TO REQUEST AN ARC
CLICK TO REQUEST RIGHTS INFO
The Drop Edge of Yonder
a novel by
Rudolph Wurlitzer
---
ABOUT
* Time Out New York's #1 Best Book of 2008
* ForeWord Magazine Gold Medal for Literary Fiction
"There's a bawdy, lunatic thrill to the tale that seems somehow radical. It's the kind of book someone will stick in a back pocket before heading out on the trail into the unknown."
—LA Weekly
---
Synopsis
Originally published by Two Dollar Radio in 2008 and released as a second edition in 2017, Rudolph Wurlitzer's first novel in nearly 25 years is an epic adventure that explores the truth and temptations of the American myth.

Beginning in the savage wilds of Colorado in the waning days of the fur trade, the story follows Zebulon Shook, a mountain man who has a curse placed on him by a mysterious Native American woman whose lover he murdered, to "drift like a blind man between the worlds, not knowing if you're dead or alive, of if the unseen world exists, or if you're dreaming." Zebulon sets out on the trail from Colorado, venturing to the remote reaches of the Northwest, a journey that traverses the Gulf of Mexico to Panama, and up the coast of California to San Francisco and the gold fields, bringing him face-to-face with mystics and outlaws, politically-minded prison wardens and Russian Counts, each hungry to stake their claim on the American dream.

A novel of breathtaking scope and beauty, The Drop Edge of Yonder reveals one of America's most transcendant writers at the top of his form.
---
The Drop Edge of Yonder by Rudolph Wurlitzer =
* In most cases, none of these writers endorse this book. Our math formulas are supposed to be amusing anecdotes, similar to shelf-talkers in bookstores that say "If you like X, you might enjoy Y," or "This Book is like Cormac McCarthy writing an episode of Saved by the Bell with a soundtrack by Philip Glass."

Reviews
Scroll to bottom for Goodreads reviews.
* Time Out New York's #1 Best Book of 2008
* ForeWord Magazine Gold Medal for Literary Fiction
"A picaresque American Book of the Dead... in the tradition of Thomas Pynchon, Joseph Heller, Kurt Vonnegut and Terry Southern."
—David Ulin, Los Angeles Times
"[A] funny, inquisitive novel [that] asks readers to re-examine their ideas of the Western frontier and personal freedom."
—Wall Street Journal
"There's a bawdy, lunatic thrill to the tale that seems somehow radical. It's the kind of book someone will stick in a back pocket before heading out on the trail into the unknown."
—LA Weekly
"Wurlitzer delivers a mystic Western possessed of anarchic charms and incantatory beauty. This furiously told legend weaves history and myth into a riotous tale."
—Publishers Weekly, Starred Review
"The most hallucinogenic Western you'll ever catch in the movie house of your mind's eye. What results is a genre farce with oracular power—a Queen of Hearts sutra, a court jester's Blood Meridian. With Drop Edge, Wurlitzer has considerably raised the stakes."
—Bookforum
"Drop Edge occupies a space between the whimsical and the mystical, the silly and the sublime. Wurlitzer's philosophical, humorous, and visionary yarn guides the reader into a landscape in which to wander around and get lost, a West that leads into the numinous terra incognita between sleep and waking, life and death, and toward the contemplation of what it means to cross a frontier."
—LA CityBeat
"In his hero, Zebulon Shook, Wurlitzer has invented a funny, acerbic, hugely compelling representative of American heroism. This is that rare story that improves as it expands, not unlike another rambling picaresque, Don Quixote."
—Washington City Paper
"Wurlitzer's most satisfying read to date... should be as well known as anything by Cormac McCarthy, Steve Erickson, or Jim Harrison. A pure blast of vituoso storytelling. [Drop Edge] is a book that shows us our own reflection at this exact moment in our history—America as a flailing, undomesticated, wild-eyed, hairy brawler, with a big, confused heart in rebellion against the coarse exigencies of existence and civilization."
—Barnes & Noble Review
"An epic Western and a summation of all that's great about Wurlitzer's novels and film scripts... an old hand laying down what may well be the best piece of writing he's ever done."
—Arthur Magazine
"Mesmerizing. A Western as Celine might have written one."
—Times Literary Supplement of London
"The Drop Edge of Yonder, Wurlitzer's first novel in 24 years, is his best to date. It's the rare book that possesses not just big ideas, but the daring cleverness to pull them off."
—Time Out New York 
"An epic Western that merges the unique narrative invention of [Wurlitzer's] early novels with the cinematic drift of his best scripts."
—Dazed & Confused
"[A] psychedelic adventure... Ruminative and rip-roaring at once."
—Entertainment Weekly
"[Wurlitzer's] vivid language has a poetic, almost magical, intensity. An atmospheric work that fuses the road novel and the Western. [A] Western [that] beautifully captures the glimmering maya of a gold-and-gun-and-sex-crazed frontier."
—The Brooklyn Rail 
"When Rudy Wurlitzer became a novelist and screenwriter during the 1970s, genre deconstruction was all the rage. The Drop Edge of Yonder, based on an unproduced screenplay from the time, is a psychedelic, fever-dream Western. When fur trapper Zebulon accidently murders a woman, she curses him, declaring, "From now on you will drift between worlds not knowing if you're dead or alive, or if the unseen worlds exist or if you're dreaming..." Readers are all the better for his misfortune. Wurlitzer's prose is a gorgeous, blunt instrument, like riding a bucking bronco on LSD, like if Dispatches were written by Davy Crockett."
—Pat B., Politics and Prose Bookstore
"Simply the most wonderful book I have read all year."
—Largehearted Boy
"Zebulon sinks, floats, sees visions, understands his status, and the reader is left with few alternatives but to stay on the ride until the end. Wurlitzer plays with the psychedelic elements of the genre while also dipping into the comfort of earthly delights so prevalent in stories of Western conquerors."
—Christopher John Stephens, PopMatters
(Read the full book review)
"Wurlitzer opens up his cold-blooded prose veins with the blade of the Western genre, and something sinister and mystically unsettling gushes out."
—Baltimore City Paper
Author
Rudolph Wurlitzer is the author of the novels Nog, Flats, Quake, and Slow Fade, and a non-fiction book, Hard Travel to Sacred Places. He has written numerous screenplays, including Pat Garrett and Billy the Kid, Two Lane Blacktop, and Walker. Wurlitzer wrote the librettos to two Philip Glass operas, In the Penal Colony and The Perfect American, and co-directed the film Candy Mountain with Robert Frank.
Sneak Peek
Enjoy a sneak peek of select pages from The Drop Edge of Yonder! (Use the "full screen" option at bottom right to enlarge the pages):
Info
LIST PRICE: $15.99
PAGES: 252
PRINT ISBN: 9781937512613
DIGITAL ISBN: 978-1-937512-62-0
RELEASE DATE: 3/14/2017
AUDIO BOOK: Audible.com offers the audio version of The Drop Edge of Yonder
FOREIGN LANGUAGE:
Christian Bourgois Editeur (French) version of The Drop Edge of Yonder (Zebulon)
Residenz Verlag (German) version of The Drop Edge of Yonder (Zebulon)
Tropo Editores (Spanish) version of The Drop Edge of Yonder
This edition printed in Canada by Marquis, with the following environmental statement:
*Inside printed on Enviro 100% post-consumer EcoLogo certified paper, processed chlorine free and manufactured using biogas energy.
*FSC certified paper (inside and cover).
Save