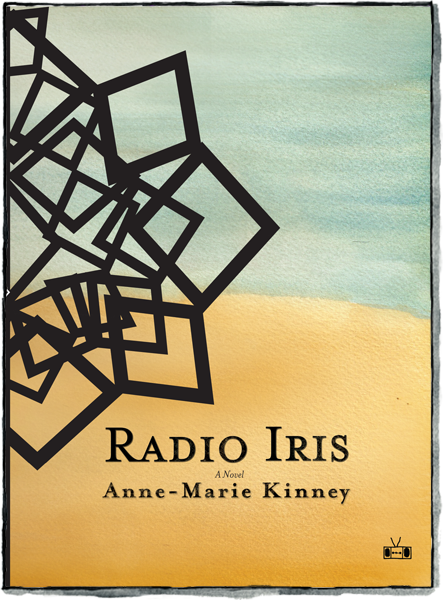 1st Printing Features: Trade paper, Gate-fold, Deckle Edge
CLICK TO REQUEST AN ARC
CLICK TO REQUEST RIGHTS INFO
Radio Iris
a novel by
Anne-Marie Kinney
---
ABOUT
"Radio Iris has a lovely, eerie, anxious quality to it. Iris's observations are funny, and the story has a dramatic otherworldly payoff that is unexpected and triumphant."
—Deb Olin Unferth, New York Times Book Review, Editors' Choice
---
Synopsis
Radio Iris is the story of Iris Finch, a socially awkward daydreamer with a job as the receptionist/personal assistant to an eccentric and increasingly absent businessman. When Iris is not sitting behind her desk waiting for the phone to ring, she makes occasional stabs at connection with the earth and the people around her through careful observation and insomniac daydreams, always more watcher than participant as she shuttles between her one-bedroom apartment and the office she inhabits so completely, yet has never quite understood. 

Her world cracks open with the discovery of "the man next door." Over the next few weeks or months (the passage of time is iffy for Iris), she takes it upon herself to learn everything she can about this stranger. But the closer she gets to him, the more troubling questions at the heart of her own life rise to the surface, questions like—Why does she keep having the same dream? Why is it that she and her brother don't seem to have a single shared memory of their childhood? What is it her boss actually does? In the end, Iris is faced with a choice she never imagined, and a reality she never knew enough to dread.
---
Radio Iris by Anne-Marie Kinney =
* In most cases, none of these writers endorse this book. Our math formulas are supposed to be amusing anecdotes, similar to shelf-talkers in bookstores that say "If you like X, you might enjoy Y," or "This Book is like Cormac McCarthy writing an episode of Saved by the Bell with a soundtrack by Philip Glass."

Reviews
Scroll to bottom for Goodreads reviews.
"A noirish nod to the monotony of work."
—O, The Oprah Magazine
"There's almost a noirish feel to this slim book, which offers a surreal look at how tedious and weird modern corporate life can be."
—Vulture
"Radio Iris has a lovely, eerie, anxious quality to it. Iris's observations are funny, and the story has a dramatic otherworldly payoff that is unexpected and triumphant."
—Deb Olin Unferth, New York Times Book Review, Editors' Choice
"There's a Kafkaesque layer of weirdness smeared across everything [but] Radio Iris refuses to limit itself to the drama of the weird. Instead, within the framework of the facelessness of contemporary society that it sets up, the novel digs deeper, wrestling with timeless, fundamental questions."
—The Collagist 
"Radio Iris exists in a potent unreality, The Office as scripted by Kafka."
—Minneapolis Star-Tribune
View the awesome HORN! REVIEWS review in short graphic novel/comic form.
—The Rumpus
"[An] astute evocation of office weirdness and malaise."
—Wall Street Journal
"Iris spends her days in this world, but not of it—always listening, always dreaming, always looking beneath the surface. Like her protagonist, Kinney is a messenger between worlds, and the news she brings, is startling and beautiful."
—The Rumpus
"Radio Iris is about a young woman who keeps to herself while also being an allegory of the global economic collapse. Iris sees the everyday, mundane world through an enviable lens of detail, wonder and even magic. The larger themes of the novel—death, reality, family—are mirrored in the mystery with which she translates the world around her."
—HTML Giant
"Kinney is a Southern California Camus. She writes the old story of human versus workplace monotony with a twist. Iris may not be glamorous, but she is persistent, with a front-row seat to the end of business as usual."
—Los Angeles Magazine 
"A first novel with aplomb. Whether read as a parable about the modern workplace, an Alice in Wonderland fable or a portrait of an existential crisis that starts within Iris but spreads outward, the conclusion is as haunting as could be. Fans of David Lynch's films will appreciate how Iris Finch's world crumbles around her, literally and figuratively, in this intoxicating debut novel."
—Shelf Awareness
"The language is gorgeous and, especially when spun into Kinney's apt and lyrical reflections on life, the real reason to read this book."
—Colorado Springs Independent
"One of the year's finest literary debuts, a modern office novel both lyrical and surprising."
—Largehearted Boy
"Gen-Y has an angst-ridden poster girl in Iris Finch."
—Publishers Weekly
"A finely-crafted, subtle thriller. Kinney leads us by the hand so skillfully that everyday happenings become riveting... Suggestive of Murakami... A very satisfying and engaging read."
—The Brooklyn Rail
"Working for a company that might be called Kafka Ballard & Dickinson, bearing a kind of sonic witness to a world of static, Iris likes to listen the way some like to watch. Searching for home, she's the passenger of her own voice. Anne-Marie Kinney's Radio Iris is a novel of unsettling humor and elusive terror, a piercing loneliness and the strangeness of the banal, and a hushed power that grows in volume before your ears."
—Steve Erickson
"Radio Iris is a revelation, a whimsical, charming and beautifully observed novel about quotidian life. Anne-Marie Kinney's Iris is a contemporary version of Calvino's Marcovaldo, caught between the rich expression of her own humanity and the random demands of the workaday world."
—T.C. Boyle
"Radio Iris brings new shimmer and depth to the word sensory—Iris's perceptions are both keen and open, so mysterious and grounded, and the book builds a narrative of mystery and longing with visceral, ringing precision."
—Aimee Bender
"In Radio Iris, Anne-Marie Kinney, introduces us to Iris Finch, a young woman of a new lost and lonely generation. With prose as pitch perfect as the Buddy Holly songs Iris loves, Kinney draws us into a world both familiar and quotidian and unfathomable and harrowing."
—Bruce Bauman
Author
Anne-Marie Kinney's work has appeared in Black Clock, Indiana Review, and Keyhole, and has been performed by Los Angeles's Word Theatre. Radio Iris is her first novel.
Videos
Sneak Peek
Enjoy a sneak peek of Radio Iris book here, on Issuu.com:
INFO