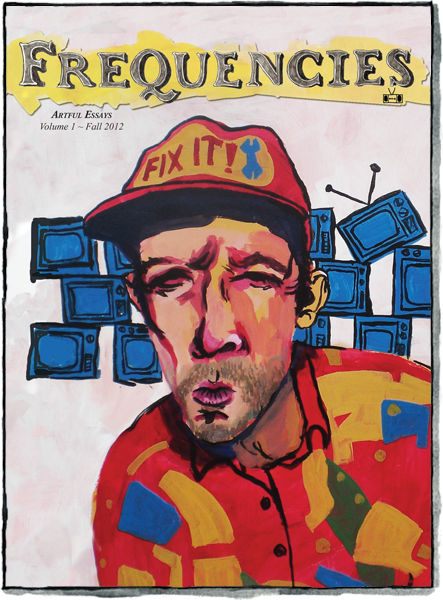 1st Printing Features: Trade paper, Illustrations, Color photography
CLICK TO REQUEST AN ARC
CLICK TO REQUEST RIGHTS INFO
Frequencies Volume 1
a collection of essays by
Blake Butler, Joshua Cohen, Tracy Rose Keaton, & more!
---
LIST PRICE: 10.00
PAGES: 85
PRINT ISBN: 978-1-937512-01-9
RELEASE DATE: 10/1/2012

ABOUT
"Heavy with literary weight."
—New Pages
---
In the fall of 2012, we launched our very own journal of artful essays, which we lovingly titled, Frequencies. Amongst one another, we referred to it as a grungier, less self-righteous Harpers's.
We sought out writing from some of our favorite young writers: Joshua Cohen, Blake Butler, and Scott McClanahan, and were lucky enough to stumble upon an incredible essay by Tracy Rose Keaton.
Joshua Cohen's ambitious yet concise essay traces the origins of the phrase 'Open Sesame,' after recurring run-ins with the phrase on Saturday morning cartoons. Does the expression have an Arab origin in "Ali Baba and the Forty Thieves," or does it stem from 17th or 19th century Western languages. While the origin may be fuzzy, Cohen pursues an equally valuable thread: "The most valuable coin has always been with us, within us: the word, the call, whether shared, lent, borrowed, or stolen."
Ahead of the publication of Scott McClanahan's earth-shattering creative memoir, Crapalachia, which was published in March 2013, we ran an early excerpt. The book is one of our best-selling at Two Dollar Radio, and this was readers' first glimpse of the groundbreaking work.
Blake Butler and Morgan Kendall collaborated to create an impressionistic photo/flash essay piece grappling with memory and the disintegration of the mind. Each photo by Kendall is paired with a short textual response by Butler of the same name, beautifully documenting the siblings' struggle with their father's dementia.
Who says you can't write eloquently and powerfully about music fan-dom? Tracy Rose Keaton chronicles her attraction to Iggy Pop, her boyfriends, family, simple hope, projection, and looking even your most unflattering traits in the eye. The only acceptance you need is your own.
Also included in the inaugural issue is an interview with iconoclast and probably superhero, Anne Carson.
Sneak Peek