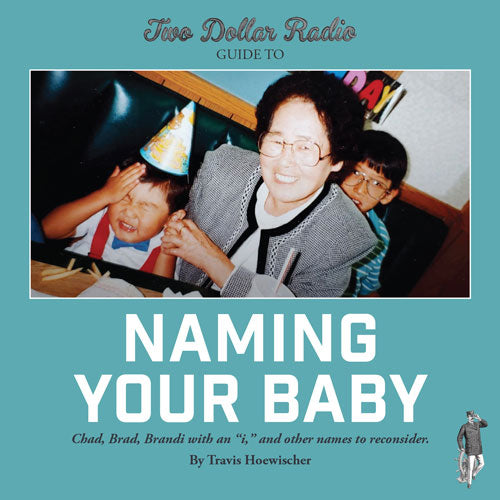 1st Printing Features: Trade paper, Illustrations & Pictures
CLICK TO REQUEST AN ARC
CLICK TO REQUEST RIGHTS INFO
VIEW/DOWNLOAD COVER ART FILE
VIEW ON EDELWEISS
Two Dollar Radio Guide to Naming Your Baby
a humor collection by
Travis Hoewischer
---
ABOUT
Unless your child is an '80s villain, we can all agree that Brad, Todd, and Brandi with an "i" are all atrocious ideas.

With all the swagger of the Palmyra Pumpkin Princess, the Two Dollar Radio Guide to Naming Your Baby will help you name your child by calling attention to those names you should probably definitely avoid: Kyle (Just because there was one in your first grade class, and two in your wedding, doesn't mean there needs to be another one in your family photo), Kiefer (Grand Marshall of "Truck or Treat"), Paige (She's never really going to get it, but you're not gonna stop trying). While we can't promise your child will be a success, we can provide you with the tools necessary to ensure your child will not be an epic failure.
---
Synopsis
Your friends are in the hospital, awaiting the arrival of their first child. You and your friends are eager to see a new member of your extended family enter the world. Then, you see the Instagram post: "Hey everyone, mom and son are doing fine. Happy and healthy! We want to introduce you to… KEITH."
What do you say? I mean, you're meant to say congratulations, but do they know? Keith is clearly step-dad's name, and there have been no recorded Baby Keiths on record since the last time gas was 5 dollars a gallon. Is it ironic? Maybe it's ironic. Like DadCore, but… a baby.
With the Two Dollar Radio Guide to Naming Your Baby, you'll find plenty of useful information to help you avoid blame when your full-grown Karen asks you why everyone asks her if she wants to ask to see a manager. Your Karen is into horses, we know, but that's why you should have gone with Millie.
Inside, you'll find musings on all the worst monikers — even yours — which means you now have a new gift idea for your family members. Who needs 23andMe when, rather than finding out if you're 2.7 percent Welsh, you can get to the bottom of why your cousin Dale Henry is an 8-year-old girl with an overbite, and not a grizzled country and western singer.
For Example:
* Fiona: Ahh, yes, you like Disney. Who doesn't? But there are no actual princesses, and many Fionas grow up to become penpals with murderers and marry them in prison. You're playing with fire.
* Dylan: Can you still love your child if they grow up to send dick pics through LinkedIn?
* Hailey: It's hard to hear anyone say, "I'm not racist, but…" Especially when it's a 14-year-old. Who wronged her? It was you.
In this ever-changing world, it's hard to know how life is going to turn out for your new- or soon-to-be-born. You can't keep them from getting their heart broken. And you won't be able to shield every force of evil from them over the course of their whole life. You will, however, be able to avoid naming them Harley. You will need our help.
Reviews
"As someone who has celebrated numerous births of friends and families babies with names from Maeve to Seb, I couldn't wait to see what this irreverent baby naming book had between it's covers. It's funny and witty, and I love the interludes with name lists. I was also relieved to not find my own name within its pages, I shuddered to think what Travis would have to say about Sarahs!"
—Sarah Danforth, Towne Book Center and Wine Bar, Collegeville, PA
"Assuming you will not be offended if your name is on that list, Two Dollar Radio Guide to Naming Your Baby will be a fun and humorous read, especially for the people who want children to really think about what decent names to give them."
—Sterling Bratton, Prism Journal
Author
Travis Hoewischer got a D- in conduct in first grade. The charge? He talked to every single student in class before every school day. He's always been this way. He managed to improve his grades and harness his penchant for chat to connect with communities and citizens. He has spend 20 years as a journalist, standup comedian, and non-profit leader. This is his first book. He was almost called Andrew.
Sneak Peek
Enjoy a sneak peek of the Two Dollar Radio Guide to Naming Your Baby by Travis Hoewischer.
View the sneak peek of Two Dollar Radio Guide to Naming Your Baby here on Issuu.com.
info
FORMAT: Paperback, full-color, illustrations
LIST PRICE: $14.99
PAGES: 130
PRINT ISBN: 9781937512965
DIGITAL ISBN: 9781937512446
RELEASE DATE: 11/17/2020
SIZE: 5.5" x 5.5"
Printed in Canada by Marquis, with the following environmental statement:
*Printed on Rolland Enviro. This paper contains 100% post-consumer fiber, is manufactured using renewable energy - Biogas and processed chlorine free.
*FSC certified paper (inside and cover).