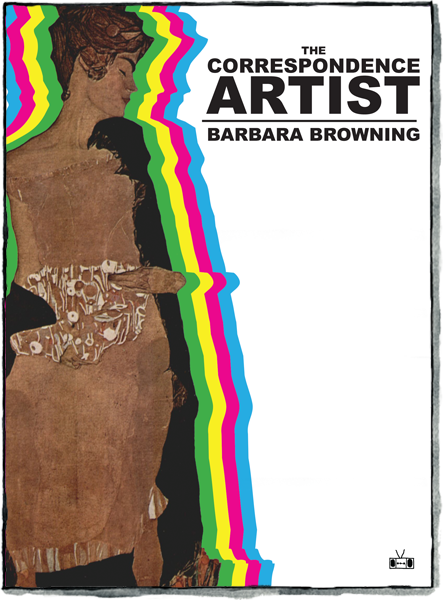 1st Printing Features: Trade paper, Gate-fold, Deckle Edge
CLICK TO REQUEST AN ARC
CLICK TO REQUEST RIGHTS INFO
The Correspondence Artist
a novel by
Barbara Browning
---
ABOUT
*Lambda Literary Award Winner
"A truly 21st-century novel! The Correspondence Artist answers the question: what happens to epistolary romance in the age of digital communication? Love—the remix—and the remix—and the remix..."
—Paul D. Miller, aka DJ Spooky That Subliminal Kid
---
Synopsis
In The Correspondence Artist, an unremarkable woman has been carrying on with an internationally recognized artist, largely via e-mail. To protect her paramour's identity, she creates a series of correspondent, alternative lovers in a self-destructing roman à clef.
---
The Correspondence Artist by Barbara Browning =
* In most cases, none of these writers endorse this book. Our math formulas are supposed to be amusing anecdotes, similar to shelf-talkers in bookstores that say "If you like X, you might enjoy Y," or "This Book is like Cormac McCarthy writing an episode of Saved by the Bell with a soundtrack by Philip Glass."

Reviews
"A deft look at modern life that's both witty and devastating."
—Nylon
"Intelligent... a pleasure to read."
—Bookslut
"Barbara Browning's The Correspondence Artist applies stylistic juxtapositions in welcome and unexpected ways. This novel... is experimental in structure yet casual in tone. It's an extended metaphor of a book that nonetheless abounds with insider details, art-world cameos, and precise images—even resorting to the occasional still frame to etch a particular scene onto the mind of the reader."
—Vol. 1 Brooklyn
"A truly 21st-century novel! The Correspondence Artist answers the question: what happens to epistolary romance in the age of digital communication? Love—the remix—and the remix—and the remix..."
—Paul D. Miller, aka DJ Spooky That Subliminal Kid
View the awesome HORN! REVIEWS review in short graphic novel/comic form.
—The Rumpus
"Only a New York University Performance Studies professor can write a novel about a love affair narrated via email, using four different avatars to protect the identity of a famous unnamed artist, that include a Basque separatist, an Israeli novelist, a Malian musician, and a Vietnamese multimedia artist, and pull it off [in a] comedic, intelligent book."
—Slice Magazine
"This novel of an affair told prismatically is a love letter to letters, a passionate mixtape to the world of culture."
—The Rumpus
"Barbara Browning's The Correspondence Artist has a conceit that will sound like a dog whistle to readers hungry for a certain kind of high-concept writing. The particular details of these relationships... are sharp, witty, and well-developed: I experienced that nerdy thrill novel reading sometimes gives you when you learn something new... I'm interested in what a Malian musician would have to say to his Lacanian therapist, and the micro-history of ETA we get tickles me the way that getting another strange stamp in your passport might."
—The Collagist
"Jam-packed with cultural references and lubricated body parts... in a fiction that merges with cultural theory. This is mail worth rifling through."
—The Fanzine 
"The Correspondence Artist is a thoroughly enjoying read that raises many questions through its fresh sense of storytelling. This book is worth reading if, for nothing else, than for pure enjoyment of the author's ability to execute a well-told tale."
—jmww 
"Browning's writing is truly sexy. Playful and evocative, it captures the obsessive nature of love in a way few authors manage. The Correspondence Artist is a smartly complex and surprising work of art. More than being simply a 'novel' in the traditional sense it takes that term a step further, existing in form as something truly innovative and new. Part memoir, part fiction, part epistolary, part metadata-existentialist philosophy, part art installation; the sum total is a triumph of a debut."
—KGB Bar Lit Magazine 
"[The Correspondence Artist] is wrapped up in powerful feelings of disconnect, confusion, and sexual need. Imagining a failed romance through four different characters [gives] the story an unusual liveliness, and Browning expertly filters critical moments through each imagined lover."
—Washington City Paper 
"Browning relentlessly explores her theme of love's many faces, giving readers a rewardingly offbeat novel that's by turns sexy, humorous, and insightful."
—Publishers Weekly
"The Correspondence Artist is smart, funny, sexy, knowledgeable, subtle, disturbing, light-hearted, obsessive, and tragic: a comedy that, I surmise, is wholly confessional and wholly imaginary."
—Harry Mathews
Author
Barbara Browning has a PhD in comparative literature from Yale. She teaches in the Department of Performance Studies at the Tisch School of the Arts, NYU. She's also a poet and a dancer. She lives with her son in Greenwich Village. She is also the author of I'm Trying to Reach You, a Believer Book Award Finalist.
Videos
A Communiqué from the Arrano Beltza from The Correspondence Artist's Santutxo Etxeberria ("I would like to esclarify one thing..."):

Sneak Peek
Enjoy a sneak peek read of The Correspondence Artist here, on Issuu:
info
LIST PRICE: $16.00
PAGES: 192
PRINT ISBN: 978-0-9820151-9-3
DIGITAL ISBN: 978-0-9832471-2-8
RELEASE DATE: 3/1/2011
Original printing was printed with the following environmental statement:
*Mix paper from responsible sources, FSC certified paper.