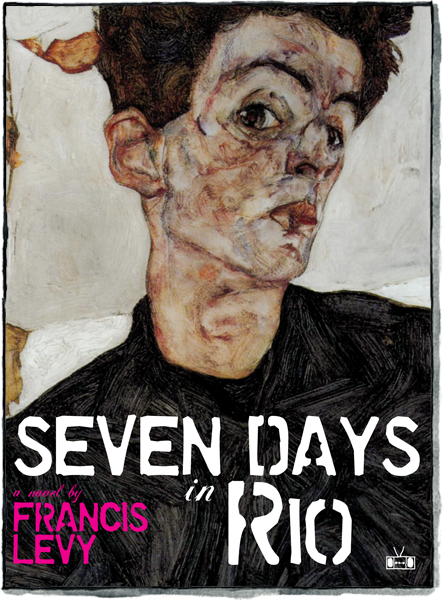 Out of Print!
1st Printing Features: Trade paper, Gate-fold, Deckle Edge
CLICK TO REQUEST AN ARC
CLICK TO REQUEST RIGHTS INFO
Seven Days in Rio (Out of Print)
a novel by
Francis Levy
---
Sorry! This is being reordered and will be back in stock soon.
ABOUT
This book is now out of print.
---
"The funniest American novel since Sam Lipsyte's The Ask."
—Village Voice
---
Synopsis
Kenny Cantor, always dapper in his seersucker suit from the Brooks Brothers 1818 collection, is a CPA, amateur psychoanalyst, and sex-tourist vacationing in Rio when he gets waylaid at a psychoanalytic conference. 

What ensues is a provocative journey that merges sex and psychoanalysis through Rio's tawdry netherworld of Sontag-quoting denizens as only an incendiary voice like Francis Levy could imagine.
---
Seven Days in Rio by Francis Levy =
* In most cases, none of these writers endorse this book. Our math formulas are supposed to be amusing anecdotes, similar to shelf-talkers in bookstores that say "If you like X, you might enjoy Y," or "This Book is like Cormac McCarthy writing an episode of Saved by the Bell with a soundtrack by Philip Glass."

Reviews
"Levy delivers a visceral blend of hilarious satire and study in human sexuality, taking us on a deviant tour of Rio."
—Interview Magazine
"It's like an erotic version of Luis Bunuel's The Discreet Charm of the Bourgeoisie. Levy is matter-of-fact in his raunchiness, which is try-and-suppress-your-laughter-because-people -are-beginning-to-stare-at-you funny. The man is fearless in his exploration of human sexuality."
—The Cult
"[A] fever dream of a novel."
—New York Times Book Review
"Francis Levy's sex-tourist hero is sucked into a psychoanalytic convention during his Seven Days in Rio."
—Vanity Fair
View the awesome HORN! REVIEWS review in short graphic novel/comic form.
—The Rumpus
"Twisted brilliance... Levy is a hilarious satirist, who launches the book with a thunderclap and maintains its galloping pace throughout."
—The Collagist
"A hilarious and absurdist romp that turns the cultural fascination with sex on its head. This riotous look inside the mind of a sexually preoccupied, ambitious American male is as intellectually provocative as it is ridiculous."
—Publishers Weekly
"An impressive satirical comedy that tackles themes of sex and psychoanalysis and had me laughing aloud from the first page to the last."
—Largehearted Boy
"This ironic and absurdist highbrow little sex novel is a hoot. . . . Mr. Levy's humor is dryer than Monty Python's but no less funny, and he combines high and low culture in a particularly appealing way."
—New York Journal of Books
"An incredibly elaborate and well-crafted satire... Levy is wicked smart, has a very strong voice, and is clearly out to poke his Literary knife into our precious little feelings."
—Vol. 1 Brooklyn
"Seven Days in Rio is the best buy of the decade; it's worth a full course of psychoanalytic therapy of whatever persuasion. Reading this book will have the added benefit of curing you of psychoanalysis itself, not just the neuroses psychoanlysis guns for. In other words, by reading Levy you get seven days in Rio living like an exiled great duchess in excellent health and rolling in dough. Additionally, you also get the pleasure of schadenfreude because you realize that for the price of a book you get what people spent fortunes for in the past. If Levy ever gets retroactive, he could take the cash from all the business Freud's spanned and distribute it to you, readers. You'd all be rich. And smarter. Oh yeah, and he's hilarious."
—Andrei Codrescu
"Seven Days in Rio is a brilliant comic novel. I marveled throughout at the energy, enthusiasm, and innocence of the protagonist in his quest for multiple hookers. This is a great gift, to be able to combine so seamlessly a character's intellectual curiosity with his compulsive horniness, and is especially warming in the cold climate of political correctness. I hope this book receives all the notice it deserves."
—Robert Brustein
Author
Francis Levy's short stories, criticism, humor, and poetry have appeared in The New York Times, The Washington Post, The New Republic, The Village Voice, The East Hampton Star, The Quarterly, Penthouse, among others, and he is the author of Erotomania. He is co-director of the Philoctetes Center for the Multidisciplinary Study of Imagination, is a third degree black belt, and blogs at TheScreamingPope.com.
Sneak Peek
Enjoy a sneak peek read of Seven Days in Rio here, on Issuu:
info
LIST PRICE: $16.00
PAGES: 162
PRINT ISBN: 978-0-9826848-7-0
DIGITAL ISBN: 978-0-9832471-9-7
RELEASE DATE: 8/1/2011