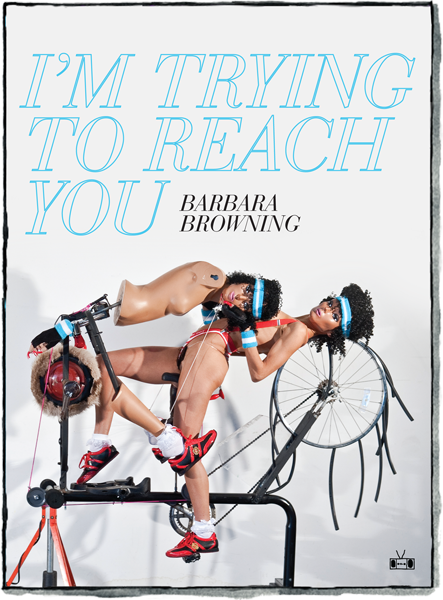 1st Printing Features: Trade paper
CLICK TO REQUEST AN ARC
CLICK TO REQUEST RIGHTS INFO
I'm Trying to Reach You
a novel by
Barbara Browning
---
ABOUT
This paperback book is currently unavailable here. Indie bookstores may have copies on their shelves though, so please inquire with your fave indie!
* Winner of the 2013 IPPY Award for GAY/LESBIAN/BI/TRANS FICTION
*The Believer Book Award Finalist
*One of the Best Books of 2012 —BuzzFeed
---
Synopsis
"I was in Zagreb the day that Michael Jackson died. When I heard the news, the first thing I thought was, That's it. That's the first line of my novel. 'I was in Zagreb the day that Michael Jackson died.'" 
First Michael Jackson, then Pina Bausch. Next is Merce Cunningham. 
Gray Adams, a former dancer with the Royal Swiss Ballet at work on his dissertation at NYU, has a theory spurred by countless hours of YouTube-based procrastination: Someone is killing these famous dancers! (And he may bear an uncanny resemblance to Jimmy Stewart, circa Vertigo.) 
I'm Trying to Reach You is a moving and candid contemporary look at how we process grief, as well as how we love and communicate with one another.
---
I'm Trying to Reach You by Barbara Browning =
* In most cases, none of these writers endorse this book. Our math formulas are supposed to be amusing anecdotes, similar to shelf-talkers in bookstores that say "If you like X, you might enjoy Y," or "This Book is like Cormac McCarthy writing an episode of Saved by the Bell with a soundtrack by Philip Glass."

Reviews
*The Believer Book Award Finalist 
*One of the Best Books of 2012 —BuzzFeed
"[Browning's] books aren't even just books, they're multimedia art projects. I think I love this book so much because it contains intimations of the potential of what books can be in the future, and also because it's hilarious."
—Emily Gould, BuzzFeed
View the awesome HORN! REVIEWS review in short graphic novel/comic form.
—The Rumpus
"A provocative novel... that blurs the boundaries between life and performance, dance, art, and viral video. The novel is also framed in the world of performance art and is itself its own kind of performance... and feels rightly reflective of a moment when dance is pushing the boundaries of what constitutes a performance space."
—Slate
"The novel shows ambitious scope, encompassing everything from critical theory to the relationship between Merce Cunningham and John Cage."
—Lambda Literary Review
"Recommended to anyone... who wants to experience a multimedia novel blurring genres and means of communication as well as the boundary between the author and her fictional narrative."
—New York Journal of Books
"I'm Trying to Reach You is another stunning work, one that smartly explores love and grief in a modern culture that often connects through social media."
—Largehearted Boy
"Deftly blending highbrow intellectual concerns with the informality of Facebook-era communiques, Browning's newest is as entertaining as it is thought-provoking."
—Publishers Weekly, Starred Review
"Exquisite storytelling at its finest. I'm Trying to Reach You cultivates our relationship addiction with YouTube and our desire for interconnectivity while illuminating what it means to strive, cope and love with all of our heart, brain, body and soul. It is all here. Browning writes with humor, wit, grace and passion to the human purpose, mortality and the joys of existence. Start reading."
—Karen Finley 
"The writing of Barbara Browning reminds me of the young, spirited Françoise Sagan whose first three novelsBonjour tristesse (1954), Un certain sourire (1955) and Aimez-vous Brahms? (1959), were written when she was still in her teens and early twenties and are beyond brilliantine. The film version of Bonjour Tristesse 1957 was directed by Otto Preminger starring a lovely Jean Seberg. If only Mr. Preminger were alive today to direct a filmed adaptation of Ms. Browning's I'm Trying to Reach You. That would be granada."
—Vaginal Creme Davis
Author
Barbara Browning has a PhD in comparative literature from Yale. She teaches in the Department of Performance Studies at the Tisch School of the Arts, NYU. She's also a poet and a dancer. She lives with her son in Greenwich Village. The Correspondence Artist is her first novel.
Videos
View one of the many dance videos created for the book, by Barbara Browning, entitled, "1) modéré (gnossienne 5)". Visit the YouTube channel of AhNethermostFun to see more videos!

Sneak Peek
Enjoy a sneak peek read of I'm Trying to Reach You here, on Issuu, and get a serious look inside the book:
info
LIST PRICE: $16.00
PAGES: 216
PRINT ISBN: 978-0-9832471-1-1
DIGITAL ISBN: 978-0-9832471-5-9
RELEASE DATE: 6/1/2012