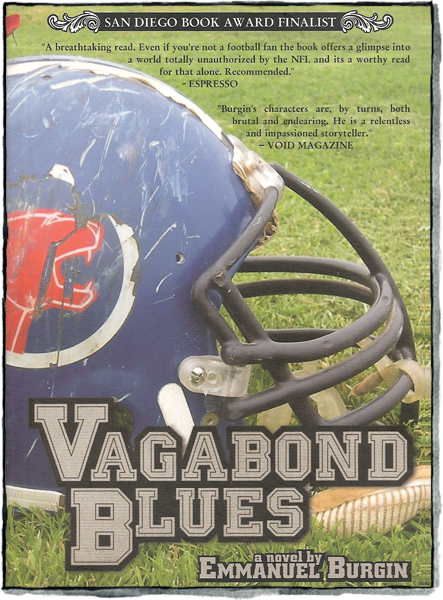 Out of Print!
1st Printing Features: Trade paper
CLICK TO REQUEST AN ARC
CLICK TO REQUEST RIGHTS INFO
Vagabond Blues (Out of Print)
a novel by
Emmanuel Burgin
---
Sorry! This is being reordered and will be back in stock soon.
ABOUT
This book is now out of print.
---
*San Diego Book Award Finalist.
"A breathtaking read. Even if you're not a football fan the book offers a glimpse into a world totally unauthorized by the NFL and it's a worthy read for that alone. Recommended."
—Espresso
---
Synopsis
Vagabond Blues is an insider's peek at minor league football in the early '80s, an entire netherworld that most people never had the opportunity to see, let alone experience. It's a place where players hopped up on speed and painkillers injure one another for no other reason than because they can. They are drunks and drug-users, Vietnam Vets and NFL misfits, who try just as hard to keep the adrenaline rush going after the game.
Author
Emmanuel Burgin's non-fiction has appeared in the Los Angeles Times, El Sol de San Diego, San Diego Weekly Reader, Rugby West Magazine, and Rugby News. His fiction has appeared in San Diego Writer's Monthly, Tidepools, Weavings, and Solstice Literary Quarterly. In 1981, Emmanuel was captain of the minor-league professional team, Twin City Cougars, and prior to that was under contract with the L.A. Thunderbolts.
info
LIST PRICE: $14.00
PAGES: 256
PRINT ISBN: 978-0-9763895-1-4
RELEASE DATE: 9/1/2005
Save
Save
Save
Save
Save