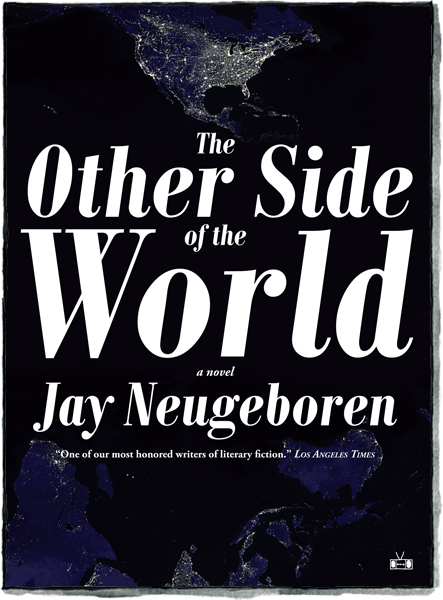 Out of Print!
1st Printing Features: Trade paper
CLICK TO REQUEST AN ARC
CLICK TO REQUEST RIGHTS INFO
The Other Side of the World (Out of Print)
a novel by
Jay Neugeboren
---
Sorry! This is being reordered and will be back in stock soon.
ABOUT
This book is now out of print.
---
"Epic... The Other Side of the World can charm you with its grace, intelligence and scope... [An] inventive novel."
—Washington Post
---
Synopsis
Charlie Eisner is a journeyman whose friend Nick convinces him to move to Singapore, where he falls in love with the vibrant and endangered world of nearby Borneo. One night, at a party in Nick's Singapore apartment, Nick dies mysteriously, prompting Charlie to return to New England, where he discovers that Seana O'Sullivan has moved in with his father, Max, a retired professor with a beguiling and antic disposition. Seana, one of his father's former students, is a wildly successful and provocative writer who is equally wild and provocative in life. Together, she and Charlie set out on a road trip, first to pay respects to Nick's parents, and then on a journey where "weird things happen if you make room for them." 

From the lush forests of Borneo to the mean streets of Brooklyn and the haunting towns of coastal Maine, The Other Side of the World is a grand, episodic novel and yet another virtuoso performance by one of America's most revered living writers.
---
The Other Side of the World by Jay Neugeboren =
* In most cases, none of these writers endorse this book. Our math formulas are supposed to be amusing anecdotes, similar to shelf-talkers in bookstores that say "If you like X, you might enjoy Y," or "This Book is like Cormac McCarthy writing an episode of Saved by the Bell with a soundtrack by Philip Glass."

Reviews
"Neugeboren presents a meditation on life, love, art and family relationships that's reminiscent of the best of John Updike."
—Kirkus Reviews, Starred Review
"A successful novel of literary asides, broken families, exotic travel and Auden's "vague, quasi-mystical experience called 'falling in love.'"
—Shelf Awareness
"A story of life, living, and learning, The Other Side of the World is an enticing and literary work of fiction."
—Midwest Book Review
"Great in scope, a thoughtful and provocative examination of relationships in all their forms."
—Largehearted Boy
Author
Jay Neugeboren is the author of sixteen books (including 1940 and You Are My Heart), including two prize-winning novels (The Stolen Jew, Before My Life Began), two award-winning books of non-fiction (Imagining Robert, Transforming Madness), and four collections of award-winning stories. He has won six consecutive Syndicated Fiction Prizes. He lives in New York City. (jayneugeboren.com)
info
LIST PRICE: $16.50
PAGES: 282
PRINT ISBN: 978-1-937512-02-6
DIGITAL ISBN: 978-1-937512-07-1
RELEASE DATE: 12/1/2012