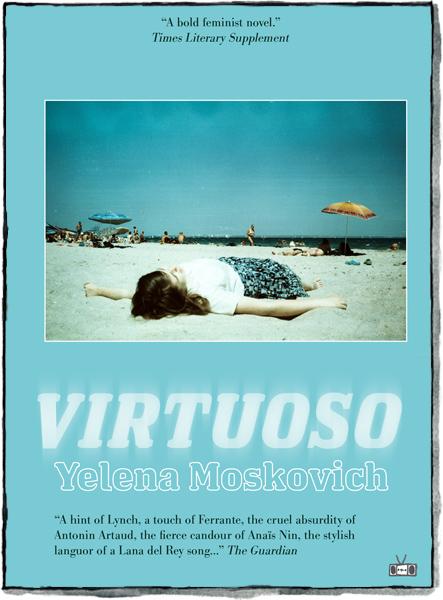 1st Printing Features: Trade paper, Gatefold
CLICK TO REQUEST AN ARC
CLICK TO REQUEST RIGHTS INFO
VIEW/DOWNLOAD COVER ART FILE
Virtuoso
a novel by
Yelena Moskovich
---
ABOUT
* Longlisted for the Swansea University Dylan Thomas Prize
* A BEST SMALL PRESS BOOK FROM 2020 —Mallory Smart, Maudlin House
As Communism begins to crumble in Prague in the 1980s, Jana's unremarkable life becomes all at once remarkable when a precocious young girl named Zorka moves into the apartment building with her mother and sick father. With Zorka's signature two-finger salute and abrasive wit, she brings flair to the girls' days despite her mother's protestations to not "be weird." But after scorching her mother's prized fur coat and stealing from a nefarious teacher, Zorka suddenly disappears.

Meanwhile in Paris, Aimée de Saint-Pé married young to an older woman, Dominique, an actress whose star has crested and is in decline. A quixotic journey of self-discovery, Virtuoso follows Zorka as she comes of age in Prague, Wisconsin, and then Boston, amidst a backdrop of clothing logos, MTV, computer coders, and other outcast youth. But it isn't till a Parisian conference hall brimming with orthopedic mattresses and therapeutic appendages when Jana first encounters Aimée, their fates steering them both to a cryptic bar on the Rue de Prague, and, perhaps, to Zorka.

With a distinctive prose flair and spellbinding vision, Virtuoso is a story of love, loss, and self-discovery that heralds Yelena Moskovich as a brilliant and one-of-a-kind visionary.
Reviews
Scroll to bottom for Goodreads reviews.
* Longlisted for the Swansea University Dylan Thomas Prize
"Worth £30,000, it is one of the UK's most prestigious literary prizes as well as the world's largest literary prize for young writers. Awarded for the best published literary work in the English language, written by an author aged 39 or under, the Prize celebrates the international world of fiction in all its forms including poetry, novels, short stories and drama." —The Bookseller
"A BEST SMALL PRESS BOOK FROM 2020" —Mallory Smart, Maudlin House
"Viewed through this lens, Virtuoso documents the potential for queer female desire—when foregrounded—to reshape both space and time to its own ends. It also points towards a relationship between queer time and space, suggesting that within postmodernism, queer spaces emerge from the embracing of risk, chance and the turning away from longevity and safety that queer temporalities entail."
—Clare Fisher, The Sociological Review
From "Queer Time and Space in Yelena Moskovitch's Virtuoso"

"If Ferrante's Neapolitan series was condensed into one book and that one book was turned into a person who spent a good deal of time at queer punk shows on X, but then they got clean and a job where they wore pumps and a pencil skirt and longed for all the selves they had to abandon to survive — and then that person became a book — this would be that book."
—Gala Mukomolova, NYLON
"Virtuoso is a novel / is a performance / is a dance with movements and variations / is poetry / is film / is a palette splattered with colors / is a body out of breath. Virtuoso is truly a sensual euphoria, one that must be experienced firsthand."
—Cameron Finch, Michigan Quarterly Review
Read the interview with author Yelena Moskovich
"Yelena Moskovich describes her second novel, Virtuoso, as a book about "queerness, diaspora, intimacy between women, anger, eroticism, symbolic and literal death and rebirth." A truly robust overture housed in relatively few pages, this novel explores all of these profound themes and more through the lives of four women, their loves and losses, their explorations of self and other."
—Beth Mowbray, The Nerd Daily
Read the interview with author Yelena Moskovich

"Yelena Moskovich 's second novel revels in its own complexity, blending humour and tragedy, a motley collection of prosthetic limbs and proverbs, fur coats on fire, the Archangel Michael and blue vapour. It spans several European countries and 40 years, and focuses loosely on a trio of women whose lives gradually interlock... It is rebellion, ultimately, that drives Moskovich's characters — whether in love or identity — coupled with the anti-linear style of the story itself."
—Zoë Apostolides, Financial Times
(Read the full book review of Virtuoso on Financial Times)

"This tightly woven feminist novel is a deep exploration of womanhood spanning decades, continents, and digital spaces... Virtuoso is a moving book that defies categorization."
—Wendy J. Fox, BuzzFeed
"Virtuoso didn't simply engage me on an intellectual level, but also on a deep and emotional one. It's the kind of art that lives in you and follows you around because of your experience with it. It's part of you now and, for good or ill, that's goddamn impressive."
—Joseph Edwin Haeger, The Big Smoke
"Haunted and haunting... Told through multiple unique, compelling voices, the book's time and action are layered, with possibilities and paths forming rhythmic, syncopated interludes that emphasize that history is now."
—Letitia Montgomery-Rodgers, Foreword Reviews, starred review
"The structurally complex and intellectually engaging novel focuses on Jana and Zorka, two young women from Czechoslovakia, and Aimee and Dominique, two women from France, and the immediate difficulties and twists their lives and relationships take as they navigate professional and political environments where freewill and individuality undergo indescribable oppression."
—Nicole Yurcaba, The Book Bat's Cave
From "The forest sweats its leaves:" Reading Yelena Moskovich's Virtuoso and Other Reflections about Otherness
"To read Moskovich is to learn how to live and love in an anarchy of plot, form, language, and tradition, but also to understand that it often takes two women to start a fire."
—Isabel Marqués, STET
(Read the full review of Virtuoso on STET)

"Moskovich's novel has more in common with David Lynch's Mulholland Drive than it does with any contemporary piece of writing... Moskovich breaks almost every rule of contemporary fiction."
—Kirkus
(Read the full review of Virtuoso on Kirkus)

"[Virtuoso] tells the stories of four queer European women in a filmic, fragmented style... An unexpected reunion ties together all the stories in an emotionally complex and gratifying ending."
—Publishers Weekly
(Read the full book review of Virtuoso on Publishers Weekly)

"Moskovich dwells with indigenous belonging and a native fluency in the realms of the unseen, the worlds slotted between worlds, or behind them, a fluttering geography of veils calling for mirrors, or perhaps for the abolition of mirrors."
—John Biscello, Riot Material Magazine
—DRECK Magazine, read the interview with Yelena Moskovich here.
"Virtuoso jumps through time involving three pairs of sapphic women, ranging from childhood friends. marriage, and scandal. The paths of these women sync and blend together like waves, written in an almost abstract form. These are loves intertwined with melancholy and mystery. I will admit sometimes I'm not at all sure what is going on, but nevertheless, I was engaged in its format. As their stories unfold, you may feel like rereading again and again to put together all the pieces."
—Andrew King, University Bookstore (Seattle, Washington)
"With incredible characters and sharp narration, Virtuoso illustrates the many ways in which women don't follow the stereotypes created for them... Moskovich's second book is told with a sharp tongue and unusual charm, documenting the lives of a few explosive female characters."
—Jaylynn Korrell, Independent Book Review
"Moskovich provides a surreal and provocative exploration of love and longing, of identity and belonging."
—Ciara Haley, Totally Dublin
"[Virtuoso's] prose is lyrical."
—June Sawyers, Booklist
"The prose poem-esque vignettes that make up the novel Virtuoso are propulsive and exact and Yelena Moskovich's language oozes with sensory experience. Taking place in Prague, Paris, Wisconsin, Boston, and other locations, Virtuoso is a queer and transnational novel that hypnotically dunks the reader into every scene."
—Nate McNamara, Lit Hub '12 Books You Should Read in January'
"Readers have to trust Moskovich, as Virtuoso's form is as carefully composed as its narrative. Virtuoso is compelling for this clever form as it makes readers question their current lucidity and the possibility of transcendental love... Moskovich's novel spills-over with the nuances of existence (and by extension, co-existence), grounding readers in her dizzying and dreamlike story of love, friendship, and reconnection."
—Kaitlyn Yates, The Arkansas International
"The author's inimitable style is both elegant and poetic. By story's end, our characters' lives amazingly, but not unbelievably, intertwine, skillfully arranged by Moskovich."
—Virginia Parobek, World Literature Today
(Read the full book review of Virtuoso on World Literature Today)
"Virtuoso is a striking probe into feminine love and friendships, an examination of the dichotomy between the individual and the bleeding of self into other which occurs in relationships. It is an exploration of how to exist and find meaning in the unbalanced world we live in; a blurring, off-kilter study of the line between belonging and just plain longing."
—Beth Mowbray, The Nerd Daily
(Read the full book review of Virtuoso on The Nerd Daily)

"Moskovich's dreamlike prose and fragmentation make the introduction of the surreal feel natural in the world she has painted for us."
—Hayley Neiling, Heavy Feather Review
(Read the full book review of Virtuoso on Heavy Feather Review)

"Moskovich writes with the eye of a film director and the lyricism of a poet..."
—Mallory Miller, Paperback Paris

"Virtuoso is a lyrical and ethereal novel, unlike any I have read before... In Virtuoso, Yelena has written a brave and uncompromising novel, which has interesting and defiant women at its core. It serves only to remind us that fiction can be whatever it wants to be."
—Clare, Years of Reading Selfishly
(Read the full book review of Virtuoso on Years of Reading Selfishly)

"Virtuoso is novel in the most original sense, a slice of story carved out of the world and set in eerie, entrancing motion, a boundary-crossing narrative that encircles both geopolitical history and the delicate, gestural inner life of her two female characters, who form themselves in the midst of their homeland's upheaval. In Moskovich's inspired hands, language becomes a fragile and shifting musculature, a substance both firm and ephemeral, simultaneously the stuff of our lives and the stuff of dreams."
—Alexandra Kleeman, author of You Too Can Have a Body Like Mine
"Although Moskovich displays plenty of pyrotechnics—of structure, figure and storytelling—the title of her novel isn't self-referential. She's copped it from a (real) Czech-manufactured medical mattress for "high-risk patients." As the company says, "when care is critical, each fibre counts." And indeed, the author's intricately woven the strands of two, or four, or perhaps six women's lives into a text that holds them in an uncanny space for "accelerated wound healing." Through rapturous and sometimes raucous somniloquies, in hotel suites, lesbian bars, and chat rooms, her scrappy, hungry, globe-scattered heroines are trying desperately to keep each other from coming to pieces. Part Ferrante, part Despentes, Yelena Moskovich is a brutal but tender-hearted chronicler of women in love."
—Barbara Browning, author of The Gift, I'm Trying to Reach You, The Correspondence Artist
"Like Moskovich's powerful debut The Natashas, this is a book about the last generation to be born in the Soviet era and how the fall of communism shaped their social, sexual and artistic engagement with the world... Moskovich's mother tongue is Ukrainian, and while her English is faultless, there's a pleasing otherness about her syntax and word choice, a sense that there are different languages operating just beneath the surface of the text. It makes for a reading experience that is always strikingly original... Virtuoso is a fine, fraught, strange novel... it will be fascinating to see what she writes next."
—Alex Preston, The Guardian
(Read the full review of Virtuoso on The Guardian)
"Reading Virtuoso is an evocative and encompassing experience—you feel the novel in the recess of your mind, sitting there and taunting you with its beguiling timeline, its array of robust female characters who wield dialogue as weapons and its surreal character studies... Although the novel is written in flawless English, evidence of other languages lurks under the surface, which only enhance descriptions and dialogue, bending words and phrases in vivid and hypnotic ways."
—Mia Colleran, The Irish Times
(Read the full review of Virtuoso on The Irish Times)

"Virtuoso is powerfully mysterious and deeply insightful, a page-turner precisely because you have no idea what to expect. In the era of #MeToo, Moskovich's arrestingly close and complicated view of lesbian relationships and female friendship seems more urgent than ever before. But it's perhaps the novel's defiantly surrealist style that is its greatest triumph; it is in itself a stirring endorsement of transgression on all fronts. Virtuoso has the effect of a good poem—inexplicit, mystifying, and sometimes impenetrable, but in the end producing a vivid and visceral impression of the subject. The true virtuoso, in both substance and style, is the author herself."
—Nadia Beard, Los Angeles Review of Books
(Read the full review of Virtuoso on Los Angeles Review of Books)

"A hint of Lynch, a touch of Ferrante, the cruel absurdity of Antonin Artaud, the fierce candour of Anaïs Nin, the stylish languor of a Lana del Rey song... Moskovich writes sentences that lilt and slink, her plots developing as a slow seduction and then clouding like a smoke-filled room."
—Shahidha Bari, The Guardian
(Read the full review of Virtuoso on The Guardian)

"A bold feminist novel: it contains a world of love and friendship between women in which men and boys are both indistinct and irrelevant... The Natashas was a fascinating debut, Virtuoso is even better... It is the Blue Velvet to her Eraserhead: a fully realized vision of a strange world."
—Katharine Coldiron, Times Literary Supplement
(Read the full review of Virtuoso on Times Literary Supplement)

Author
Yelena Moskovich was born in Ukraine (former USSR) and immigrated to Wisconsin with her family as Jewish refugees in 1991. She studied theatre at Emerson College, Boston, and in France at the Lecoq School of Physical Theatre and Université Paris 8. Her plays and performances have been produced in the US, Canada, France, and Sweden. She has also written for Vogue, Frieze Magazine, The Paris Review, Times Literary Supplement, New Statesman, Happy Reader, Mixte Magazine, the Skirt Chronicles, and Dyke_on Magazine. She is the winner of the 2017 Galley Beggar Press Short Story Prize. In 2018, she served as a curator and exhibiting artist at the Los Angeles Queer Biennial. She is the author of The Natashas, Virtuoso, which was longlisted for the Dylan Thomas Prize, and A Door Behind a Door. She lives in Paris.
Sneak Peek
Enjoy a sneak peek of select pages from Virtuoso!
Guide
info
FORMAT: Paperback
LIST PRICE: $16.99
PAGES: 272
PRINT ISBN: 9781937512873
DIGITAL ISBN: 978-1-937512-88-0
RELEASE DATE: 1/14/2020
SIZE: 5.5" x 7.5"
Printed in Canada by Marquis, with the following environmental statement:
*Printed on Rolland Enviro. This paper contains 100% post-consumer fiber, is manufactured using renewable energy - Biogas and processed chlorine free.
*FSC certified paper (inside and cover).