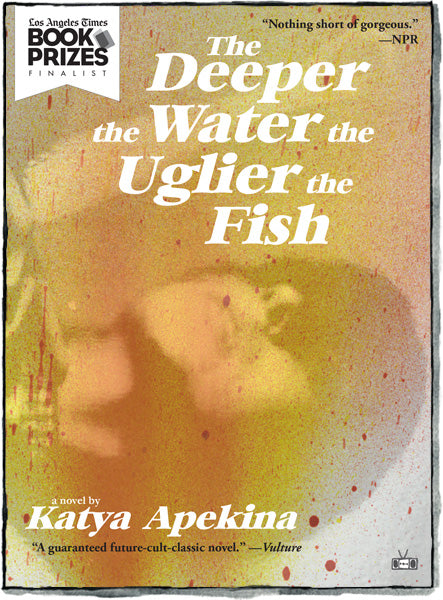 1st Printing Features: Trade paper, Gatefold
CLICK TO REQUEST AN ARC
CLICK TO REQUEST RIGHTS INFO
The Deeper the Water the Uglier the Fish
a novel by
Katya Apekina
---
ABOUT
* Los Angeles Times Book Prize, Finalist.
* The Crook's Corner Book Prize, Longlist.
* VCU Cabell First Novelist Award, Finalist.
* William Saroyan International Prize for Writing for Fiction, Shortlist.
* 35 Over 35 Award.
* A Best Book of 2018 —Kirkus Reviews, BuzzFeed News, Entropy, LitReactor, LitHub, The Book Table
* One of the Most Anticipated Books of the Fall —Vulture, Harper's BAZAAR, BuzzFeed News, Publishers Weekly, The Millions, Bustle, Fast Company
---
Synopsis
It's 16-year-old Edie who finds their mother Marianne dangling in the living room from an old jump rope, puddle of urine on the floor, barely alive. Upstairs, 14-year-old Mae had fallen into one of her trances, often a result of feeling too closely attuned to her mother's dark moods. After Marianne is unwillingly admitted to a mental hospital, Edie and Mae are forced to move from their childhood home in Louisiana to New York to live with their estranged father, Dennis, a former civil rights activist and literary figure on the other side of success.

The girls, grieving and homesick, are at first wary of their father's affection, but soon Mae and Edie's close relationship begins to fall apart—Edie remains fiercely loyal to Marianne, convinced that Dennis is responsible for her mother's downfall, while Mae, suffocated by her striking resemblances to her mother, feels pulled toward their father. The girls move in increasingly opposing and destructive directions as they struggle to cope with outsized pain, and as the history of Dennis and Marianne's romantic past clicks into focus, the family fractures further.

Moving through a selection of first-person accounts and written with a sinister sense of humor, The Deeper the Water the Uglier the Fish powerfully captures the quiet torment of two sisters craving the attention of a parent they can't, and shouldn't, have to themselves. In this captivating debut, Katya Apekina disquietingly crooks the lines between fact and fantasy, between escape and freedom, and between love and obsession.
Reviews
Scroll to bottom for Goodreads reviews.
"this book is FIVE STARS"
—peytonreadsbooks on TikTok (August 13, 2022)
"The father character, a maniacally selfish writer, made me cringe, to put it lightly!"
—Ottessa Moshfegh in GQ, author of My Year of Rest and Relaxation
"Lost and reeling after their mother's suicide attempt, Edith and Mae leave their Louisiana home to live with their estranged father in New York City. [The Deeper the Water the Uglier the Fish] is a horrifyingly visceral portrayal of mental illness and inherited grief, and Apekina beautifully captures the complexity of siblinghood as Edith and Mae emerge from their shared childhood with entirely unique scars and perspectives."
—Kayla Maiuri, Electric Literature, "8 Books About Fraught Mother-Daughter Relationships" (Aug. 2022)
"The Deeper the Water the Uglier the Fish is brilliantly structured, with multiple characters narrating the events of the novel. It's an unusual technique that Apekina uses to stunning effect, creating a kind of narrative tension that propels the novel forward... The structure, characters and storyline are all refreshingly original, and the writing is nothing short of gorgeous. It's a stunningly accomplished book, and Apekina isn't afraid to grab her readers by the hand and take them to some very dark and very beautiful places."
—Michael Schaub, NPR
"Katya Apekina's The Deeper the Water the Uglier the Fish has a dark sense of humor, and an interest in the soul. A layered account of the truths of a torn family, two sisters depart from their broken mother and return to their literary father. The sisters fall apart from each other, one toward her mother and the other toward her father. This impressive debut behaves like a great Russian novel transposed onto an American family. Katya Apekina discusses writing an emotional autobiography in a fictional story."
—Michael Silverblatt, Bookworm on KCRW
"A guaranteed future-cult-classic novel that has the best title of any publication in history."
—Molly Young, Vulture, "Read Like the Wind"
"The Deeper the Water the Uglier the Fish is for readers who love intense, dark, and somewhat disturbing stories that also are strangely beautiful and full of energy. It's also for those who enjoy when authors play with narrative structures. I loved every page of it. Readers who are up for a provocative and challenging story in a fresh and original style should read this book."
—Michael P. Ventura, Reading Under the Radar
(Read the review of The Deeper the Water the Uglier the Fish)
"It had been a minute since I sat down to read a new novel and found myself completely bowled over by it, swamped in it, enchanted with it... I read the whole thing in one evening, staying up late by the light of my bedside lamp to savor the last pages... Told by an ensemble of narrators and letters, The Deeper the Water the Uglier the Fish delicately unravels layers of family trauma and deeply entrenched injustice."
—Claire Fallon, HuffPost
The Deeper the Water the Uglier the Fish in "The Ultimate Fall 2018 Books Preview"
 —Emily Temple, Lit Hub

"The Deeper the Water the Uglier the Fish is a dark, brilliant tapestry... A stunning and feverishly readable debut, it is destined to send the most easy-going of readers spiraling into a book hangover."
—Lauren Dostal, Split Lip Magazine
"You'll keep turning the pages, without a doubt."
—Emily Pullen, New York Public Library
"9 Books That Are Emotional Roller Coasters"
"Sticky and binge-able!"
—Molly Young, Read Like the Wind (March 2019 book recommendation)
"Gender and power dynamics spasm and ripple out of control in the most intimate spaces and, simultaneously, in a broader American context, framed by the 1960s student movements and the New York art scene of the 1990s."
—City Lights Booksellers, recommended by Ivy
"This is one of those books that will ruin the fate of whatever's next on your to-be-read pile. The structure, well drawn characters, style and writing (oh the writing!) combine to make this a singular reading experience you'll want to hold onto long after the you've turned the last page. Telling the story through the eyes of multiple narrators creates a pastiche of voices that give it a fevered momentum, holding the reader like grim death throughout. Good luck attempting not to read this in one sitting."
—The Book Table's Best Books of 2018, Javier's Book of the Year, Oak Park, IL
"[The Deeper the Water the Uglier the Fish] has a complex and ambitious structure, a whirl of first-person accounts..."
—Marion Winik, National Book Critics Circle board member
"Apekina presents a fascinating drama while exploring what it means to be an artist and what it means to be a muse within the framework of family. The novel's ending is sublime."
—Susan Scutti, The Carolina Quarterly
"We all have our own stories, and we all shape our interpretation of events into a narrative where, more or less, we're the hero.... The trick the book pulls off is that nobody in it is fully darkness or light. We have sympathy for the worst of them, and see the failings of the most innocent- just like our own family members, no doubt."
—Rufus Hickok, Ordinary Times
(Read the review of The Deeper the Water the Uglier the Fish)
"Dark yet bitingly funny, Apekina's debut evidences depth well worth the ugly."
—Shelf Awareness (Lauren O'Brien of Malcolm Avenue Review)

"A dynamic, fast paced story of two sisters trapped between equally flawed parents, both ill-equipped to put their daughters' needs above their own.... Katya Apekina delivered debut writing at its best: fresh, gritty, compelling and thoroughly original."
—Susie Boutry, Novel Visits
"I really enjoyed this book. This is one of those books that I missed when I wasn't reading it... It's been a long time since I've liked a book this much." (5 out of 5 stars)
—Vonnie, 3 Book Girls Podcast
"Sharp... Apekina adroitly employs the perspectives of a wide range of characters to expose complicated dynamics that propel this novel with a keen sense of urgency."
—The National Book Review
"Mental illness and the breakdown of relationships lie at the heart of this debut novel."
—Lauren Hubbard, Harper's BAZAAR 'The Best New Books to Read This September'
"Apekina's inventiveness with structure and sentence marks the book's every page, and the result is a propulsive and electrifying look at how family—and art—can both break people and put them back together again.  A dark and unforgettable first book."
—Kirkus Reviews, starred review
"After Edie and Mae's mother attempts suicide, the girls are sent from Louisiana to their estranged novelist father's home in New York, lighting the spark for his new masterpiece and the family's total destruction."
—Vulture 'New Books to Read This Fall'
"A story about love and ownership, connection and obsession, this debut novel dives deep into family dynamics."
—Maddy Foley, Bustle '11 Most Anticipated Books Published By Indie Presses To Have On Your Radar In 2018'
"A novel examines the fraught relationship between artist and muse."
—Publishers Weekly 'Writers to Watch Fall 2018: Anticipated Debuts'
"With The Deeper the Water the Uglier the Fish, Apekina establishes herself as a formidable voice in fiction — a writer to keep on your radar."
—Arianna Rebolini, BuzzFeed News 'These Are The Best Books Of Fall 2018'
"Apekina's debut novel plays with tricky family relationships and the way fact and fantasy, loyalty and obsession, can be so difficult to tease apart."
—Kaulie Lewis, The Millions 'Most Anticipated: The Great Second-Half 2018 Book Preview'
"Ambitious... a confident, piercing novel."
—Publishers Weekly
"A hip, little book, told in engaging voice-driven prose. No other novel made me laugh as hard this year as Apekina's."
—Joshua Mohr, LitReactor 'Best Books of 2018'
"The Deeper the Water the Uglier the Fish exposes more than the inner workings of parent-child relationships and the darker shades of mental illness, it digs into pressing themes of today's political climate and the gendering of society."
—Tessa Rose, The Michigan Daily
"The Deeper the Water the Uglier the Fish, is dark, upsetting, but also beautiful and passionate. The usage of different characters' perspectives make the story very captivating and bouncing around to different views creates tension between characters. Apekina creates characters that we all can relate to in some way."
—Jasmine Pollock, Prism Review
"Told polyphonically by an ensemble cast of characters, The Deeper the Water the Uglier the Fish explores the vast disparities between separate perspectives and the moral implications of the artist/muse relationship. [Bookseller] Katharine was captivated by this accomplished debut."
—Unabridged Bookstore, Chicago, 'NEWS AND RECOMMENDATIONS FOR SEPTEMBER 2018'
"The dysfunctional family drama has been done and again but not like this. Katya Apekina's debut novel, The Deeper the Water the Uglier the Fish is a stunning tour de force that tells the story of sisters Edith and Mae, who in the aftermath of their mother's suicide attempt are sent to live with their absentee father, a famed novelist, in New York. From there, personal histories intertwine with the present dropping hints and clues that build up to a torrential climax. The deeper it goes, the uglier it gets."
—Steve Shonder, Anderson's Bookshop La Grange
"Katya Apekina is a writer of great intelligence, both intellectual and emotional; the evidence of which is abundantly clear in her powerful debut novel, The Deeper the Water the Uglier the Fish."
—Zachary Lazar, author of Sway and I Pity the Poor Immigrant

"The Deeper the Water the Uglier the Fish begins with a reunion between two sisters and their estranged artist father. An unlikely intimacy grows out of this unusual situation, and we're shuttled into a strange, beautiful history of this complex, passionate family, a history which involves young love, the Civil Rights movement, and an enduring obsession. I was completely mesmerized by Katya Apekina's thrilling, heartfelt debut. Funny, suspenseful, touching, and totally unexpected, I dare you not to love it as much as I did. Apekina has talent and heart to spare."
—Anton DiSclafani, National Bestselling author of The Yonahlossee Riding Camp for Girls

"The Deeper the Water the Uglier the Fish is an engrossing debut—Apekina's brilliant story of a family in crisis is a remarkable feat of empathy and insight, guided by unpredictable, propulsive storytelling. I was increasingly and helplessly hooked. I can't believe this remarkable tour de force is a first novel." 
—J. Ryan Stradal, author of the New York Times Bestseller Kitchens of the Great Midwest
Author
Katya Apekina has had stories published in The Iowa Review, Santa Monica Review, West Branch, Joyland, PANK and elsewhere, and has appeared on the Notable List of Best American Nonrequired Reading 2013. She translated poetry and prose for Night Wraps the Sky: Writings by and about Mayakovsky (Farrar, Straus, and Giroux, 2008), which was short-listed for the Best Translated Book Award. She co-wrote the screenplay for the feature film New Orleans, Mon Amour, which premiered at SXSW in 2008. Born in Moscow, she currently lives in Los Angeles.
Sneak Peek
Enjoy a sneak peek of select pages from The Deeper the Water the Uglier the Fish! (Use the "full screen" option at bottom right to enlarge the pages):
Info
FORMAT: Paperback
LIST PRICE: $16.99
PAGES: 353
PRINT ISBN: 9781937512750
DIGITAL ISBN: 978-1-937512-76-7
RELEASE DATE: 9/18/2018
SIZE: 5.5" x 7.5"
First, second printing, Gatefold paperback (2018):
Printed in Canada by Marquis, with the following environmental statement:
*Inside printed on Enviro 100% post-consumer EcoLogo certified paper, processed chlorine free and manufactured using biogas energy.
*FSC certified paper (inside and cover).

Third printing, paperback (2019):
Printed in Canada by Marquis, with the following environmental statement:
*Printed on Rolland Enviro. This paper contains 100% post-consumer fiber, is manufactured using renewable energy - Biogas and processed chlorine free.
*FSC certified paper (inside and cover). 


Guide
Click here to view and/or download as PDF.
Book Club and Reader Guide: Questions and Topics for Discussion
1. What was the effect for you of hearing this story from multiple points of view? How was it different than if it was all told by one person? Or by a narrator?
2. Are there any voices you believe more than others? Any voices you distrust? Were there moments when suddenly your allegiance to certain characters shifted? Why?
3. Do you believe that in life there is an objective truth? Or multiple truths? Are some truths more valid than others?
4. Turn to the person on your right and whisper a lie about yourself in their ear, something that isn't true but maybe you wish was.
5. Is there something universal about the blurry boundaries in mother/daughter relationships? Do you have siblings? If so, are your relationships with your parents different? Do you ever feel like you grew up in different houses?
6. Turn to the person on your left and whisper a family secret in their ear. It should feel true, but it doesn't have to be factually true.
7. Roadtrip! Have you ever been on one? Did it feel like this one? Did it make you feel free?
8. Do you feel that artists, to make great art, are above the regular moral code? If an artist makes something that will last for centuries is it okay if in their personal life they were a monster? Would you read them anyway? Is art separate from the person who made it? Do the ends justify the means?
9. Do you think Rivka is right when she says: "Art is not a shield. It's a knife. You have to bleed!"?
10. Draw a picture of your favorite moment in the book. Feel free to email it to the author: katya (dot) apekina (at) gmail (dot) com