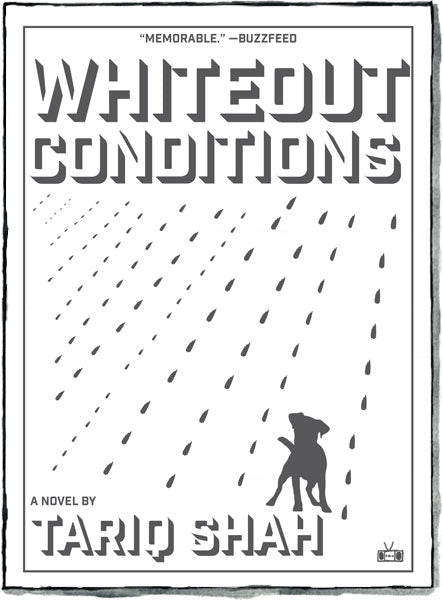 1st Printing Features: Trade paper, Gatefold, silver foil front cover
CLICK TO REQUEST AN ARC
CLICK TO REQUEST RIGHTS INFO
VIEW/DOWNLOAD COVER ART FILE
Whiteout Conditions
a novel by
Tariq Shah
---
ABOUT
"In this slim but memorable debut novel, Ant, who lives on the East Coast, flies home to Illinois to attend the funeral of one of his oldest friends, Ray. Picking him up from the airport is Ray's cousin, Vince. Together they set out to drive to the funeral while untangling old hurts, popping Oxy, and grappling with adulthood's disillusionments."
—Tomi Obaro, BuzzFeed 'Most Highly Anticipated Books Of 2020'
---
Ant is back in Chicago for a funeral, and he typically enjoys funerals. Since most of his family has passed away, he finds himself strangely attracted to their endearing qualities: the hyperbolic language, the stoner altar boy, seeing friends in suits for the first time. That is, until the tragic death of Ray — Ant's childhood friend, Vince's teenage cousin. Ray was the younger third-wheel that Ant and Vince were stuck babysitting while in high school, and his sudden death makes national news.

In the depths of a brutal Midwest winter, Ant rides with Vince through the falling snow to Ray's funeral, an event that has been accruing a sense of consequence. With a poet's sensibility, Shah navigates the murky responsibilities of adulthood, grief, toxic masculinity, and the tragedy of revenge in this haunting Midwestern noir.
Reviews
Scroll to bottom for Goodreads reviews.
"10 books to read in winter 2020: It's a new literary year" —Laura Pearson, Chicago Tribune
"Most Anticipated Small Press Books of 2020" —John Madera, Big Other
"Most Anticipated Books of 2020" —Volumes Bookcafe (Chicago, IL)
"13 Books CHIRB Staff Read In January 2020" —Chicago Review of Books
"Whiteout Conditions is grim and, occasionally, viscerally upsetting. But it is also frequently, darkly funny... Shah is a published poet, and it shows in Whiteout Conditions' prose."
—Thea De Armond, Cleveland Review of Books
(Read the review of Whiteout Conditions)
"Shah's Whiteout Conditions delivers a brutal, cold and haunting tale, but does so with compassion, warmth and tenderness. The success in writing such contradictions is testament to the skill of an insightful new author possessing a rare talent. I couldn't imagine a better title to be our first US acquisition."
—Nathan Connolly, publishing director of Dead Ink Books (Liverpool, UK) /
"Dead Ink makes first US acquisition" by Ruth Comerford, The Bookseller
"'Funerals are kind of fun,' the narrator of Shah's debut admits in the opening pages. 'I've cultivated a taste.' Then his childhood friend dies, and the narrator must brave a blizzard to pay his respects."
—Azam Ahmed, New York Times "Recent Books of Interest"
[Whiteout Conditions reviewed]
—Garin Cycholl, Rain Taxi Review of Books [Volume 25, Number 4 Winter 2020 (#100)]

"Whiteout Conditions contains the language of a poet-turned-fiction writer... and the beauty of the phrasing is often in pointed contrast to the goofy stupidity of the characters' actions... Whiteout Conditions is a book concerned with toxic masculinity's erasure of the self; it's walls and moats. In the face of death, Ant and Vince concentrate on hurting each other, drinking, taking drugs, pursuing inadvisable revenge plots — anything to plug the hole where their heartache dwells."
—Caryl Pagel, Full Stop
"A dazzling narrative about loss, coping mechanisms, and vengeance."
—Ruth Minah Buchwald, Electric Literature, "20 New Asian American Books to Read Right Now"
"Ant is borderline obsessed with funerals, likening the events to weddings as gatherings he looks forward to. Yet, when a childhood friend passes, Ant's veneer starts to crumble. Weirdly funny, Whiteout Conditions tracks Ant and his friend Vince as they make their way through Chicogoland's suburbs, which, in Shah's telling, are as harrowing as any arctic climate."
—Wendy J. Fox, BuzzFeed '15 Small Press Books To Kick Off Your 2020 Reading Season'
"In this slim but memorable debut novel, Ant, who lives on the East Coast, flies home to Illinois to attend the funeral of one of his oldest friends, Ray. Picking him up from the airport is Ray's cousin, Vince. Together they set out to drive to the funeral while untangling old hurts, popping Oxy, and grappling with adulthood's disillusionments."
—Tomi Obaro, BuzzFeed 'Most Highly Anticipated Books Of 2020'
"Like a poetic venture through the stubborn feelings of men, this short debut novel from Tariq Shah takes an uncomfortable look at loss, grief, and the lengths people go to avoid feeling pain."
—Jaylynn Korrell, Independent Book Review
"With a resolution that binds the human to the animal, the autonomous to the bestial, Whiteout Conditions renders a synthesis of propitiation and cruelty that is as palpable as it is blinding."
—Nathan Elias, Entropy
"Tariq Shah's Whiteout Conditions is a slim book that, by centering on death, allows its protagonist to explore life... Shah leads us through a taut exploration of grief, masculinity, and revenge with a deft hand."
—Jesi Buell, Heavy Feather Review
"The protagonist of the short novel, Ant, attends a funeral, which would affect him more if he didn't enjoy funerals. A lot of it has to do with his history of loss, which makes for a stark, grim, yet hilarious perspective to explore timeless themes."
—Michael J. Seidlinger, Publishers Weekly, '15 New and Forthcoming Indie Press Gems'
"The grip of this thing squeezes well past its 110 pages. A little of this, a little of that, but reductive comparisons are no use here because Shah has taken the best qualities of existing tropes and made them his own. A wild, dangerous game of dodge ball played in the farthest corner of fiction's playground."
—Wesley Minter, Third Place Books (Seattle, WA)

"Boldly dark, strangely funny, and surprisingly sincere in its toughness."
—Kassie Rose, The Longest Chapter
"When people list things that they enjoy, funerals generally aren't one them. Ant finds joy in attending funerals. Yet, when the cousin of his childhood friend dies Ant is less enthused about attending. On its surface, Whiteout Conditions is a road trip story set against the backdrop of Midwest Suburbia. As the story progresses it becomes more of a rumination on loss, grief, and the ghosts in our rearview mirrors."
—Quinn Illgen, Changing Hands (Tempe, AZ)
"Dark and visual, Whiteout Conditions is a slow motion skid on black ice of a book. You might not want to keep reading, but it will be very hard to stop. Just steer into the skid. Well done, Tariq Shah."
—Mary O'Malley, Anderson's Bookshop (Naperville, IL)
"Whiteout Conditions is both disorienting and visceral, hilarious and heartbreaking."
—Michael Welch, Chicago Review of Books
"Whiteout Conditions, Tariq Shah's slim but powerful debut novel, focuses on grief, loss, and friendship in lyrical and stunning prose."
—Laura Spence-Ash, Ploughshares

"Shah reminds you that even though he's written a novel, he's still a poet... Whiteout Conditions explores how nostalgia and toxic masculinity operate (and fail) as a conduit for grief."
—Rima Parikh, Chicago Reader
"Mile by mile, an incoming blizzard paralleling the impending events and emotional landslide, this tale quietly grinds toward a gut-wrenching and unexpected conclusion."
—Beth Mowbray, The Nerd Daily
"The condition of Whiteout Conditions is the North American sublime, a grim, gnomic, hilarious dialect Tariq Shah inherits from Denis Johnson, Don DeLillo, the Coen Brothers, The Jesus Lizard, and Colson Whitehead. Like an icy sidewalk, Shah's deadpan wit and verbal wizardry will knock you flat on your ass."
—Jess Row, author of Your Face in Mine and White Flights
"In the brutal and beautiful Whiteout Conditions, a wasted road trip through America's suburban wastelands becomes an exploration of mortality, mercy and the mysteries of the human heart. Tariq Shah's sharp and surprising prose is the perfect vehicle for this bleakly comic novel, in which sparks of transcendence intermittently light up the dark."
—David Gates, author of Jernigan and A Hand Reached Down to Guide Me
"Tariq Shah's haunting novel Whiteout Conditions has the atmospheric rush of a winter fever dream. In his indelible main characters, Ant and Vince, Shah has created a quasi-brotherly relationship of sparring that reveals within their mutual antagonism an ultimate tenderness."
—Betsy Bonner, author of Round Lake
"Tariq Shah is one of the most daring young writers I've encountered, and Whiteout Conditions is a real original. Unsentimental, crisp, and ruthlessly cool, it is also surprisingly tender, with moments of great warmth and heart."
—Taylor Plimpton, author of Notes from the Night: A Life After Dark
"Written with stark lyricism, Whiteout Conditions is an unforgettable novel about an estranged young man, his reckless search for meaning around his post-suburban hometown, and the impossible beauty of redemption. A hell of a ride."
—Lee Clay Johnson, author of Nitro Mountain
Author
Tariq Shah, born and raised in Illinois, writes fiction and poetry, and has work appearing or forthcoming in Jubilat, Heavy Feather Review, No, Dear Magazine, ANMLY (fka Drunken Boat), Gravel, BlazeVox, and other publications. From 2007-2009, he served as a Peace Corps volunteer in Mozambique, and he holds an MFA in Creative Writing from St. Joseph's College in Brooklyn, where he now teaches. His chapbook, heart assist device, was a finalist for the 2019 no, dear/small anchor press chapbook series. Whiteout Conditions is his first novel.
Sneak Peek
Enjoy a sneak peek of select pages from Whiteout Conditions!
Click to view Whiteout Conditions on Issuu.com
info
FORMAT: Paperback, gatefold (silver foil front cover)
LIST PRICE: $14.99
PAGES: 115
PRINT ISBN: 978-1-937512-91-0
DIGITAL ISBN: 9781937512927
RELEASE DATE: 3/17/2020
SIZE: 5.5" x 7.5"
UK edition: Dead Ink Books: view Whiteout Conditions.
Printed in Canada by Marquis, with the following environmental statement:
*Printed on Rolland Enviro. This paper contains 100% post-consumer fiber, is manufactured using renewable energy - Biogas and processed chlorine free.
*FSC certified paper (inside and cover).


Guide
Click here to view and/or download as PDF.
Book Club and Reader Guide: Questions and Topics for Discussion
1. The principal characters in this book are all challenged by their inability to avert the tragedies that befall them, and yet many of their choices are attempts to do just this, or to right irrevocable wrongs. How would you go about coping with similar traumas?
2. It could be interpreted that Bullets is a representation of death itself. In what ways is this true? False? What does this say about the characters' relationships to death in this book?
3. How do you view Ant, the main character in the book, at the beginning, and how does that view change as the book progresses?
4. The Midwest, in the middle of winter, is often a bleak place. Have you ever experienced this region during this time, and if so, how does your experience track with those of these characters, and the book's portrayal of this time/place?
5. This book examines addiction in a number of different ways. Have you ever been addicted to something that was not a drug (e.g. potato chips/golfing/comic books/etc)? What was it, how did this addiction develop, and what is your view of this behavioral phenomenon in light of this? When does a hobby become an obsession? When does an obsession become an addiction?
6. Many characters in this book get into all kinds of fantastic trouble, and commit terrible deeds, while their elders/parents/peers are near, at times even in the next room, and yet they may as well be invisible, and these younger characters do not suffer any real consequences. Have you ever gotten away with anything similar? Do you feel there are any societal implications to this?
7. In this book, the past informs and interweaves itself with the present, in ways both subtle and bold.The characters choose to define themselves by specific moments of their pasts, and thus, construct narratives of the lives they lead. This is something all people do, often without thinking about it. And yet, these are choices. What are some of the choices you have made that define you, and why?
8. Many characters in this book end up driven into a kind of madness by their grief, and commit acts that, logically, do not help their situation.What does this say about man's nature, as a creature supposedly above acting from a place of raw emotion? In other words, do we ever really grow up, or do we simply learn ways to mask the children we really are?
9. About halfway through the book, Ant says, "You're a good father, Vince." Is he? What makes one a good father? How would you describe/judge Vince's moral character?
10. How do the epigraphs at the beginning of the book relate to the story?