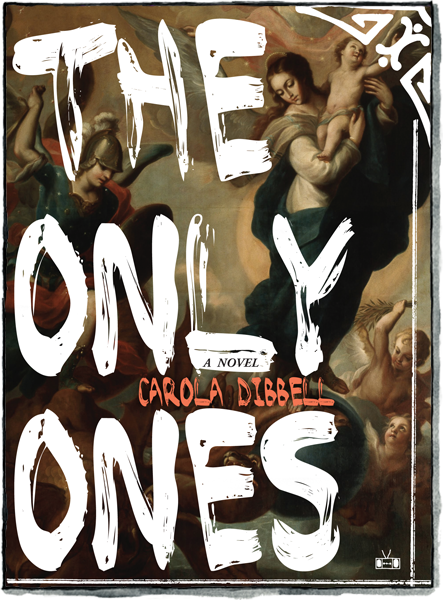 1st Printing Features: Trade paper, Gate-fold, Deckle Edge
CLICK TO REQUEST AN ARC
CLICK TO REQUEST RIGHTS INFO
The Only Ones
a novel by
Carola Dibbell
---
ABOUT
*Favorite Books of the Year (2015) —Bustle, O, The Oprah Magazine
*Best science fiction and fantasy books of 2015 —The Washington Post
*One of the most anticipated books of 2015  —Dazed & Confused, BuzzFeed
"Breathtaking. [Dibbell has] delivered a debut novel on par with some of the best speculative fiction of the past 30 years; The Only Ones deserves to be shelved alongside Margaret Atwood's The Handmaid's Tale, Nalo Hopkinson's Brown Girl in the Ring, and P. D. James' The Children of Men. It's that good, and that important, and that heartbreakingly beautiful."
—Jason Heller, NPR
---
Synopsis
Inez wanders a post-pandemic world, strangely immune to disease, making her living by volunteering as a test subject. She is hired to provide genetic material to a grief-stricken, affluent mother, who lost all four of her daughters within four short weeks. This experimental genetic work is policed by a hazy network of governmental Ethics committees, and threatened by the Knights of Life, religious zealots who raze the rural farms where much of this experimentation is done.
When the mother backs out at the last minute, Inez is left responsible for the product, which in this case is a baby girl, Ani. Inez must protect Ani, who is a scientific breakthrough, keeping her alive, dodging authorities and religious fanatics, and trying to provide Ani with the chilldhood tha Inez never had, which means a stable home and an education.
With a stylish voice, The Only Ones is a time-old story, tender and iconic, about how much we love our children, however they come, as well as a sly commentary on class, politics, and the complexities of reproductive technology.
---
The Only Ones by Carola Dibbell =
* In most cases, none of these writers endorse this book. Our math formulas are supposed to be amusing anecdotes, similar to shelf-talkers in bookstores that say "If you like X, you might enjoy Y," or "This Book is like Cormac McCarthy writing an episode of Saved by the Bell with a soundtrack by Philip Glass."

Reviews
Scroll to bottom for Goodreads reviews.
*10 Favorite Books of the Year (2015) —O, The Oprah Magazine
*Best science fiction and fantasy books of 2015 —The Washington Post 
*One of the most anticipated books of 2015  —Dazed & Confused, BuzzFeed
"On the other side of Aldous Huxley's brave new world is Carola Dibbell's braver one, all the more unsettling (and maybe even more profound) for being not five hundred years from now but five minutes, in a time at once beyond our control and too immediate to escape. Brilliantly conceived, passionately defiant, deeply felt, The Only Ones introduces—in the form of central character Inez Fardo—one of the most memorable and compelling first-person voices in recent American fiction."
—Steve Erickson, author of Rubicon Beach, Zeroville, and Shadowbahn
"A bracing, tough minded, farsighted novel about bravery and endurance, motherhood and the way life goes on even after the world ends. Every sentence pierces."
—Kelly Link, author of Stranger Things Happen, Magic for Beginners, and Pretty Monsters
"This is an enthralling journey through a near future, plague-filled landscape,
presented with such gritty clarity and such a darkly humorous eye for detail that
it feels completely real. Inez's deadpan account of her heroic struggle to keep her
daughter alive in the ruins of Brooklyn and Queens—a devastated but curiously
familiar world, filled with maddening school bureaucracies and public transport
that never comes—becomes a fantastic portrait of what it is to raise a child."
—Mary Harron, writer and director of I Shot Andy Warhol, American Psycho, The Notorious Bettie Page
"Dibbell tells this story with intensity and color, through a voice that is as shattered and alive as the world she has created, exploring universal themes of sacrifice, love, and the fragile yet persistent will to survive. At times, The Only Ones feels large, small, sweeping and intimate, scary and full of hope. Dense and vivid, smart and thought-provoking."
—Charles Yu, author of How to Live Safely in a Science Fictional Universe and Interior Chinatown
"Anyone who thinks dystopian fiction is a lemon with no juice left needs to read The Only Ones to get that tingle back in the taste buds... How can a writer this good have waited so long for her due? Carola Dibbell's marvelous narrative has pace, emotional range, plenty of humor—some bitter, some sweet—and one of the most harshly enthralling narrators in fiction since Huckleberry Finn."
—Adam Mars-Jones, author of Box Hill, Batlava Lake, and Pilcrow
''Set in New York City in the near future, The Only Ones calibrates a new normal based on surging of distrust. A pandemic has swept the globe, killing millions, and like aftershocks, pathogens continue to wreak havoc. Mothers hide their children in public toilets to avoid quarantines. People run not only from viruses but also from vaccination drives. A neighbor is someone who could report you for not following public-health protocols... an often-painful exploration of experimental reproduction and what makes a mother and child belong to each other."
—Jane Yong Kim, Bookforum
Book review of The Only Ones

"Dibbell's major accomplishment (besides publishing her first novel just shy of 70) is her narrator, Inez, blessed and cursed with immunity in a society ravaged by plagues. Inez's voice—a fragmented vernacular that is wise, tough and humane—elevates this dystopian novel..."
—O, The Oprah Magazine
Featured on this Huffington Post list of "10 Women Authors You Should Read Who Published After Age 40."
"Fascinating... A heart-piercing tale of love, desire and acceptance. Readers will be mesmerized by Dibbell's staccato prose as much as they are by the harrowing circumstances this mother and child must endure."
—Nancy Hightower, Washington Post
"The best science-fiction and fantasy books for March"
"Breathtaking. [Dibbell has] delivered a debut novel on par with some of the best speculative fiction of the past 30 years; The Only Ones deserves to be shelved alongside Margaret Atwood's The Handmaid's Tale, Nalo Hopkinson's Brown Girl in the Ring, and P. D. James' The Children of Men. It's that good, and that important, and that heartbreakingly beautiful."
—Jason Heller, NPR
"The Only Ones Puts A Heartbreaking Spin On Dystopia"
 "A punk-rock take on Sci-Fi, Dibbell's stylistically inventive debut novel takes place in the very near future..."
—National Post ("The best books of the year (2015)")
"One of the best and most unique near-future dystopias I've read. "I" (short for Inez) is an unforgettable narrator her voice is raw, piercing and utterly engaging, evolving from her initial desensitized deadpan as she learns to care for baby Ani, the unexpected result of a job gone awry. Deeply human speculative fiction, perfect for fans of Margaret Atwood."
—Porter Square Books (staff pick)
"It's the rare bibliophile who did not go through a dystopian book phase at one point in their reading life."
—Kerri Jarema, Bustle
"Dystopian Novels To Reignite Your Love Of The Genre"
"A fascinating and daring debut, this novel takes place in a post-pandemic world as a woman named Inez volunteers as a test subject to make a living. When this experimental genetic work backfires, Inez is stuck responsible for a scientific breakthrough in the form of a baby girl named Ani. Peppered with influence from years of music writing, this is a punk-rock science fiction story you won't want to miss."
—PopSugar
"14 Books That Should Have Gotten More Praise in 2015"
"In the Book Notes series, authors create and discuss a music playlist that relates in some way to their recently published book."
—Largehearted Boy
"Book Notes — Carola Dibbell The Only Ones"
"Endearingly resonant... I fell in love with the story. Dibbell's writing is fresh and easy..."
—Melinda Guerra, Fourth & Sycamore
Book review of The Only Ones

"A heartbreaking page-turner with a first person narrative voice that hooked me right away and wouldn't let go... This is literature first, sci-fi second. Think Orwell's 1984. Or maybe Huxley's Brave New World."
—Addicted to Noise
"What an incredible book it is. The bizarre reproductive dystopia of The Only Ones is searing. Through the environment of her terrifying near-future and narrator Inez's unmistakable voice, Dibbell probes society with rare insight and maturity that's, simply, important."
—Meredith Turits, Bustle
"10 Of 2015's Best Debut Books"

"Dibbell draws parallels between our ruined cities, our diseased and polluted environments and our infertility."
—Alex Lee, Entropy
Book review of The Only Ones
"The combination of heart-touching story with sly social commentary makes this one a win for me."
—BookRiot
"The Only Ones tells the story of a young woman hired to provide genetic material to a grief-stricken mother in a post-pandemic world. We talk to Dibbell about the story, her research process, and themes within the book."
—Evan Dawson, host of Connections with Evan Dawson, WXXI News
Interview with author Carola Dibbell (May 19, 2016)
"Read this if you liked Margaret Atwood's MaddAddam Trilogy. [Dibbell] is another voice to pay attention to. The most eerie aspect of Dibbell's science fiction is its closeness to reality—the trials of school bureaucracy, of donating eggs for cash, and the simultaneous joy and anxiety of being a parent. The story stands just outside of our world—a terrifying reflection of what the future of could hold."
—Freddie Moore, LitReactor
Book review of The Only Ones

"I've previously written about the highlights of my 2010s in science and non-science fiction, but one omission from that list was The Only Ones, which I liked at the time but felt sure I was overrating. Having re-read a chunk of it recently, seems more likely I was underrating it: the big ideas about bodies and families rarely addressed in pure SF fit in much more elegantly than in most lit-leaning attempts at genre. Perhaps a viable future doesn't require cynicism after all."
—Brad Luen, Semipop Life Sustack
"Favorite sci-fi novels by decade"
"When you've seen one apocalypse, you've seen them all: there's some real bad news, plus enough survivors left to tell the tale. What distinguishes a post-apocalyptic story, then, is who is doing the telling, and how. In a word, voice. In this regard, Carola Dibbell's The Only One shines."
—Jenna Leigh Evans, Electric Literature
"In A Word, Voice: The Only Ones by Carola Dibbell"
"Dibbell may have created the most important post-apocalyptic novel since McCarthy's The Road—and one equally as harrowing, too."
—Jay Slayton-Joslin, Cultured Vultures
Book review of The Only Ones

"Carola Dibbell is probably best known for her work as a music critic, but it's her sci-fi debut The Only Ones that really rocks."
—Refinery 29
"One of the most original mother-daughter stories of recent memory."
—Barnes & Noble Review
Publishers Weekly 'Book of the Week'
"Carola Dibbell's The Only Ones introduces a post-pandemic world where a woman immune to the disease, Inez, makes her living as a test subject. When a mother backs out on experimental genetic research, Inez is left responsible for her baby girl, who is a scientific breakthrough, and must protect her from both religious fanatics and the authorities."
—Jarry Lee, BuzzFeed, "16 of the Most Exciting Books of 2015 From Independent Publishers"
"What's particularly stunning about [The Only Ones], however, is Dibbell's use of language, and how she creates one of the most memorable narrators I've encountered in a long while."
—Vol. 1 Brooklyn
"The book's most endearing facet is how very little the nuances of parenthood are changed when set in purgatory... [The Only Ones is] a story with rich, dark prose, intricate construction, and an undeniable human pull, a book that lives and breathes and exists as its own entity. It deserves a prime spot on anyone's collapse fiction shelf—or any other shelf, for that matter. "
—Kayla Rae Whitaker, Split Lip Magazine
"Collapse Fiction and Carola Dibbell's The Only Ones: A Review"
"...page-turning genre thriller that doubles as a smart and philosophical indie-lit novel."
—CCLaP (Chicago Center for Literature and Photography)
"A genre-bending work of punk-rock science fiction."
—Nylon
"Densely written but swiftly told, this first novel from rock critic Dibbell starts out as literary dystopia and ends up as a deft study of human identity, desperation, and longing."
—Library Journal
"A well-known rock critic, Dibbell infuses her debut novel with the stylistic grace of a seasoned writer."
—Time Out New York
"The Only Ones is at least in part the story of a woman declining to accept the role she's been handed—declining to be silenced, suppressed, used up and cast aside. It's the story of a woman determined to live as well as she can in the broken world she has, for her own sake as well as for her daughter's. For all the plot and worldbuilding in this book—and there's plenty of both—the real drive train is [Inez's] voice. "
—Karen Munro, Strange Horizons
Book review of The Only Ones

"Dibbell's debut novel chillingly imagines the world in the wake of a global pandemic in the latter part of the 21st century. The book illuminates present-day paranoias, but it is further elevated by Dibbell's trenchant attention to the corrosive nature of social and economic inequality."
—Publishers Weekly, starred review
Book review of The Only Ones
One of "27 of the Most Exciting New Books of 2015."
—BuzzFeed
"One of 20 writers, bloggers, titles, and zines to watch out for in 2015."
—Dazed & Confused
"Our Research Notes series invites authors to describe their research for a recent book, with 'research' defined as broadly as they like. This week, Carola Dibbell writes about The Only Ones from Two Dollar Radio."
—Necessary Fiction
RESEARCH NOTES: interview with Carola Dibbell (March 13, 2015)

"Dibbell's achievements here are many... With its keen eye for the details of things that have never existed, and beautifully maintained vernacular tone, Dibbell is both very tender and very hardened; it deals in the world with a tough mindedness that makes Inez a great heroine."
—Iman Lababedi, Rock NYC
Book review of The Only Ones

"The Only Ones is not a simple read; it would suffer if it was. Without preaching and even the barest nod at ideology... subjects such as genetic manipulation, cloning, school exclusivity and government ineptitude are touched upon but remain on the periphery of the heart of the story, which is Inez. It is her voice that pulls you in. Sit back, and listen. She has a fascinating tale to tell."
—Sharon Browning, LitStack
Book review of The Only Ones

Author
Carola Dibbell is a highly regarded rock critic whose fiction has appeared in The New Yorker, Paris Review, Fence, and Black Clock. Writing about books as well as music, Dibbell was a Village Voice contributor for many years. The Only Ones is her debut novel.
Sneak Peek
Enjoy a sneak peek of select pages from The Only Ones! (Use the "full screen" option at bottom right to enlarge the pages):
Info
LIST PRICE: $16.99
PAGES: 368
PRINT ISBN: 9781937512279
DIGITAL ISBN: 978-1-937512-28-6
RELEASE DATE: 3/17/2015
SIZE: 5.5" x 7.5"
Printed in Canada by Marquis, with the following environmental statement:
*Inside printed on Enviro 100% post-consumer EcoLogo certified paper, processed chlorine free and manufactured using biogas energy.
*FSC certified paper (inside and cover).