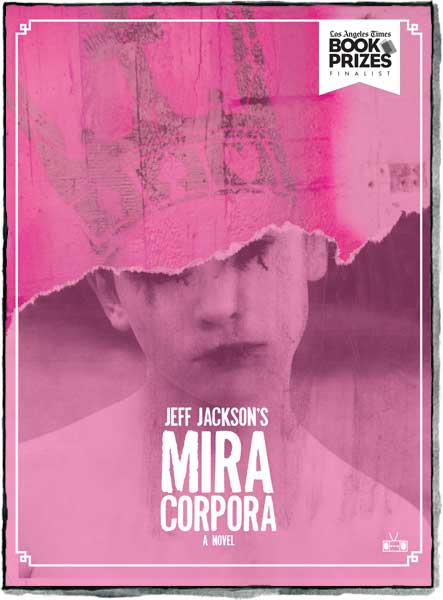 1st Printing Features: Trade paper, Gate-fold, Deckle Edge
CLICK TO REQUEST AN ARC
CLICK TO REQUEST RIGHTS INFO
Mira Corpora
a novel by
Jeff Jackson
---
ABOUT
*Los Angeles Times Book Prize Finalist
*One of the Best Books of 2013  —Slate, Salon, Flavorwire, Largehearted Boy, Vol. 1 Brooklyn, LitReactor
"To read Jeff Jackson's Mira Corpora is to enter into a trance state. A hypnotic, brutal, and lyric exploration of youth, trauma and the construction of memory, this novel is like nothing I've ever read before and is, unquestionably, one of my favorite books published this year."
—Laura van den Berg, Salon
---
Synopsis
Mira Corpora is the debut novel from acclaimed playwright Jeff Jackson, an inspired, dreamlike adventure by a distinctive new talent. 
Literary and inventive, but also fast-paced and gripping, Mira Corpora charts the journey of a young runaway. A coming-of-age story for people who hate coming-of-age stories, featuring a colony of outcast children, teenage oracles, amusement parks haunted by gibbons, mysterious cassette tapes, and a reclusive underground rockstar. 
With astounding precision, Jackson weaves a moving tale of discovery and self-preservation across a startling, vibrant landscape.
---
Mira Corpora by Jeff Jackson =
* In most cases, none of these writers endorse this book. Our math formulas are supposed to be amusing anecdotes, similar to shelf-talkers in bookstores that say "If you like X, you might enjoy Y," or "This Book is like Cormac McCarthy writing an episode of Saved by the Bell with a soundtrack by Philip Glass."

Reviews
Scroll to bottom for Goodreads reviews.
* Los Angeles Times Book Prize Finalist
* One of the Best Books of 2013.
—Slate, Salon, Flavorwire, Largehearted Boy, Vol. 1 Brooklyn, LitReactor
"To read Jeff Jackson's Mira Corpora is to enter into a trance state. A hypnotic, brutal, and lyric exploration of youth, trauma and the construction of memory, this novel is like nothing I've ever read before and is, unquestionably, one of my favorite books published this year."
—Laura van den Berg, Salon
"Skilfully told in clear yet somehow utterly disorientating prose."
—NewStatesman, Books of the Year: favorite reading of 2014
"In Mira Corpora, Jeff Jackson's remarkable nightmarish fugue of a novel, the novel itself becomes the exemplification of the writer's routine. The novel feels like the beating of a heart, the body of a fledgling waiting to be born. The more you read the more the heart races."
—Tweed's
"I was ensnared by [Mira Corpora's] strange beauty."
—Electric Literature
"The autobiographical novel has taken many twists in recent years, but few writers have managed the feat with the vision and audacity of Jeff Jackson. The novel is a strange, quixotic beast—constantly raw, shape-shifting and rooted in the origins of tribal ritual. Mira Corpora is an incandescent wonder... Jackson structures the novel around a collection of surreal, teenage journals that explore the subterranean territory of the self. Whether these origins arise from real artefact or a fictional device is irrelevant in the skill of the author's hands... Mira Corpora is an incandescent wonder."
—Darragh McKeon
"A piercing howl of a book. Slyly seductive and utterly gripping—[Jackson's] prose practically crackles and sparks. This punk coming-of-age story smolders long after the book is through."
—Slate
"Episodic yet suspenseful, smeared with gutter detritus yet glittering with right-on apercus, the novel delivers both jolts to the spine and food for thought."
—Bookforum
"[Mira Corpora] reads like an incantation—more like a hex—and to put it down is to break the spell."
—Trop Magazine
"Mira Corpora is a bildungsroman perhaps made most moving by this fact: that the book bears not the trace of an absent chess-master moving markers of sexual obsession in preformatted patterns, but rather the fumbling hand of enchanter attempting to divine the nature of his spell-in-progress, caught at a moment of pseudo-sexual ecstasy, between either self-release or self-annihilation."
—The Brooklyn Rail

"Provocative, dreamlike, and just a bit meta, Mira Corpora is an impressive debut. It reads like a bullet, a slow motion bullet time bullet, viewable from multiple angles, like in The Matrix."
—LitReactor
"I'd characterize Mira Corpora as a seduction. It heightens the pulse and warps the mind with the allure and cliffhangers of a sexy action flick."
—Full Stop
"There are few coming-of-age-esque novels that don't make me feel like I'm being lied to, manipulated into caring to the point where I can't care at all. Mira Corpora is one of those few. It subverts itself and what it came from so many times that by the end you feel like it could have existed no other way."
—Vice
"Mira Corpora is a masterfully written debut, an often brutal coming of age tale as unsettling as it is brilliant."  
—Largehearted Boy
"Style is pre-eminent in Jeff Jackson's eerie and enigmatic debut. The prose works like the expressionless masks worn by killers in horror films."
—Wall Street Journal
"What's most compelling—and terrifying... is the originality and execution. [Mira Corpora] has a very cinematic quality to it, like the dreamscapes of a Lynch, or, better, a strange, filmic mash-up of Lord of the Flies, Demian, and House of Leaves, as directed by Harmony Korine. Jackson really captures that quintessential dreamlike quality of Korine's films in his presentation of unfamiliar versions of familiar settings. This creates a powerful, frightening effect."
—Impose
"Impressive."
—Eimear McBride (author of A Girl Is a Half-Formed Thing) in TimeOut NY
"Jackson's ability to evoke the growing perceptions and shifting vantage of his narrator makes the episodic quality of Mira Corpora work especially well."
—Vol. 1 Brooklyn
"[A] mesmerizing debut, which reads like some cross between Bruno Schulz and the backstories of random characters from Penelope Spheeris' 1984 film Suburbia. It's the overarching sensibility that also puts Mira Corpora in a unique group of books that can only be dubbed Punk Lit."
—Flavorwire
"Jeff Jackson's surreal, wrenching debut novel Mira Corpora is a book we suspect you'll hear a lot about in the coming months."
—Vol. 1 Brooklyn
"Jackson's prose captures a dreamlike tone that gives the reader the experience of walking into an abandoned house of mirrors where every pane of glass is as clouded over and obscuring and oddly beautiful as the next."
—Fanzine
"A gutter punk Catcher in the Rye."
—Shelf Awareness
"Best new books of fall 2013."  
—Time Out Chicago
"A ripping yarn. Jackson's short, visceral sentences fuel the novel's page-turning momentum. But a hallucinatory quality permeates events throughout. Paintings take on extra dimensions; music has talismanic powers; the city is as feral as the forest. In the meta-fiction tradition of Thomas Pynchon or Stephen Wright, Jackson's story questions our assumptions and demands our participation. Here, a novelist's "mysterious pigments" make for a non-idealized—and far more participatory and compelling—take on the coming-of-age tale."
—Creative Loafing
"This is superb. Jackson is a great storyteller, and this one offers a strange combination of grittiness and poetry that I'm really digging."
—Entropy

"Brilliant work... This book is both brutal and beautiful and it brings something approaching resolution, if not redemption."
—City Paper (Baltimore)

"Jackson's voice is gripping. It's refreshing to see an author craft a novel according to his own vision."
—The Rumpus
"The plot line sounds familiar, but Jackson's handling of it subverts that familiarity and puts it to unique, unsettling purposes."
—Heavy Feather Review

"An often sordid and savage phantasmagoria [that] blurs the boundaries between the real and the imaginary, creating an unsettling allegory of growth into adulthood."
—Publishers Weekly
"Wow… a revelation… This reminds me of the excellent quote by Paul Eluard that opens the novella: "There is another world, but it is in this one." And, indeed, another world does seem to open up within this one as you proceed through Mira Corpora's riveting yet fractured pages."
—nicholauspatnaude.com
"It's fine work in its manic pacing and its summoning of certain cultural emblems. Present tense with a vengeance. I hope the book finds the serious readers who are out there waiting for this kind of fiction to hit them in the face."
—Don DeLillo
Author
Jeff Jackson holds an MFA from NYU and is the recipient of fellowships from the MacDowell Colony and Virginia Center for the Creative Arts. Five of his plays have been produced by the Obie Award-winning Collapsable Giraffe company.
Videos
View the official book trailer for Mira Corpora, created by Yates:
Sneak Peek
Enjoy a sneak peek of select pages from Mira Corpora! (Use the "full screen" option at bottom right to enlarge the pages):
info
CREDITS:
Cover design: Eric Obenauf
Cover Artwork: Michael Salerno
Cover image of crown: Graffiti Skull, Matt Francis, July 5, 2009; www.flickr.com/photos/mattfrancis/3732877231.
Author photo credit: Michael Salerno

PUBLICATION INFO:
LIST PRICE: $16.00 
PAGES: 186 
PRINT ISBN: 9781937512132 
DIGITAL ISBN: 978-1-937512-14-9
RELEASE DATE: 9/1/2013 
SIZE: 5.5" x 7.5"