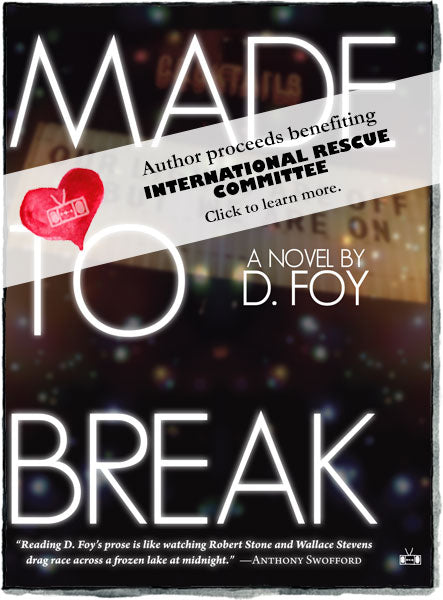 1st Printing Features: Trade paper, Gate-fold, Deckle Edge
CLICK TO REQUEST AN ARC
CLICK TO REQUEST RIGHTS INFO
Made to Break
a novel by
D. Foy
---
ABOUT
All author proceeds, matched by Two Dollar Radio for direct sales during the month of July 2018, will be donated to IRC (International Rescue Committee).
*One of the best books of 2014 —Flavorwire, Entropy Magazine
"Made to Break, D. Foy's debut novel, snaps. Literary, cinematic... [Foy] is a writing school of one, and Made to Break ushers his literary energies into categorical existence."
—The Daily Beast
---
Synopsis
Two days before New Years, a pack of five friends—three men and two women—head to a remote cabin near Lake Tahoe to celebrate the holidays. They've been buddies forever, banded together by scrapes and squalor, their relationships defined by these wild times. 
After a car accident leaves one friend sick and dying, and severe weather traps them at the cabin, there is nowhere to go, forcing them to finally and ultimately take stock and confront their past transgressions, considering what they mean to one another and themselves. 
With some of the most luminous and purple prose flexed in recent memory, D. Foy is an incendiary new voice and Made to Break, a grand, episodic debut, redolent of the stark conscience of Denis Johnson and the spellbinding vision of Roberto Bolaño.
---
Made to Break by D. Foy =
* In most cases, none of these writers endorse this book. Our math formulas are supposed to be amusing anecdotes, similar to shelf-talkers in bookstores that say "If you like X, you might enjoy Y," or "This Book is like Cormac McCarthy writing an episode of Saved by the Bell with a soundtrack by Philip Glass."

Reviews
*One of the best books of 2014 —Flavorwire, Entropy Magazine
"Foy is no lazy technician, nor is his debut novel merely a Gen-X love letter. Employing a highly aestheticized language that calls to mind Hubert Selby, Jr. and Denis Johnson, and privileging the arc of character over the development of plot, the music of voice over the functionality of dialogue, Foy offers up a pre-apocalypse end-of-the-world tale about cannibals, mutants, corpses, survivors, road trips, lovers, and friends... Playful and crafty with language, Foy creates characters and a world both strange and familiar."
—Joseph Salvatore, Rain Taxi
(Read the full book review of Made to Break)
"The first thing a reader notices in picking up Made to Break is Foy's phenomenal prose, which I hesitate to even label as such: the term itself seems too restrictive. Like Joyce, Woolf, McCarthy, and others before him, Foy maintains basic structures of the prose novel while obliterating and reinventing the reader's notion of what a sentence can do. Made to Break is full of powerful juxtapositions of high and low: crude sex jokes cut against existential epiphanies, and flourish-adorned metaphors abut slangy colloquialisms... In reflecting on my experience of Made to Break, I'm reticent to use a boring old verb like "read." I did not read Made to Break: I traversed it; I imbibed it; I rode it, like a wine-dark wave. These ways of speaking are not meant to evoke the tired language of 'getting sucked into' a book. Rather, they are meant to convey some approximation of the novel's vitality."
— Nathan Goldman, Full Stop
(Read the full book review of Made to Break)
"One of the best debuts of 2014, Foy's menacing and cerebral look at friendship and dealing with the past, reads like what we'd imagine a Stanley Kubrick rewrite of a script by Denis Johnson might look like."
—Flavorwire
"Cutting through all the dark clouds that crowd Foy's world, sensitivity and kindness shined through... I wasn't expecting to feel so moved."
—Electric Literature
"Made to Break, D. Foy's debut novel, snaps. Literary, cinematic... [Foy] is a writing school of one, and Made to Break ushers his literary energies into categorical existence."
—The Daily Beast
"Strange and freewheeling... forsaking plot in favor of something much more cerebral and immediate. Made to Break works its English over, coining fresh and sometimes unapologetically awkward phrases to milk out something strange and animate."
—Los Angeles Review of Books
"[Made to Break] reads like a macabre mumblecore script penned by Jim Thompson. It's one swell medley of mayhem and defeat dashed together by the vitality of D. Foy's prose. Zainy, sly, and darkly comedic."
—Entropy Magazine
"With influences that range from Jack Kerouac to Tom Waits and a prose that possesses a fast, strange, perennially changing rhythm that's somewhat akin to some of John Coltrane's wildest compositions, this narrative is at once emotionally gritty and surprisingly beautiful even during its darkest moments. Foy has delivered the kind of notable narrative that pulls an author out of the very crowded rookie pool and places him at the top of the list of fresh voices that readers of outstanding fiction should keep on their radar."
—HTML Giant
"One thing D. Foy's menacing and dense first novel, Made to Break, understands extremely well is the strange, exhilarating, depressing, and often stupid and dangerous territory of longtime friendship... Calls to mind the frontier stories of Stephen Crane and Jack London."
—The Rumpus
"Brashly written... in bareknuckle prose."
—The L Magazine
"[Foy's] inventiveness in form and language coalesces into a dark and impressive debut."
—Largehearted Boy
"A psychological thriller in the purest sense and it's one of the gutsiest debut novels you're likely to come across."
—Brooklyn Based
"Made to Break has the pacing of a breakneck drugstore thriller and doesn't cling to any single genre. It plays around the edges of gothic horror and locked room mystery. Foy has a poets gift, blending the everyday with surrealist prose."
—LitReactor
"A mad reflection on our greener, meaner days, an apocalyptic eulogy, a love song for excess and its wreckage. A debut like no other, Made to Break eats up every first novel cliché in its path. It is frightening, strange, and beautiful."
—Tottenville Review
"Debut novelist D. Foy uses a poetic and gritty genre-clashing voice to construct a winter horrorland."
—Publishers Weekly
Author
D. FOY is the author of the novels Made to Break, Patricide, and Absolutely Golden (which in 2018 was also published in France). His stories, poems, and essays have appeared in Guernica, Literary Hub, Salon, The Millions, Hazlitt, Electric Literature, BOMB, The Literary Review, and the Georgia Review, among many others, and have been included in the books Laundromat, A Moment's Notice, and Forty Stories: New Writing from Harper Perennial. He is an editor at 7.13 Books.
Find out more here: dfoyble.com
Twitter: @dfoyble
Videos
Sneak Peek
Enjoy a sneak peek of select pages from Made to Break! (Use the "full screen" option at bottom right to enlarge the pages):
info
LIST PRICE: $16.50
PAGES: 218
PRINT ISBN: 978-1-937512-16-3
DIGITAL ISBN: 978-1-937512-17-0
RELEASE DATE: 3/18/2014
SIZE: 5.5" x 7.5"