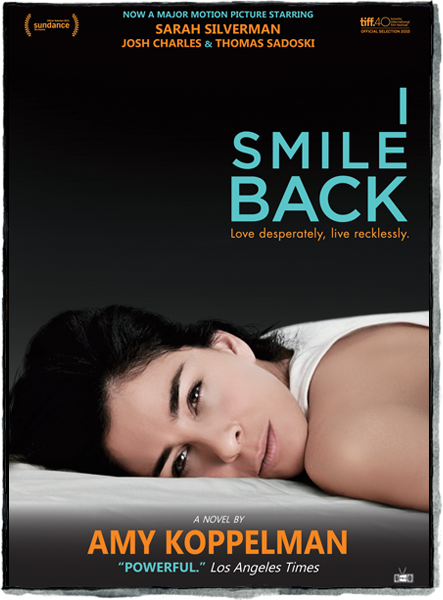 1st Printing Features: Trade paper
CLICK TO REQUEST AN ARC
CLICK TO REQUEST RIGHTS INFO
I Smile Back
a novel by
Amy Koppelman
---
VIDEO
I Smile Back has been made into a movie! Check out the trailer here, starring Sarah Silverman, Josh Charles, Thomas Sadoski, and Mia Barron.

ABOUT
*Now a major motion picture starring Sarah Silverman and Josh Charles, premiering at Sundance Film Festival 2015.
"Powerful. Koppelman's instincts help her navigate these choppy waters with inventiveness and integrity."
—Los Angeles Times
---
Synopsis
I Smile Back tells the story of a woman pushing herself to the brink. Married with kids, Laney Brooks takes the drugs she wants, sleeps with the men she wants, disappears when she wants. Now, with the destruction of her family looming and temptation everywhere, Laney makes one last desperate attempt at redemption. Told with haunting, prismatic prose, I Smile Back is a raw portrait of a troubled woman struggling desperately to hold on to those she loves the most.
---
I Smile Back by Amy Koppelman =
* In most cases, none of these writers endorse this book. Our math formulas are supposed to be amusing anecdotes, similar to shelf-talkers in bookstores that say "If you like X, you might enjoy Y," or "This Book is like Cormac McCarthy writing an episode of Saved by the Bell with a soundtrack by Philip Glass."

Reviews
Scroll to bottom for Goodreads reviews.
"Koppelman explores with ruthless honesty a woman come undone."
—Erin Mcknight, Bookslut
"Koppelman mosly writes from inside Laney's disillusioned mind, ricocheting between the quotidian details of wife and motherhood and big-picture musings, forming exquisite stand-alone tone poems."
—Corrie Pikul, Elle
"Powerful. Koppelman's instincts help her navigate these choppy waters with inventiveness and integrity."
—Paul Kolsby, Los Angeles Times (Read the full review of I Smile Back on Los Angeles Times here)
"We've been buzzing about this book all week, thanks to Sarah Silverman's career-changing performance... Koppelman writes about pain in a painfully beautiful way."
—Glamour
"This crushing novel by the author of A Mouthful of Air is a shocking portrait of suburban ennui gone horribly awry. Koppelman's prose style is understated and crackling; each sentence is laden with a foreboding sense of menace. Like a crime scene or a flaming car wreck, it becomes impossible not to stare."
—Publishers Weekly (Read the full review of I Smile Back on Publishers Weekly)
"Laney Brooks is a woman in agony, suffering from an undefined malady that makes standard housewife ennui—boredom from carpooling or picking up dry cleaning—look like a picnic. Laney's despair, [is] ably depicted by Amy Koppelman in her affecting second novel."
—Sara Ivry, BookForum (Read the full review of I Smile Back on BookForum here)
"This book is a demanding read, with relentless pacing, a choppy, aggressive tone and a compelling battle for redemption."
—Lilith Magazine 
"Koppelman's writing is expressive and nuanced... [a] potent novel."
—Booklist 
"[Koppelman's] brave and challenging look beyond appearances of beauty to the ugly reality of a disturbed mind will remain with readers long after they've finished the book. Highly recommended for literary collections."
—Library Journal
Author
Amy Koppelman is the author of three critically acclaimed novels: A Mouthful of Air, I Smile Back, and Hesitation Wounds, a 2016 Independent Publisher Book Award winner. She produced and co-adapted the film adaptation of I Smile Back, starring Sarah Silverman, who received a SAG award nomination for the role. The film premiered at the Sundance, Toronto, and Deauville film festivals. Her latest film, A Mouthful of Air, is her first undertaking as a screenwriter, director, producer, and illustrator. She received her B.A. from the University of Pennsylvania and a fiction MFA from Columbia, where she is an Adjunct Professor. Amy lives in New York City with her family. She is an outspoken advocate for women's mental health.
Sneak Peek
Enjoy a sneak peek of select pages from I Smile Back! Please note that the cover is outdated in this sneak peek version. (Use the "full screen" option at bottom right to enlarge the pages):
info
LIST PRICE: $15.00 USD; £11.99
PAGES: 194
PRINT ISBN: 9780976389590
DIGITAL ISBN: 978-0-9826848-2-5
RELEASE DATE: Nov 1, 2008 (US, original); Dec. 22, 2015 (US, movie tie-in); Dec. 15, 2025 (UK, movie tie-in)
AUDIOBOOK: Audible.com
---
USA/CANADA DISTRIBUTION TO THE TRADE:
PGW/Ingram.
—> Visit Ingram | ipage to view Amy Koppelman's novel, I Smile Back
---
UK DISTRIBUTION TO THE TRADE:
Turnaround Publisher Services.
—> Visit the Turnaround page for Amy Koppelman's novel, I Smile Back
---
Printed in Canada by Marquis, with the following environmental statement:
*Inside printed on Enviro 100% post-consumer EcoLogo certified paper, processed chlorine free and manufactured using biogas energy.
*FSC certified paper (inside and cover).