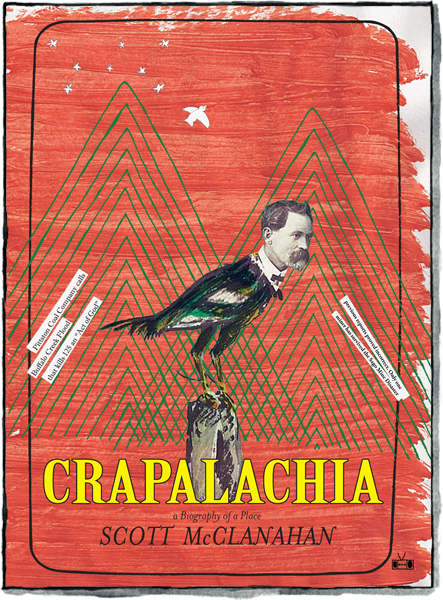 1st Printing Features: Trade paper
CLICK TO REQUEST AN ARC
CLICK TO REQUEST RIGHTS INFO
Crapalachia
a memoir by
Scott McClanahan
---
ABOUT
This paperback book is currently unavailable here. Indie bookstores may have copies on their shelves though, so please inquire with your fave indie!
---
*One of the Best Books of 2013 —The Millions, Flavorwire, Dazed & Confused, The L Magazine, Time Out Chicago
"McClanahan's prose is miasmic, dizzying, repetitive. A rushing river of words that reflects the chaos and humanity of the place from which he hails. [McClanahan] aims to lasso the moon... He is not a writer of half-measures. The man has purpose. This is his symphony, every note designed to resonate, to linger."
—Allison Glock, New York Times Book Review
---
Synopsis
Crapalachia is a portrait of Scott McClanahan's formative years, coming of age in rural West Virginia, during a stretch of time where he was deeply influenced by his Grandma Ruby and Uncle Nathan, who suffered from cerebral palsy.
Peopled by colorful characters and their quirky stories, Crapalachia interweaves oral folklore and area history, providing an ambitious and powerful snapshot of overlooked Americana.
Beyond the artistry, there is an optimism, a genuine love for people and the past and memories. Even more, there is a grasp to bridge the disconnect between reader and writer, for McClanahan's stories to bind us closer to one another.
---
Interviews:
THE RUMPUS INTERVIEW WITH SCOTT MCCLANAHAN | Jan. 10, 2014
BY GABRIELLE GANTZ
Interview: Scott McClanahan Author of Crapalachia: A Biography of Place | Aug. 20, 2015
BY SHELFMEDIA
---
Crapalachia by Scott McClanahan =
* In most cases, none of these writers endorse this book. Our math formulas are supposed to be amusing anecdotes, similar to shelf-talkers in bookstores that say "If you like X, you might enjoy Y," or "This Book is like Cormac McCarthy writing an episode of Saved by the Bell with a soundtrack by Philip Glass."

Reviews
Scroll to bottom for Goodreads reviews.
Ocean Vuong includes Scott McClanahan in his list of "favorite writers working today" for The New York Times, April 14, 2022.
KCRW's Bookworm interview with Scott McClanahan | Feb. 22, 2018
Host Michael Silverblatt and author Scott McClanahan discuss two of his close-to-the-bone, personal novels: The Sarah Book and Crapalachia: A Biography of Place: "Each one, hilarious and heartbreaking, merges forms and takes place in a West Virginia that exists only in Scott's head. He plagiarizes and mines from his own life, creating the feeling of literary truth through short, sharp sparks of writing full of feeling. Scott points his finger not at someone else, but at the narrator."
"The Poet Laureate of Real America."
—Nick Moran, The Millions
"McClanahan's prose is miasmic, dizzying, repetitive. A rushing river of words that reflects the chaos and humanity of the place from which he hails. [McClanahan] aims to lasso the moon... He is not a writer of half-measures. The man has purpose. This is his symphony, every note designed to resonate, to linger."
—Allison Glock, New York Times Book Review
"Crapalachia is the genuine article: intelligent, atmospheric, raucously funny and utterly wrenching. McClanahan joins Daniel Woodrell and Tom Franklin as a master chronicler of backwoods rural America."
—Steve Donoghue, The Washington Post
"Scott McClanahan might be today's best-known indie press writer... [his books] function as pseudo-memoirs with a crackling electricity rarely found in literary fiction."
—Phil McCausland, The A.V. Club
"Indie author Scott McClanahan considers art and anecdote through 5 of his favorite books"
"Scott McClanahan is one of those rare writers who achieves Kafka's credo that a book should be the axe that shatters the icy soul of our interior. Crapalachia, with its tongue-in-cheek title, is anything but refuse and detritus. In fact, it's a broken and half-sung ode to place and people and history, a personal reclamation of falsehoods cast on rural communities in West Virginia."
—Ocean Vuong, author of On Earth We're Briefly Gorgeous, in "The 10 Books I Needed to Write My Novel" (Literary Hub)
"No other book this sad will make you laugh this hard."
(View the awesome HORN! REVIEWS review in short graphic novel/comic form.)
—Kevin Thomas, The Rumpus
 "McClanahan's deep loyalty to his place and his people gives his story wings: 'So now I put the dirt from my home in my pockets and I travel. I am making the world my mountain.' And so he is."
—Gina Webb, Atlanta Journal-Constitution
"[Crapalachia is] a wild and inventive book, unquestionably fresh of spirit, and totally unafraid to break formalisms to tell it like it was."
—Blake Butler, Vice
 "Epic. McClanahan's prose is straightforward, casual, and enjoyable to read, reminiscent at times of Kurt Vonnegut. Crapalachia is one of the rare books that, after you reach the end, you don't get up to check your e-mail or Facebook or watch TV."
—Alex Miller, Rain Taxi Review of Books
"Part memoir, part hillbilly history, part dream, McClanahan embraces humanity with all its grit, writing tenderly of criminals and outcasts, family and the blood ties that bind us."
—Royal Young, Interview Magazine
"A brilliant, unnerving, beautiful curse of a book that will both haunt and charmingly engage readers for years and years and years."
—J. A. Tyler, The Nervous Breakdown
"McClanahan's style is as seductive as a circuit preacher's. Crapalachia is both an homage and a eulogy for a place where, through the sorcery of McClanahan's storytelling, we can all pull up a chair and find ourselves at home."
—San Diego City Beat
 "McClanahan's is a joyful philosophy, communicated via his own distinctive melange of poetic storytelling and direct address, and never less than an enthralling read. [Crapalachia is an] elegiac call to savor life now, today."
—Nathan Weatherford, Full Stop
 "Scott McClanahan's Crapalachia resurrects words. It's an apple that tastes good. But not just good. Necessary."
—Center for Fiction
"[Crapalachia is] McClanahan's best and most affecting work to date. McClanahan is that rare writers'-writer, an artist whose work you'd just as easily recommend to a teenage kid as to a distinguished professor."
—The Coffin Factory
"It is the defiance in the writing that is breathtaking, the very aliveness of this voice in the face of all those dead: the thousands and thousands of dead miners, the dead of the Hawk's Nest Tunnel, the dead of the Sago Mine Disaster, the dead of the Buffalo Creek Flood, the dead of hunger, the dead of a death by their own hands."
—Mesha Maren, HTML Giant
"A heartfelt narrative about growing up, friends, family, human nature, love, going to school, history, death, and rural West Virginia... an homage to everyday things that are somehow extraordinary... a wonderful eulogy to a time and a place."
—Gabino Iglesias, Verbicide
"Crapalachia is an open-hearted, poetic existential exploration disguised as a southern-fried memoir. McClanahan has staked out new literary territory and firmly planted the Crapalachian flag there. Long may it wave."
—Shelf Unbound
"This punchy, inimitable book is one of the best memoirs I can remember reading, a prescient and preposterous ode to Americana's charms and failures with enough greasiness to stick to your bones like homemade gravy."
—Chris Vola, The Lit Pub
"[Crapalachia is] a remarkable and rambling personal history, a loving, laughing, eye-rolling and affectionate portrait of a region, [McClanahan's] home, the place he's from and therefore who he is."
—Henry Stewart, The L Magazine
"McClanahan's frenetic account of life growing up in rural West Virginia practically seethes with place, with empathy, with humor and violence and the boringness/incredibleness of being young."
—Emily Temple, Flavorwire
"In this innovative 'biography,' McClanahan... chronicles the peculiarities of Appalachian life—punctuated by mine collapses, quotidian tragedies, and recipes for chicken and gravy—and is infused with both boundless love and the ever-present specter of death... His singular mission is to create a lasting testament to the people he has loved and he succeeds: [Crapalachia] leaves an enduring impression."
—Publishers Weekly, Starred Review
"Though the book doesn't come out until the middle of next month, I can't wait until then to say how much I liked Scott McClanahan's Crapalachia. [McClanahan's] voice is wholly unaffected, and his account manages to be both comic and unpretentiously sentimental."
—Nicole Rudick, The Paris Review 'Daily'
"McClanahan through words attempts to transform memory into a record of family and friends, to somehow make them permanently a part of his life—and all our lives... stark, beautiful writing."
—Natalie Sypolt, Paste Magazine
Author
Scott McClanahan is the author of Crapalachia, The Incantations of Daniel Johnston, Hill William, The Collected Works of Scott McClanahan: Volume 1, Stories II and Stories V!. His fiction has appeared in Bomb, Vice, and New York Tyrant.
Videos
Sneak Peek
Enjoy a sneak peek of Crapalachia here, on Issuu, and get a look inside the book:
Guide
Click here to view and/or download as PDF.
Book Club and Reader Guide: Questions and Topics for Discussion
1. Is there value in treating chapters 1-3 as periphery material to the rest of the book? If so, why?
2. How is the character of Ruby established and developed in chapters 2 and 3?
3. Does the direct statement of the theme, "Tick, tick, tick, tick, tick, tick, tick," help or hinder the development of the narrative. What do you think McClanahan is trying to say about the passage of time? What are some other themes explored in the work?
4. What effect do the chapter transitions and titles have on the progression of the novel?
5. In what ways does Crapalachia explore the idea of entrapment? Explain.
6. How does Crapalachia work as a biography of place versus an artistic memoir of Scott McClanahan's life?
7. What is the significance of repetition in the novel? For example, Bill's constant retelling of the story of the Greenbrier Ghost.
8. Is Scott a trustworthy narrator? Why or why not? How does the Appendix and Notes section support or undermine the narrator?
9. Uncle Nathan's Cerebral Palsy makes it difficult to speak, however Scott gives him a fair amount of dialogue. What does the role of family play in the creation of this speech and to what degree do you believe narrator Scott used his imagination in order to give words to this man?
10. Examine the role of family within the text. How does it function in the setting of Crapalachia? Do you think families are just a thing someone is born into, or can they be created?
Info
LIST PRICE: $16.00
PAGES: 172
PRINT ISBN: 9781937512033
DIGITAL ISBN: 978-1-937512-12-5
RELEASE DATE: 3/1/2013
SIZE: 5.5" x 7.5"
AUDIO BOOK: Recorded Books offers the audio version of Crapalachia

FOREIGN LANGUAGE:
FRENCH: Editions Cambourakis.
GERMAN: ars vivendi verlag.
ITALIAN: Pidgin Edizioni.
PORTUGUESE: Cutelo Edições.
SPANISH: Fulgencio Pimentel.
Save
Save