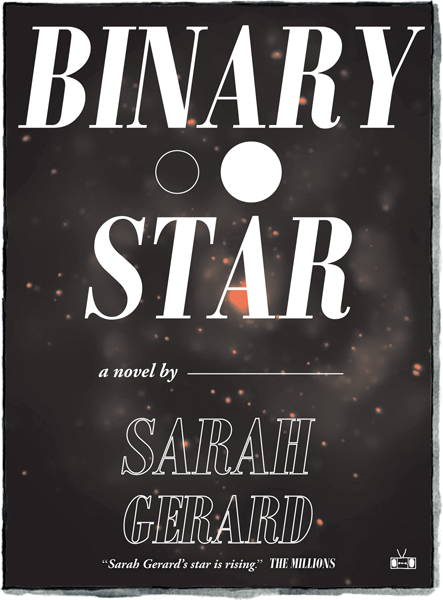 1st Printing Features: Trade paper, Gate-fold, Deckle Edge
CLICK TO REQUEST AN ARC
CLICK TO REQUEST RIGHTS INFO
Binary Star
a novel by
Sarah Gerard
---
ABOUT
* Los Angeles Times Book Prize Finalist, 2015.
* A Best Book of 2015 —NPR, Bustle, Vanity Fair, BuzzFeed, Flavorwire, Largehearted Boy
---
Synopsis
The language of the stars is the language of the body. Like a star, the anorexic burns fuel that isn't replenished; she is held together by her own gravity.
With luminous, lyrical prose, Binary Star is an impassioned account of a young woman struggling with anorexia and her long-distance, alcoholic boyfriend. On a road-trip circumnavigating the United States, they stumble into a book on veganarchism, and believe they've found a direction.
Binary Star is an intense, fast-moving saga of two young lovers and the culture that keeps them sick (or at least inundated with quick-fix solutions); a society that sells diet pills, sleeping pills, magazines that profile celebrities who lose weight or too much weight or put on weight, and books that pimp diet secrets or recipes for success.
---
READ AN EXCERPT:
Berfrois presents an excerpt from the novel Binary Star by Sarah Gerard.

---
Binary Star by Sarah Gerard =
* In most cases, none of these writers endorse this book. Our math formulas are supposed to be amusing anecdotes, similar to shelf-talkers in bookstores that say "If you like X, you might enjoy Y," or "This Book is like Cormac McCarthy writing an episode of Saved by the Bell with a soundtrack by Philip Glass."

Reviews
Scroll to bottom for Goodreads reviews.
"The particular genius of Binary Star is that out of such grim material in constructs beauty. It's like a novel-shaped poem about addiction, codependence and the relentlessness of the everyday, a kind of elegy of emptiness."
—New York Times Book Review
"Told in sparkling, lyrical prose, Sarah Gerard gives us the story of two lovers who, on a road trip across the U.S., do their best to rid themselves and each other of the sicknesses they've picked up along the way."
—Vanity Fair 'Best Books of 2015'
"A brief novel that's sure to stay with you, Binary Star centers on a young professor whose life revolves around her long-distance romance with her boyfriend — a relationship complicated by the fact that he has alcohol-use disorder and she lives with an eating disorder."
—K.W. Colyard, Bustle
"20 Books To Read If You Love Sally Rooney"
"Gerard has written characters, in lyrical and deeply affecting prose, who are burned out and burning up what substance they have just to be known to each other."
—Vanity Fair
"A writer needs a deft hand and a full heart to portray human suffering without treacle, yet at the same time loaded with subtle beauty. Sarah Gerard, author of Binary Star, has both in spades."
—Caroline Goldstein, Bustle
INTERVIEW: "Sarah Gerard on Obsession, Art, and Community"
"In [Binary Star], Gerard's unnamed, semi-autobiographical protagonist goes on a road trip that's at first an escape, then an odyssey, then an extended metaphor for a tragic metamorphosis. Gerard has channeled her trials and tribulations into a work of heightened reality, one that sings to the lonely gravity of the human body."
—NPR 'Best Books of 2015'
"Binary Star by Sarah Gerard is the story of a young woman struggling with anorexia and her long-distance boyfriend, who is an alcoholic. A bold, intense account of love and loneliness, Binary Star is also a commentary on modern culture and our society's fixation with "quick-fix solutions" and pills for all our problems."
—Jarry Lee, BuzzFeed, "16 of the Most Exciting Books of 2015 From Independent Publishers"
"I'll put money down that Sarah Gerard's slim Binary Star is unlike anything you've ever read: rhythmic, immersive, entrancing. Although the premise is simple — an astronomy teacher with an eating disorder takes a road trip with her alcoholic boyfriend — so much agitates below the surface. Binary Star reveals more about human nature, particularly our own impulses to act and self-destruct, than books five times its size. And, for the record, I had to reread the ending to make sure what actually happened happened."
—Meredith Turits, Bustle
"10 Of 2015's Best Debut Books"
"Remarkable... Partly novelistic, partly poetical, partly meditative, Binary Star is a beautiful inversion of these rudimentary, astronomical demonstrations, where bodies stand not as replacements for planets or asteroids or gravitational pulls, but where stars and black holes and galaxies stand, instead, for bodies."
—The Millions
"[Binary Star is] an intense, poetic, deeply original look at bodies, consumerism, and the way we strive to connect with one another, even through distance and dysfunction."
—BuzzFeed 'Best Fiction 2015'
"One of the breakout American independent books of the year. Gerard handles her subject matter—the cavernous nature of relationships, politics, the material and psychological condition of the body—with the care of an author who refuses to write down to her readers."
—Flavorwire 'Best Independent Press Books 2015'
"One of the finest debuts I have read, a daring and epic novel of love and lost souls."
—Largehearted Boy 'Favorite Novels 2015'
Binary Star tops this list of '40 Books Published in 2015 That Should Be On Your Shelf'
—Luna Luna
"Counterbalancing its heaviness, the prose also achieves a certain ecstasy of lightness, of breathless possibility. If the narrator herself is stagnant, it's the stagnancy of spinning eternally on an established orbit. Binary Star suspends us in this state, and our stomachs lurch only when the ride stops."
—The Rumpus
"Compared to Dept. of Speculation, Binary Star is told in the same personal manner, as a twentysomething woman embarks on a cross country road trip with her long distance boyfriend while battling a serious eating disorder. In 172 pages, Sarah Gerard will open your eyes to the the mindset of someone with anorexia, as well as the tenets of vegananarchism. It's a lyrical ride like nothing you've ever read."
—Amy Sachs, Bustle
"11 Short Snow Day Reads"

"Probably the best thing about Binary Star is that its strong social critique, while wrapped in a very personal story, is enough to turn it into a narrative that matters beyond its entertainment value. A quick, brutal, and unflinchingly honest tale of death and consumption in contemporary America."
—Sundog Lit
"The narrator's response to her pain is nuanced, and scorched with honesty, even as lies litter the pages. Gerard's prose is too beautiful, too aware of the potential of poetic pacing, for wallowing."
—Full Stop
"I can't guarantee that you'll feel warm and fuzzy feelings about Sarah Gerard's Binary Star, but I can promise you that this brilliant new talent's slim novel will change your outlook on what literature (oh, and the universe itself) can be. This formally progressive novel takes on several forms — lyric poem, astronomy textbook, train-of-thought scribblings — as it narratively tracks the steady disintegration of a dangerously anorexic young woman. Like many progressive books, Binary Star is a difficult read, but what it reveals about body dysmorphic and eating disorders — and what its successfully experimental form signifies for the future of literature — makes this small press release one of the most exciting books of 2015 so far."
—Caroline Goldstein, Bustle
"These Are 13 Books From 2015 You Need To Read"
"Rhythmic, hallucinatory, yet vivid as crystal. Gerard has channeled her trials and tribulations into a work of heightened reality, one that sings to the lonely gravity of the human body."
—NPR
"A novel that takes risks, both in style and subject matter. A serious literary work."
—Electric Literature
"In this fictionalized love story about two troubled young people dealing with eating disorders and drug abuse, Gerard weaves real-life social issues into an otherworldly tale, in which the vast universe above serves as a guiding force in the pursuit for clarity."
—Refinery 29
"The story is propelled by Gerard's prose, which mirrors the narrator's sleep-deprived, thought-accelerated state. The sentences accumulate with manic intensity, painting a portrait of a young woman who's incapable of seeing things clearly and has a better understanding of stars that are light years away than of the workings of her own body."
—San Diego City Beat
"A vibrant, addictive display of prose. Gerard enacts a nearly Kathy Acker-esque intensity in her diction, invoking styles at times clipped and maniacal, like Artaud, other times siren-shriekingly transcendent or trauma-shocked-out calm."
—Blake Butler, Vice
"Gerard's sharp debut novel takes on addiction, dysfunction and eating disorders in a surreal and haunting road trip across America."
—San Francisco Chronicle
"Binary Star shines even as it charts the breaking apart of worlds and the spiral-in of events, and is a special recommendation for the surreal poet-turned-reader who will find its scientific links to psychological states of mind to be inviting."
—Midwest Book Review
"It's remarkable... [Binary Star's] triumph, and its uniqueness, is in bringing us to tears over a great mess of intertwined ideas."
—Flavorwire
"The language moves through darkness and lightness, between being and unbeing, between past and future. But its center is always in the present. It is the only space where you can exist and disappear at the same time. Gerard leaves you there."
—Entropy Magazine
"Fast-paced, visceral, and distinctly tragic, Binary Star is a must read for anyone curious about what it means to be a body in space."
—Interview Magazine
"The book has the cool detachment of Joan Didion's Play it As it Lays and the formal experimentation of Harry Mathews' best work."
—Nerve
"Binary Star dazzles and sings in the best of ways."
—Gawker
One of the "Six Best Books of January."; "Our indie pick of the month."
—GQ
"Sarah Gerard's debut, Binary Star, radiates beauty. Gerard captures the beauty and scientific irony of damaged relationships and ephemeral heavenly lights. Just as with the stars, it is collapse that offers the most illumination."
—Los Angeles Times
One of "27 of the Most Exciting New Books of 2015."
—BuzzFeed
"With the grace of a poem and the attitude of a punk anthem, Binary Star is an unusual treasure. Sarah Gerard is a young writer on the rise. She has a voice you have to hear to believe."
—Caroline Goldstein, Bustle
"The 11 Books You Should Read This January"
"Gerard has a reputation for tackling her subject matter with unusual ferocity."
—The Millions
"Gerard writes fiction like poetry, constructing a mesmerizing, complex story of addiction, obsession and love."
—Time Out New York
"A glittering novel that tears into the headspace of a young anorexic in love with an alcoholic. Gerard's spare language and spacing is an intimate, cinematic poem."
—The Brooklyn Rail
"Gerard's first novel, Binary Star, is one of the most hotly anticipated arrivals of early 2015."
—Brooklyn Magazine
"Sarah Gerard's lyrical prose is like nothing you've ever read—and the same can be said for the arresting Binary Star, too... it kind of blew apart my mind."
—Meredith Turits, Bustle
"The 12 Most Anticipated Books of 2015"

"Gerard has produced a powerful, poetic, and widely relatable novel that eludes easy classification."
—Publishers Weekly (Starred)
"Sarah Gerard has an interesting fearlessness."
—VICE
"Sarah Gerard's star is rising."
—The Millions
"Fascinating... unlike anything else out there."
—Brazos Bookstore blog
"One of the finest debuts I have read, a daring and epic novel of love and lost souls."
—Largehearted Boy
"[Binary Star] feels like it's going to dismantle itself on the next page or sentence, yet somehow Gerard is always in control, building up to a perfect and explosive ending."
—Fanzine
"A bold, beautiful novel about wanting to disappear and almost succeeding. Sarah Gerard writes about love and loneliness in a new and brilliantly visceral way."
—Jenny Offill
"I felt a breathless intensity the whole time I read Sarah Gerard's brilliant Binary Star. I sped through it, dizzy, devastated, loving all of it."
—Kate Zambreno
"Two lost souls hurtle through a long dark night where drug store fluorescents light up fashion magazine headlines and the bad flarf of the pharmacy: Hydroxycut, Seroquel, Ativan, Zantrex-3. Gerard's young lovers rightly revolt against the insane standards of a sick society, but their pursuit of purity—ideological, mental, physical—comes to constitute another kind of impossible demand, all the more dangerous for being self-imposed. Binary Star is merciless and cyclonic, a true and brutal poem of obliteration, an all-American death chant whose chorus is 'I want to look at the sky and understand.'"
—Justin Taylor
"By now I've read Binary Star twice, and I've become so entwined with it that I'm reluctant to talk about the subject at length. Let me just say that I've never read anything like it."
—Harry Mathews
"Allegorized by the phenomena of binary stars, Sarah Gerard's first novel confronts the symptoms of modern living with beauty and courage."
—Simon Van Booy
"An astronomer with bulimia fights to reconcile her feelings for her long-distance boyfriend with his emotional unavailability in this stunning 2015 debut."
—K.W. Colyard, Bustle
"20 Short Novels You Can Finish In A Single Weekend"
Author
Sarah Gerard's work has appeared in the New York Times, New York Magazine's 'The Cut,' Paris Review Daily, Slice Magazine, The Los Angeles Review of Books, Bookforum, and other journals. She is the author of the chapbook Things I Told My Mother and a graduate of The New School's MFA program for fiction.
Videos
Watch the official book trailer video for Binary Star, created by David Formentin.

Sneak Peek
Enjoy a sneak peek read of Binary Star here, on Issuu, and get a serious look inside the book:
Info
LIST PRICE: $16.00
PAGES: 182
PRINT ISBN: 9781937512255
DIGITAL ISBN: 978-1-937512-26-2
RELEASE DATE: 1/13/2015
SIZE: 5.5" x 7.5"
AUDIO BOOK: Audiobook of Binary Star
Printed in Canada by Marquis, with the following environmental statement:
*Inside printed on Enviro 100% post-consumer EcoLogo certified paper, processed chlorine free and manufactured using biogas energy.
*FSC certified paper (inside and cover).
Save
Save