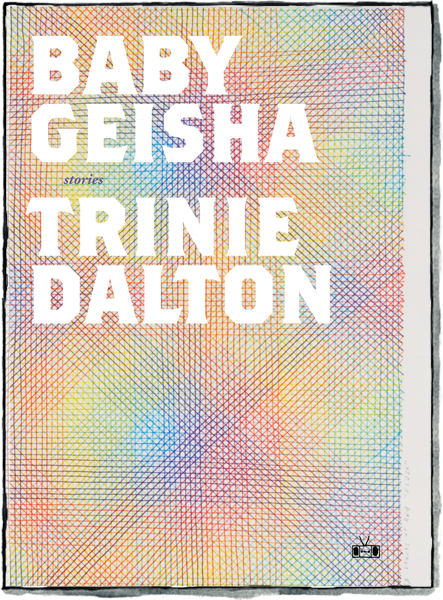 1st Printing Features: Trade paper, Gate-fold, Deckle Edge
CLICK TO REQUEST AN ARC
CLICK TO REQUEST RIGHTS INFO
Baby Geisha
a collection of stories by
Trinie Dalton
---
ABOUT
"Half ingenuous and half wily, winningly hard to pin down. The result is a kind of everyday fantastic. Dalton nails the Walserian trick of evincing a sincerity nearly indistinguishable from irony. The effect is a poised instability, more uncanny than the magic the stories sometimes describe."
—Bookforum
---
Synopsis
Baby Geisha is a collection of thirteen sexually-charged stories that roam from the Coney Island Ferris wheel to the Greek Isles. 
True to Dalton's form, the stories in Baby Geisha are distinctly imagined while also representing a more grounded approach in the author's style. There's the Joan Didion-obsessed starving journalist of 'Pura Vida,' struggling to maintain a relationship with her performance artist sisters (or anyone, for that matter), on assignment in Costa Rica to write an article on sloth-hugging. 'Millennium Chill' is about a woman who discovers that her body heat is mysteriously linked to that of an elderly beggar. 

Baby Geisha serves to underline Dalton's reputation as a remarkable stylist and original artist.
---
Baby Geisha by Trinie Dalton =
* In most cases, none of these writers endorse this book. Our math formulas are supposed to be amusing anecdotes, similar to shelf-talkers in bookstores that say "If you like X, you might enjoy Y," or "This Book is like Cormac McCarthy writing an episode of Saved by the Bell with a soundtrack by Philip Glass."

Reviews
"[Baby Geisha] pokes fun, it's satirical, there's an underlying delicious irony to it, and the telling parts are the ones where Dalton coins names, cuts down trees with her paragraphs, gives us just a touch of the absurd... Dalton's skill as a writer, and above all her expertise in choosing words that play into a darker cultural picture—an offsetting of America's natural high!—are not to be missed here."
—Fanzine
"[Dalton's] command of language and astute descriptions keep her work decidedly literary, even as she is challenging her readers and riffing on the form. Inside each of these stories is a pulsating crater of loving energy that guides her characters (and us) through her inventive, bizarre, and heartbreakingly slanted view of the world."
—The Collagist
"Half ingenuous and half wily, winningly hard to pin down. The result is a kind of everyday fantastic. Dalton nails the Walserian trick of evincing a sincerity nearly indistinguishable from irony. The effect is a poised instability, more uncanny than the magic the stories sometimes describe."
—Bookforum
"Though some of the more surreal and absurd moments in Dalton's work get the headlines, it's the quieter moments... that shout the loudest."
—Time Out Chicago
"Dalton handles her narratives with a deft skill and a keen, distinct, confident voice that never eases up, never ceases to surprise, leaving readers happy to experience her intriguing world up close. Just the way we like it."
—The Brooklyn Rail
"[The stories] feel like brilliant sexual fairy tales on drugs. Dalton writes of self-discovery and sex with a knowing humility and humor."
—Interview Magazine
" 'Pura Vida,' about an emotionally unavailable journalist on assignment to cover a sloth clinic in Costa Rica, is a standout, its final moment between woman and sloth arriving with breathtaking lightness, like the first flower of spring. Other memorable outings include trips to the Missouri Ozarks ('Wet Look'), the Alps ('Shrub of Emotion'), and the Painted Desert ('Baby Geisha'), with men and women on the verge of, but never quite reaching, psycho-sexual breakthroughs."
—Los Angeles Magazine Critic's Pick
"Though Dalton writes in the minimalist vein, alongside the likes of Lydia Davis, Ben Marcus, and Gary Lutz, her peculiar fascinations give her a singular voice. A pleasurable trip."
—Publishers Weekly
"Trinie Dalton's Baby Geisha is a travelogue. Her stories speak volumes of lostness about a world full of riveting features and no map. Things just kind of dead-end in a macho way that feels like porn that didn't happen—the dirty scene I mean. Trinie's writing absolutely unfeminine work. Which feels unique to me. In her hands, gender, like a new kind of western, is just moving across a landscape, the salutary effect of which is that it requires that Trinie write this beautiful stuff of which I can't get enough. Like a desert, her work refuses to give us even a drop more, is full of strange animals, is enduring and glittery."
—Eileen Myles
"Trinie Dalton's collection, Baby Geisha, is seductive and exciting, the stories told by voices that might be talking inside your head, except their language is entirely unexpected and dazzling. Every sentence winds up in an unexpected place, peopled by "space virgins... on orgiastic planets" and "cousins smelling like salami." Both fantastic and very real, Dalton's stories are surprising universes, ringing evidence of her terrific talent."
—Lynne Tillman
Author
Trinie Dalton has authored and/or edited five books. Wide Eyed, Sweet Tomb, and A Unicorn Is Born are works of fiction. Dear New Girl or Whatever Your Name Is and Mythtym are art compilations. She writes articles and reviews about books, art, and music, somewhat collected on sweettomb.com.
Sneak Peek
Enjoy a sneak peek read of Baby Geisha here, on Issuu, and get a serious look inside the book:
Info
LIST PRICE: $16.00
PAGES: 144
PRINT ISBN: 9780983247104
DIGITAL ISBN: 978-0-9832471-4-2
RELEASE DATE: 1/1/2012
SIZE: 5.5" x 7.5"
Save